Molly Haungs wanted a better way to personalize the shopping experience for her customers.
The marketing manager for LandPro, a 20-store John Deere dealership based in New York, was at the John Deere annual sales meeting 7 years ago when she encountered the manufacturer's configuration tool.
"It wasn't super handy for a salesperson or the customer to use," Haungs says. "Our salesperson at the time was responsible for selling a ton of our compact tractors, and he was pretty frustrated with it."
She wanted to build one that was better — one that would be intuitive for all parties involved, and that would allow customers to easily tailor equipment to best meet their needs. However, a technological project like that was a cost-prohibitive venture for what was, at that time, a 7-store dealership.
"Building apps like that is pretty expensive," she says. "It got tabled, but I continued to work at it in the background, and think about what we would want this configuration tool to look like."
Fast forward several years, and — thanks to a merger — Haungs finally got her chance. She collaborated with Ryan Payment, LandPro's vice president of finance and administration, to determine what the app should focus on and how to get it off the ground.
"The biggest thing for us was that we wanted to be able to offer our customers a truly transparent look at pricing," Haungs says. "Often [when customers obtain an online quote] the monthly payment might be written with 20% down, or something that isn't true to what a customer would be actually purchasing it for. We wanted to be able to put a tool in front of the customer that was a true look at how their payments would be."
Haungs and her team developed an app that provides customers with a completely personalized shopping experience.
"Shoppers are not only able to select their model, but they're also able to select the attachments and implements they want," Haungs says. "They can decide what they want their down payment to be. They can see what the necessary down payment is to get to 84 months on a compact tractor, and they can put in what their tax is.
"By the time they're done working with the tool, it's not just an idea of what they're going to pay. It's actually what they're going to pay."
What You See Is What You Get
Payment has been thrilled with how transparent the shopping process has become for customers. 
"You can go on John Deere's site and do a lot of the same things and build out your tractor," he says. "But the problem is, that's John Deere's price. That's not what you're actually going to pay for it. That's not the LandPro price. The vast majority of folks are using it to configure their machine and get an idea of what the price is. Then they either come in armed with that data ahead of time, or they e-mail it to the dealer."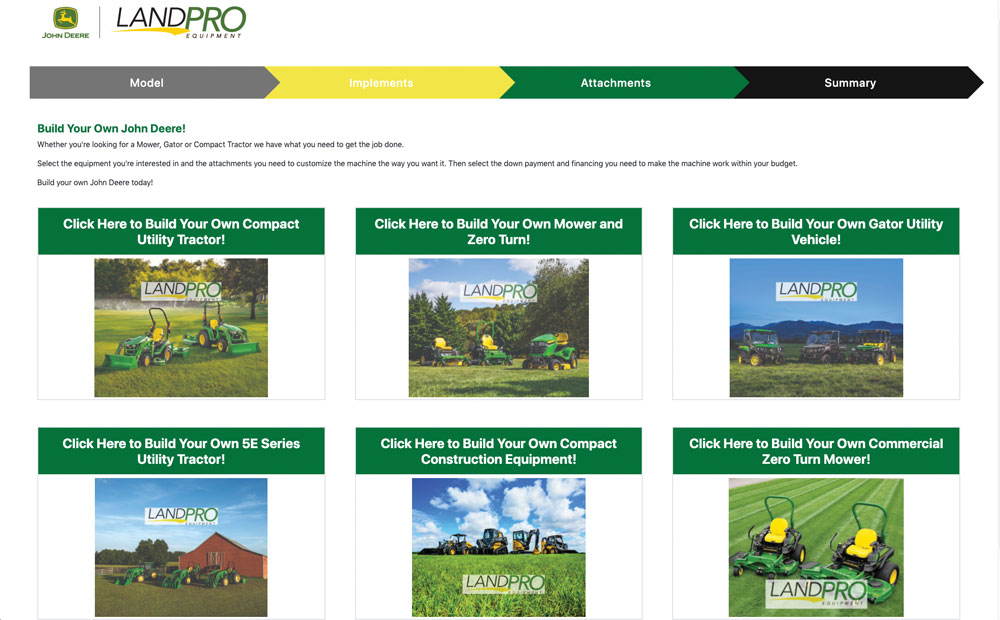 The "build your own" app LandPro created is available for compact utility tractors, zero-turn mowers, Gator utility vehicles, 5E Series of utility tractors, compact construction equipment and commercial zero-turn mowers.
Customers who use the app have access to a multitude of options that allow them to make small adjustments to their payment plan in order to establish a monthly payment they're comfortable with.
"There's a slider on there that can slide from 60 months to 72 months to maybe 84-month financing," he says. "Do you have a trade-in? Are you going to put some money down? All these options are available to get the payment in line with what you can afford."
The app even accounts for financing fees that are specific to the dealership.
"It's smart enough to know that some dealers will charge a financing fee," Payment says. "They'll do zero for 60 for free, but if you want to finance it for 84 months, some dealers will charge a financing fee. The app will build all that pricing into the final number."
Haungs has found that, because there are so many customization options available through the app, customers sometimes add on attachments they might not have considered if they were shopping in the showroom.
"It's a silent sales tool," she explains. "It gives customers little ideas, like to be able to add on a Stihl string trimmer if they're purchasing a lawnmower. It's beneficial for the dealer to be able to upsell without aggressively upselling.
"When we first built it, we were hoping customers would see the value in it and use it on occasion. Now it's a part of our complete marketing plan."
Data Collection for Dealer Improvements
One particularly advantageous facet of the app has been the information it provides to the dealerships using it.
"We're able to get tons of information on what customers are interested in, and then we can use that to make sound decisions and to talk to our salespeople," Haungs says. "We know that customers are interested in the Power Guard Warranty, because they're looking at it online. They're selecting it, and they're building their tractors with it. So we know we need to make that a bigger conversation when we're talking to our salespeople."
When potential customers click the button to e-mail their quote to the dealer — or, better yet, to buy the product they've designed — the dealer receives their information and can follow up. However, even if the customer doesn't click those buttons, the dealer still receives valuable data.
"What they have built is still logged into our Google Analytics, and we still have all that data available to us so we know how many of a certain model were built," Haungs says. "We know how often certain attachments are added. That's part of the value of the tool, because seeing all of that data helps us as a dealership to know what we should be ordering for inventory and what makes sense for us to be ordering for attachments."
---
"They can decide what they want their down payment to be. They can put in what their tax is. By the time they're done ... it's not just an idea of what they're going to pay. It's actually what they're going to pay…" – Molly Haungs
---
By reviewing the data generated from the app, Haungs says, dealers can determine if they're selling certain items simply because they're in stock on the lot, or if they're selling those items because the customers are intentionally seeking them out.
Because the app serves as a way to connect with customers who are highly motivated, it also shortens the time between initial contact and final sale — a development that benefits everyone.
"When you have a customer on your website that has put together exactly what they're looking for, they might not close immediately," Huang says. "But those are customers who are extremely interested. Otherwise they wouldn't have clicked 'Submit' at the end."
Payment agrees. "It's pretty low-hanging fruit," he says. "Somebody goes in and builds it, and we can see that they built it. We can see all that data even if they didn't hit 'Submit,' but the ones that actually take the time to say, 'Yep, this is appealing enough that I want to learn more' are likely going to make the purchase."
Selling the Tool to Others
One thing that was clear to Haungs early in the process of developing this app was that it needed to be created in a way that it could be sold to other dealerships.
"From the time we built it, we knew that we were going to end up putting it in front of other dealers," she says.
LandPro had exclusive use of the app for the first 6 months of its existence. At that point, Haungs and Payment reached out to other dealers to help them test the product.
Payment is part of a John Deere dealership peer group, and he asked others in the group to serve as pilot dealers.
"We learned a lot," Haungs says. "We did another pilot dealer after that, and we learned a lot from that. And then we just let it go. It's been amazing."
At this point, there are 12 dealers — soon to be 13 — who are using the app.
"We're on-boarding number 13," Payment says. "It's actually a construction-only dealer, which is kind of neat. We built it for ag and turf dealers primarily, but they saw the value in having the compact construction equipment side on their site. It's opened up a new avenue for us, which is exciting."
When dealers purchase the app, Haungs and Payment work with them to review the components of the app and demonstrate how to maintain it. "It's a complete overview of the front and back end, and some different marketing ideas available on it," she says.
Dealers are provided with a spreadsheet to complete with pricing information. Once that spreadsheet is returned to Haungs and Payment, it takes roughly 2 weeks for the app to be updated to match the dealer's needs.
"Then we give the dealer some ideas about things that have worked well with launching it to the public," Haungs says.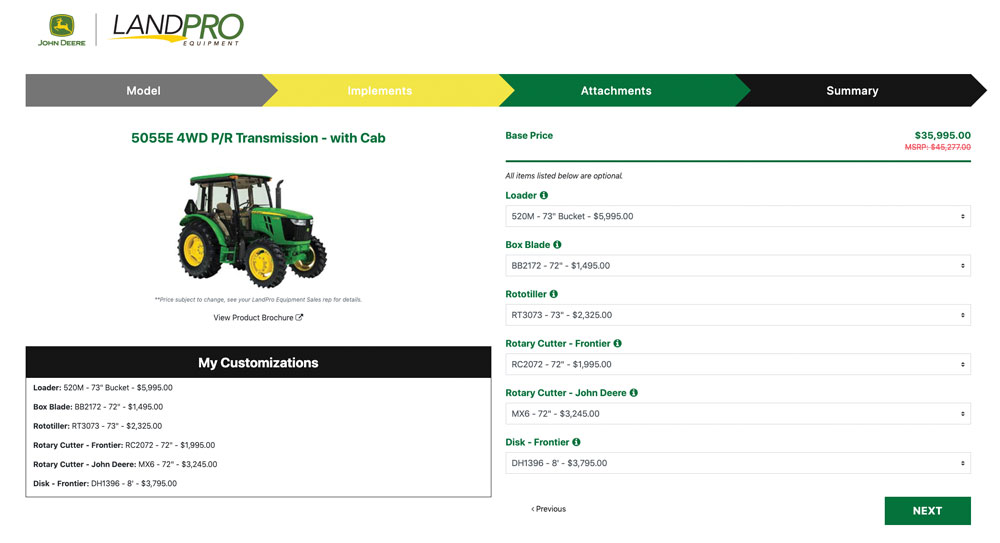 LandPro's Deere Building app on its website allows customers to price out a piece of equipment, including attachments and accessories and get a true price for the unit, not just a manufacturer suggested price.
By selling the app to other dealers, Haungs and Payment have been able to solicit ideas about ways to improve upon their product. "We've been able to get dealer feedback and make improvements that aren't just great for the customer, but great for the dealership as well," Haungs says.
One feature that's been added recently invites customers to include additional comments when they submit their quote to the dealer.
"In hindsight, we should have had that feature from the beginning," Payment says. "It's very interesting to see what folks type in. It's a great added communication tool."
According to Payment, some customers include information about what they'll be trading in, or they ask for a call from the dealer to discuss the value of their trade-in.
"That makes it even more valuable for the salespeople to follow up on," Huang says. "Sometimes the customer says, 'I'm looking to buy this next week. Please let me know your availability.' You're going to hop on a lead that you know you're going to sell."
Significant Sales in the Time of Coronavirus
Perhaps the most unexpected benefit of the app has been the way it's helped dealers continue to make sales during the COVID-19 pandemic.
"This tool has just been an amazing thing for us as a dealership," Haungs says. "The users have more than doubled on it. It's just wild."
She's pleased with the way customers and salespeople have been able to simultaneously look at the app as they tailor and modify a piece of equipment.
"They're able to select the attachments and implements together and get to that price at the end," Huang says. "So you still were able to build a relationship with a customer, even when you had the customers fearful of coming into a dealership. We have this amazing platform on our website that allows customers to be able to build exactly what they were looking for, and we were able to continue doing our business in a very responsible way."
"It's essentially kept our showroom open," Payment said. "This is almost like a virtual showroom. It's almost like you're coming in and talking to somebody about the prices."
It's evident to Haungs and Payment that dealers recognize the app's increased value at this point in time.
"Amid this pandemic situation, for people to be able to have touchless sales interaction with their customers and be able to work with them in a seamless way that offers true transparency [is so important]," Haungs says. "What's happening is awful, but I'm so excited about what this has been able to do for the dealers that we're working with."
According to Payment, roughly one-third of the dealers they've sold the app to have purchased since the COVID-19 pandemic began in the U.S.
"There was a lot of interest, and we were obviously thrilled to have it as a tool in our arsenal," he said. "A lot of other people saw the value in that."
Haungs expects the app to be appealing to dealers and customers alike for the foreseeable future.
"People's purchase experience is just going to look different than what it has in the past," she said. "I think people are just going to be going out when they need to go out. We might not have the tire kickers for a while. We might not have the people who stop in and shop at a couple of different places in person. This might be what the shopping looks like."