Dealer's Choice Awards
Shortline: Vermeer
Gold Level: Bourgault, Bush Hog, Highline Mfg. and Landoll
In late May, the Equipment Dealers Assn. (EDA) release the results of its annual Dealer-Manufacturer Relations Survey. Through the survey, farm equipment dealers rated the manufacturers whose products they represent on 11 key categories of dealership operations and support. 
In conducting the annual Dealer-Manufacturer Relations Survey, EDA distributed the survey to dealership contacts on Feb. 7 and gave them a chance to respond until March 15. The survey includes major line manufacturers, tractor manufacturers, shortline manufacturers and OPE manufacturers. This article provides an in-depth look at how the shortline manufacturers measured up this year. Art's Way and Elmers were included for the first time this year in the shortline section. 
Equipment dealers rate up to 7 of the manufacturer lines they carry in 11 categories, such as product quality and parts availability, as well as a separate rating for overall satisfaction. This year, more than 2,500 dealers participated in the survey, providing 9,000 individual ratings, accounting for about 4 manufacturers rated by each dealer. Dealer participation was up about 13% vs. last year, says Joe Dykes, EDA's vice president of industry relations. He adds that about 70% of those who responded were either the dealer principal or the owner, 11% were general managers and 6% were branch/store managers. Another 10% were either service, parts or sales managers and 3% were "other." 
Dealers were asked to select and rate the manufacturers in each of the 12 categories on a 1-7 scale, in which a 1 represents "extremely dissatisfied," and a 7 represents "extremely satisfied." Survey respondents represented all 50 U.S. states and 10 Canadian provinces.
---
"People make the argument that if you don't vote, you can't complain. It's similar to that. None of us can make something better if we don't know we have a problem in the first place…"
---
Dykes says it's important to keep in mind that the results reflect dealer sentiment during that one-month period. "Their responses are going to reflect that time frame and into the last quarter of last year," he says. "Something that has come up is have companies had time to implement their policies or procedures to address issues [from the previous survey] and is that being reflected." 
Tom Rosztoczy, EDA president and CEO of Stotz Equipment, Avondale, Ariz., says the EDA survey helps measure if a problem they might be having with a manufacturer is a local problem or more universal. "If we're having trouble with a shortline, is it just us? Is it just a local person that's the problem or is it company-wide? Are we just not communicating correctly with the TM or is it a bigger, more universal problem," he says.
Vermeer Earns 5th 'Dealers Choice' Honor
Dealer Locations: 450+
Employees: 3,400 around the world 
Regions Served: Vermeer provides agriculture, underground construction, surface mining, tree care and environmental markets products to customers in 60 countries. 
History: Founded by Gary and Ralph Vermeer on Nov. 22, 1948. Gary, a farmer, invented the wagon hoist in 1943 and after area farmers requested their own, the company officially opening its doors in 1948 to keep up with demand. In 1971, the "One-Man Hay" system was born.
Over the last 7 years, the "Dealer's Choice" award has been given to Vermeer 5 times in the shortline category. Farm Equipment reached out to the hay and forage equipment manufacturer to find out what sets them apart and makes them the best performing shortline equipment manufacturer in the industry. 
To the folks at Vermeer, it comes down to building strong relationships with their dealers and end users. "It starts with our people, our background and largely our attitude. I think as much as anything that is all a part of our culture at the end of the day," says Bret Julian, director of sales, forage solutions. "At the end of the day, everything we're doing is built to take care of or the end user, whether that's the dealer or the person that's buying the piece of forage equipment in order to try to make their operation better."
He adds that the majority of Vermeer employees are actively involved in agriculture, raising livestock or are just a generation removed from the farm. "We understand that lifestyle and have dealers who are also really dedicated to our end users," he says. 
Julian says taking care of the dealers is crucial to ensuring that the customers are being taken care of. He credits Vermeer's employees — from those who work directly with the dealers and customers to those working in manufacturing — to making sure that happens. "It'd be really difficult to find a group of people, a collective group of people that work harder than this one does. And it's all to basically to try to make sure that customers and dealers are satisfied at the end of the day. There's a lot of things that we do that are above and beyond the 9-5. We're obsessed with trying to make sure that people get taken care of."
Vermeer wants its dealers to be successful in all that they do, not just in selling Vermeer products. Thus, the training department focus its efforts beyond just product training, says Dan Belzer, Vermeer forage lifecycle manager. Belzer works with Vermeer service, parts and training teams. 
"We know many of our dealers don't just sell Vermeer. We're not their only OEM and we want to make sure they're successful in all areas so they have a healthy dealership," Belzer says. "That really comes down to two things: us caring for them as people, but also understanding and being aware of how important their businesses is to us."
Vermeer works with a variety of dealers, from rancher/farmer dealers who operate a dealership from their ranch to large, multi-store operations and everything in between.
What Vermeer Looks for in New Dealers
Vermeer isn't just looking for dealers to sell its wholegoods. The manufacturer wants full-service dealers who are trained, able to stock parts and have skilled technicians in their service department, says Julian. In years like this one, when things are behind because of the weather, this is particularly important. "These guys need to be able to fix things and keep their customers up and running," he says. 
Julian adds they are looking for dealers who understand that the hay business is important and are willing to learn the hay business. Part of that is understanding that as a dealer you need to be able to provide service and parts support outside of normal business hours. "This is not a 9-5 job at the end of the day. It can go all hours of the night or all weekend. Our best dealers are the ones who understand that and are able to keep hours open or keep their phones going to take care of customers," he says. 
For more on Vermeer's company history listen to the How We Did it Podcast (www.Farm-Equipment.com/Vermeer) featuring second generation Bob Vermeer and Mary Andringa, and third generation Jason Andringa and Mindi Vandenbosch.
He says if a dealer is considering taking on a shorltine, they'll refer to the survey to see how the company performs based on how other dealers rated them.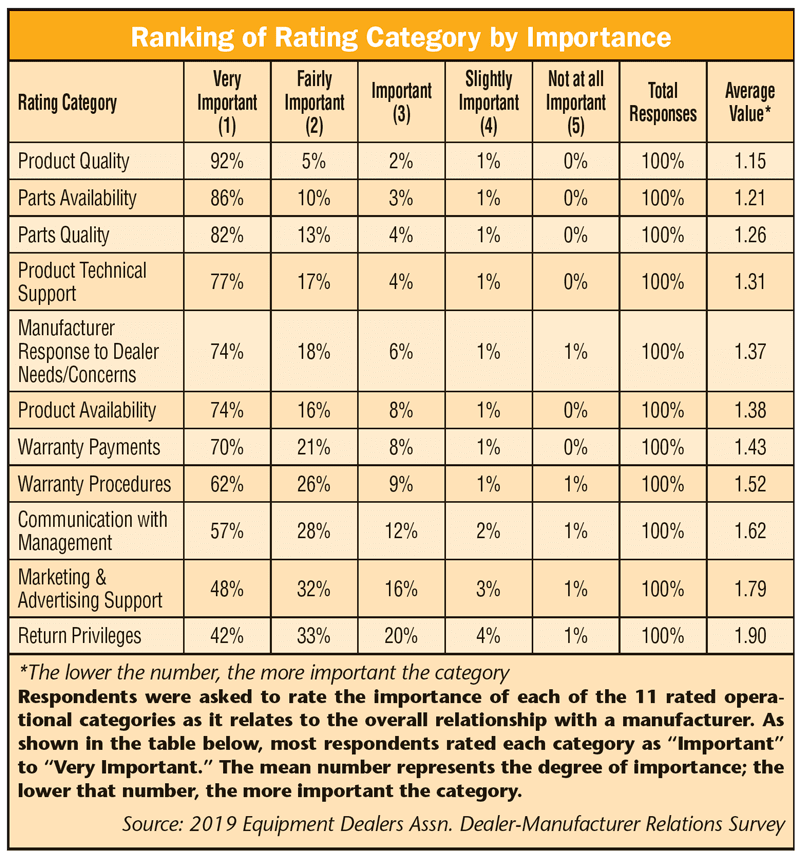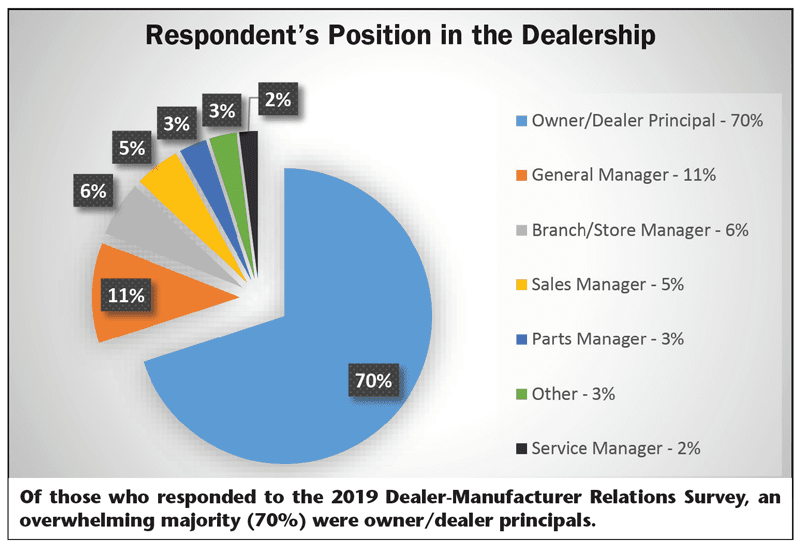 Rosztoczy compares the importance of participating in the survey to voting. "People make the argument that if you don't vote, you can't complain. It's similar to that. None of us can make something better if we don't know have a problem in the first place." 
From the manufacturer's perspective, the survey serves as a reference point as how they are doing and provides some clues to what matters to dealers. "That's one of the neat things about this survey is it shows you what they weigh, what a dealer would weigh the most significant in their business. It helps us get into their head about what they really care about," says Bret Julian, Vermeer's director of sales, forage solutions. .
Shortlines Earn Top Marks
Of the manufacturer classifications as a whole, the shortline manufacturers scored below only the OPE manufacturers, with an average score of 5.5 compared to 5.63 for the OPE manufacturers (OPE manufacturers will be covered in the summer issue of Rural Lifestyle Dealer). This was down from a rating of 5.61 in 2018. Over the last 5 years, the shortline manufacturers have had an average rating of 5.53. This year's average score for "Overall Satisfaction" for the shoreline manufacturers was 5.66. This rating is a stand-alone rating and is not compiled from the other 11 categories. 

Dedicated Coverage of the Outdoor Power Equipment Manufacturers
The Summer print issue of Rural Lifestyle Dealer will recap the Outdoor Power Equipment survey results, which includes 23 different manufacturers. 
For the fifth time in seven years (2013, 2014, 2015, 2016, 2019), hay and forage equipment manufacturer Vermeer received the Dealer's Choice Award in the shortline category, unseating Bourgault Industries (which earned the recognition the two years Vermeer did not). Vermeer earned top ratings in 9 of 11 categories, while Bourgualt nabbed "best" scores in the remaining two categories. 
On the other end of the spectrum, Art's Way — new to the survey this year — received the harshest ratings from dealers, ranking lowest in 9 of 11 categories, with the exception of Communication with Management (Gehl) and Marketing & Advertising Support (Gehl). 
Trends: A significant 5-year trend was seen in the performance of RhinoAG as the mowing manufacturer took most improved (2015-2019) in 11 of 12 categories. Krone was most improved in the remaining category (Product Quality). Woods and Bobcat lost ground by the largest degree over the last 5 years, both dropping the most in 4 categories. The other shortlines seeing the largest drops from 2015-19 were Gehl (3) and Land Pride (1). 
---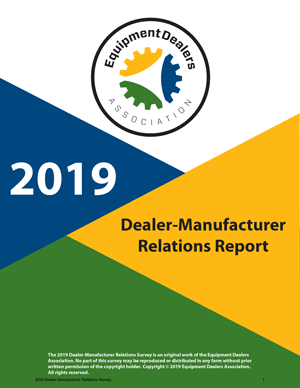 An 80-plus-page comprehensive report — including historical charts and data — is available to all EDA dealer members as a benefit of membership, and to the manufacturers participating in the study. Manufacturers also have the opportunity to obtain survey data that includes company breakouts by region, detailed statistical data and additional information. For more information on obtaining the survey data or membership, contact Joe Dykes at JDykes@Equipment Dealer.org.
View 2019 Equipment Dealers Assn. Dealer-Manufacturer Relations Survey Image Gallery