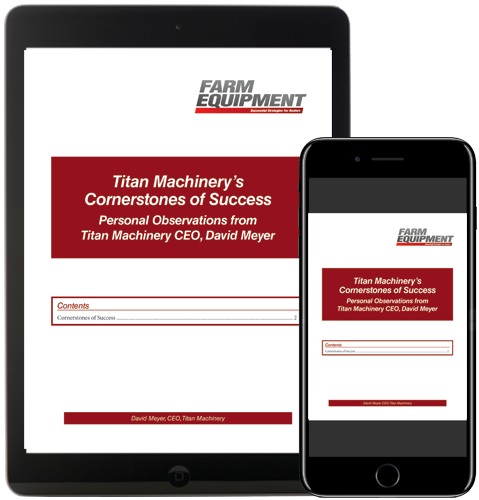 Gain a detailed look into the tips and strategies for investing in the people and tools to increase your dealership's revenue and long-term goals.
Dear Farm Equipment Dealer, 
There are many nuts and bolts that must work seamlessly together to ensure a proper outcome for your dealership. Successful dealers need to understand what is important to the customer, what drives purchase decisions and what differentiates the dealership from others. The inner workings of the dealership also have to work hand-in-hand, from your salespeople and community involvement to parts inventory and cash management, to produce a strong, growth-oriented dealership.
But what should you consider when looking to the future and planning where to invest your resources? We've compiled expert advice from David Meyer, CEO of Titan Machinery, Farm Equipment's 2006 Dealership of the Year.
Our eGuide, Titan Machinery's Cornerstones of Success: Personal Observations from Titan Machinery CEO, David Meyer, brings you Meyer's proven tips and strategies to invest in the best aspects of your dealership and grow your business. We've made it absolutely free to you so you can start improving your dealership's investments and increasing your revenue TODAY. 
This exclusive report details the various techniques that you can implement right away to improve your business, ensure your people are well-respected and keep customers coming back time and again. Learn Meyer's time-tested advice to stay ahead of your competition, including…
Investing in your business and staff
Being careful of parts obsolescence
Marketing and branding your dealership
Paying attention to your balance sheet
Having practical long-term goals
Get this eGuide for Free with a Free Account!
New members, click "Sign Up" for free account. Or, regular members click "Go In".
Invest in Your Dealership
Showing your customers that you invest in your dealership is important, whether that's stocking inventory, tools, semis, trailers and ensuring your facilities are up-to-date. But most important is that your business hours reflect times that allow customers to take a break from their busy schedules and have them coming back while your competition is closed. 
Hire the Best Service Technicians
Having staff that can fix anything can lead to great customer satisfaction, but investing in your dealership requires you to also invest in your employees. To avoid burning out your best service technicians…
Build relationships with them
Respect them and their families 
Make their safety a priority
Offer Stock Parts
Your parts department brings the biggest value to customer through replacement parts, but to keep this part of your dealership providing the best service and parts possible, be mindful of parts obsolescence. This eGuide offers several key considerations for improving your parts inventory strategies to ensure you aren't over or under stocked.
Hire Effective Salespeople
Sales staff need to have the ability to keep customers coming back, and to do this they need to have close relationships with your customers. Keeping your salespeople accountable and allowing uncapped sales compensation are just two steps to leading a successful sales team. Learn how Titan Machinery maintains a staff of competent, passionate and hardworking people.
Promote Effectively
Learn how to ensure your customers are more than satisfied with all aspects of your dealership by spending time spending time with them and promoting your specific brand to them through a variety of channels.
Become a Community Leader
Investing in people is one of the most important aspects of running a dealership, and putting time and effort to spend time with your community builds a reputation for honesty and integrity. Get tips for connecting with the community how outreach can quickly increase the number of loyal customers that want to do business with you and your staff.
Manage Your Cash
Keeping track of where your cash is in your dealership is the first step to managing your business to grow cash. You'll learn why paying attention to your balance sheet and having strong accounting, efficient systems and records are imperative to having the best performance.
Get this eGuide for Free with a Free Account!
New members, click "Sign Up" for free account. Or, regular members click "Go In".
With so much to worry about when running a business, it's easy to lose sight of the future to focus on the present. Download this eGuide now and discover advice for mapping the future direction of your dealership ensures that you can sustain long-term growth. You'll be equipped with the strategies and processes necessary to seize opportunities and increase your sales and overall customer satisfaction.
Yours for a better dealership business,

Dave Kanicki, Executive Editor
Dave is the Executive Editor of Farm Equipment, and the Editor/Publisher of Ag Equipment Intelligence and related properties. 
---
Discuss
What new insights did you gain? What jumped out at you? Share your observations.