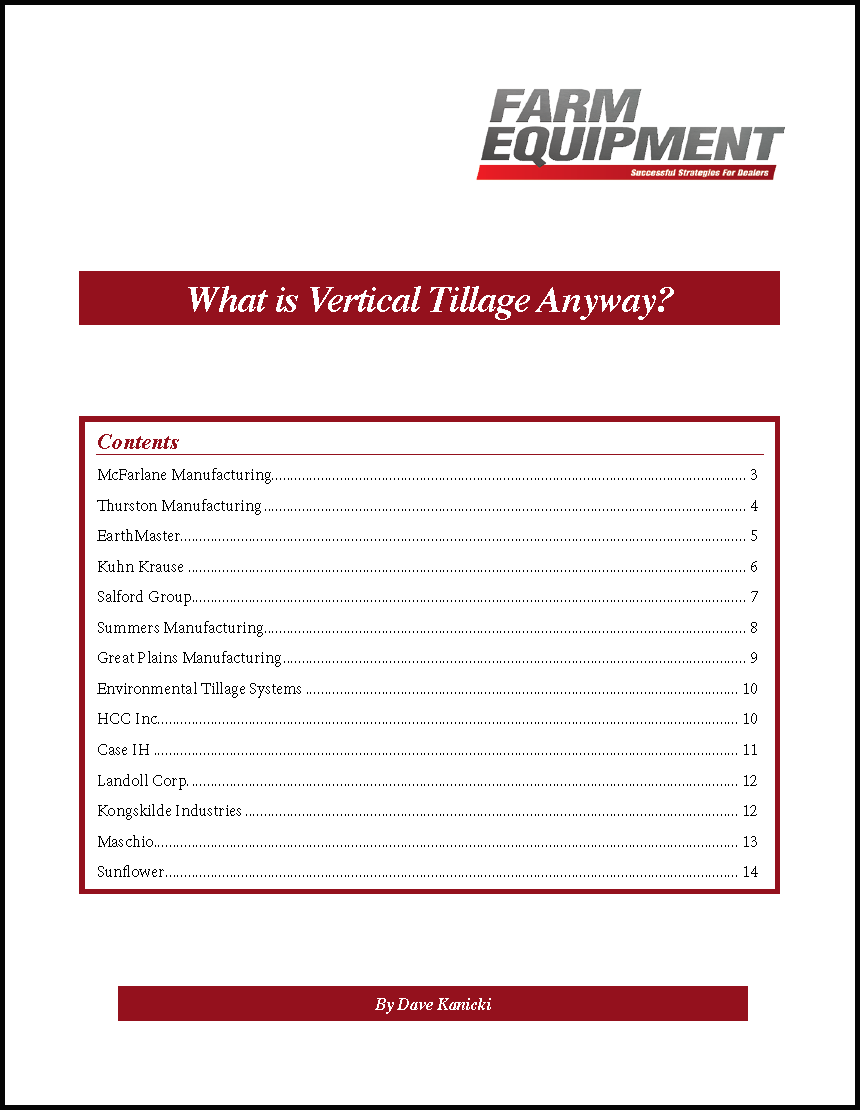 Learn each manufacturer's own definition of vertical tillage, as well as a description of VT discrepancies they've experienced in the past.
Hear from select manufacturer's including: McFarlane Manufacturing, Thurston Manufacturing, EarthMaster, Kuhn Krause, Salford Group, Summers Manufacturing, Great Plains Manufacturing, Environmental Tillage Systems, HCC Inc., Case IH, Landoll Corp., Kongskilde Industries, Maschio and Sunflower!
Dear Farm Equipment Dealer,
Though there are many methods of tilling soil, vertical tillage is one that seems to cause a lot of confusion. This could be due to the fact that as one travels from manufacturer to manufacturer, definitions seem to change quite drastically.
So, what is vertical tillage, and how can it be useful to farmers that purchase this kind of equipment?
In this FREE eGuide, find the answers to those questions and many more as Farm Equipment Magazine explores the true meaning of vertical tillage. Inside, dive deeper into these key topics...
What Vertical Tillage is.
What Vertical Tillage isn't.
What Vertical Tillage is Supposed to Accomplish
Vertical Tillage Discrepancies: Manufacturer Misinterpretation of VT.
Because vertical tillage is so specific, there are a number of specialized pieces of equipment that are manufactured to do the job just right. "What is Vertical Tillage Anyway," pinpoints those machine-types while backing them up with manufacturers to further develop your understanding of the process.
Research the various options in this eGuide…
Chisels.
In-Line Rippers.
Straight Blade Coulter Machines.
Get this eGuide for Free with a Free Account!
New members, click "Sign Up" for free account. Or, regular members click "Go In".
Yours for a better dealership business,

Dave Kanicki, Executive Editor
Dave is the Executive Editor of Farm Equipment, and the Editor/Publisher of Ag Equipment Intelligence and related properties. 
---
Discuss
What new insights did you gain? What jumped out at you? Share your observations.