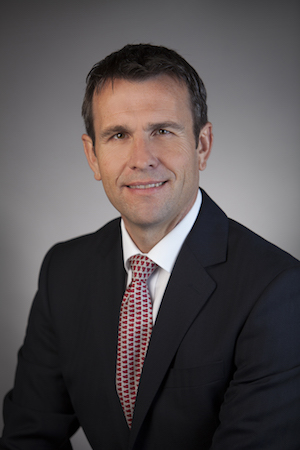 Richard Fox-Marrs
SAVANNAH, Ga., – JCB has announced the appointment of Richard Fox-Marrs as president and CEO of JCB Inc., responsible for JCB operations in North America, including sales and support for the construction, agricultural, rental, government and defense industries. Additionally, Fox-Marrs is responsible for production at JCB North America's Savannah headquarters, where the company manufactures the 3CX backhoe loader, skid steer and compact track loaders, along with the military specific High Mobility Engineer Excavator and Light Capability Rough Terrain Forklift. Fox-Marrs' appointment is effective immediately.
"As JCB's senior executive in North America, Richard Fox-Marrs will further our position as a global leader in technical innovation, product quality and customer service, and accelerate our strong business performance and growth across all business sectors," said Graeme Macdonald, JCB chief executive officer.
Fox-Marrs is a 26-year veteran of JCB. Prior to his current appointment, Fox-Marrs served as JCB North America's president of Agriculture. His previous positions included managing director of the Loadall telescopic handler business unit and managing director of JCB's global Agricultural division. Fox-Marrs work in the North American market dates back to 2001 when he was responsible for establishing JCB Agriculture in North America.
Fox-Marrs currently serves on the board of the Association of Equipment Manufacturers (AEM) and has served on the Farm Equipment Council in the UK and was chairman of the Agricultural Engineers Association (AEA) Farm Equipment Council in 2013-2014. He also served as a board member for AEA and represented the UK on the European Committee of Agricultural Machinery Manufacturers Associations Board.
JCB is a privately owned, global company that manufactures more than 300 different machines from 22 plants in countries on four continents, including the United States, United Kingdom, China, India and Brazil. Equipment lines offered include: backhoe loaders, Loadall telescopic handlers, excavators, wheel loaders, rough terrain forklifts, compact excavators, skid steer loaders, compact track loaders, compaction equipment, aerial work platforms, and Fastrac tractors. For more information, visit www.jcb.com.