---
Pictured Above: (l) Nathan Zimmerman and (r) Colin Hlavinka
---
Putting together a precision farming service plan can be a messy process. What to include — and exclude — how to bill and of course, what to charge, are key decisions that need to be made prior to launching a package.
But research, feedback and a willingness to work with customers on tweaking support plans to serve their needs are ways dealers can turn potential problems into profit.
Three dealers with diverse approaches to building, promoting and capitalizing on precision service programs shared their journeys — detours and all — at the 2017 Precision Farming Dealer Summit. From getting salespeople and precision specialists on the same page with objectives, to setting attractive price points and retention goals, the panel discussion provided an experience-based roadmap to recurring revenue.
'Spaghetti on the Wall'
To effectively develop and sell a precision service plan, there needs to be buy-in and collaboration, especially among salespeople, service mechanics and the precision team.
This was an early challenge Twan van Ham, integrated solutions manager with Western Tractor Co., in Lethbridge, Alta., had to overcome after becoming head of the 4-store dealership's precision department.
"Initially, it was like throwing spaghetti against the wall, but over time it began to straighten itself out," van Ham says. "We struggled early on getting the entire dealership to understand what we were trying to do in the precision department. If I, or someone in the precision department, sold a base service package that included training, updates and replacement hardware, the service department was still giving away some of those services for free. It took time to get the mindset changed."
van Ham created 3 different service packages with a goal of avoiding overlap between the service and precision departments, while also balancing and utilizing the strengths of each.
The dealership's technical package involves servicing and maintaining equipment technologies, which required van Ham to define and figure out the boundaries between mechanical and technology services.
---
"Our service plan can offer a 50% discount on some additional services for customers who enroll, which has been an effective selling point..." — Nathan Zimmerman
---
"I started by looking at whether it was a job the service department was already doing or should be doing?" he says. "If it's about bolting on a piece of hardware or a widget, that's a service department job and billed accordingly."
For the agronomic package that includes crop scouting, soil sampling and prescriptions, those are delivered through the dealership's 8 in-house agronomists. The final precision package is what van Ham calls "tech-gronomy" services, or a hybrid of technology maintenance and troubleshooting.
"Machine optimization is one area that fits this category," he says. "It's different than machine maintenance and involves more of the data collection and calibration, which is really the area where our precision packages have been very successful. It's an area where the precision ag department can really do its best work."
Dialing Into Incentives
Understanding the appetite and acceptance of farm customers' willingness to pay a premium for precision service are considerations dealers should take into account when developing a support package.
Directly asking customers what they want is the approach Nathan Zimmerman, precision farming manager with A.C. McCartney in Mt. Sterling, Ill., took when assembling the 4-store dealership's precision plans.
"We have about 165 solid customers that we deal with yearly on a face-to-face basis, so I asked some our best farmers what they thought would be fair to include in a package," he says. "One of the things we realized is that we have a lot of customers who maybe only bought 1 piece of equipment or technology from us. How would we sell them a comprehensive package if we don't really have a reason to talk to them during planting season because they don't have a product we sold them?"
The solution was to give customers choices and essentially build their own service plans. The dealership started with a $300 base plan that includes unlimited phone support, 2 technology training classes per year, free loaner hardware and a 10% discount on technology parts and labor.
Then the dealership offers discounted add-on services that customers can purchase outside of the annual service plan, including pre-season inspections ($100 per unit), yield monitor calibrations ($75 per crop) and yield map printing ($10 per field). (See chart below)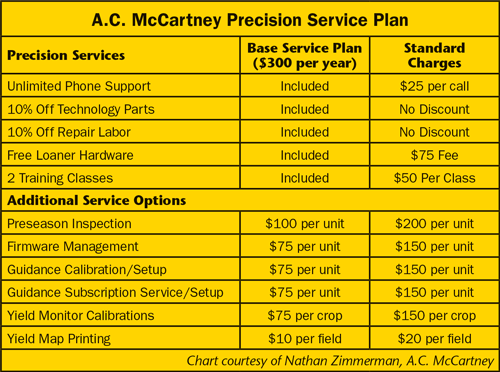 "In some cases, it's a 50% discount on those additional services for customers who enroll in our annual base service plan, which has been an effective selling point," Zimmerman says. "We rolled the plans out in 2016 and about 30% of our solid customers signed up, and at the end of the year, 15% had already renewed, so they are seeing the value."
Another incentive to purchasing the service plans is the unlimited phone support, Zimmerman says. Tracking and billing for precision phone support is a shared challenge among dealers, but something A.C. McCartney now emphasizes since they charge customers without service plans $25 per phone call for precision support.
While Zimmerman admits some customers are initially irked by having to pay for phone support, complaints tend to be from farmers who haven't done business with the dealership in the past, or are frustrated by another retailer's service performance.
"We try to get the customer's information and send him a bill and then we get a follow-up call about the charge," Zimmerman says. "I have to joke with him that I'm charging him for that call, too. But at that point, I explain our program and they usually understand and accept the $25 charge or enroll in the service plan."
'An Insurance Policy'
When dealers sell a piece of hardware or a precision system, they are also selling a promise to a customer. For this reason, Colin Hlavinka, precision farming manager at Hlavinka Equipment Co., in El Campo, Texas, views precision service plans as "insurance policies" for customers.
"We insure the uptime by giving them a security blanket or safety net," he says. "We're basically telling customers, 'Look, you add this product and we're going to make you this amount of money.' If they go to the field and it doesn't work, it's hard to explain how we're making them money when they're not able to plant or they're not able to fertilizer or they go through harvest and the combine didn't map anything."
The dealership has more than 50 active service plans. Their best success is selling to customers who fit the innovator and early adopter profiles on the precision adoption curve. Hlavinka says their success is rooted in a less is more approach for customers.
"We keep a pretty limited menu and it's just like a restaurant that has maybe a half-dozen options vs. 12 pages and the waitress comes back four times asking for a decision," he says. "Talking with other dealers, if your service menu is too broad, customers just don't know what they want. They say they'll get back to you and never do."
---
"Parts can carry a 50% margin, so that revenue adds up fast. It's up to the techs to keep their eyes open and also look in the cab for some incremental sales, and treat that call as a paid sales visit..." — Colin Hlavinka
---
The dealership offers single-unit and multi-unit plans for $350 and $700, respectively, with an additional $100 per unit for operations with more than five. Hlavinka says they've averaged about 10% margin on service plans since they launched them in 2011.
"The way we track profitability on it is each year when a customer signs up, it's under automatic renewal, so I don't have to remind them," he says. "There is a note that says, 'Unless you notify us 60 days before the renewal period, it's going to automatically renew.'"
Every year, there's a different stock number made for each one of the purchased service plans. Then any work done on a customer's service plan is charged to that stock number which allows the dealership to track every plan.
Is every one going to be 100% profitable? No, Hlavinka says. But the service plans allow the dealership to generate additional labor and parts revenue. Packages cover 2 on-farm visits, but not the cost of parts or labor needed to repair additional issues that arise during a visit.
"When we go out and find something wrong on a piece of equipment, we're going to make sure everything turns on, make sure it drives, make sure it applies fertilizer or make sure it plants," he says. "But if we find something else wrong, it's billed at our normal shop rate. I've asked customers if they'd like me to create more inclusive services plan, where they can prepay for labor.
"But most say they don't want to pay for labor they may not use. That's allowed us to generate some additional parts and labor revenue, beyond the cost of the packages."
Another complement to the dealership's support plans are precision accessories, high-margin, often low-cost products that specialists can stock their trucks with on service calls. In-cab display mounts, RTK antennas and cables are attractive items Hlavinka says the dealership has success selling.
"Parts can carry a 50% margin, so that revenue adds up fast," he says. "It's up to the techs to keep their eyes open and also look in the cab for some incremental sales, and treat that call as a paid sales visit."