Atlanta, Ga. —  EquipmentWatch, a leading source for heavy equipment data and intelligence, has announced its 2nd annual list of Highest Retained Value Award winners — the industry's only award based on residual values of heavy equipment. Top honors in each category were given to the model/series projected to retain the highest percentage of its original value after 5 years.
Twenty-eight awards were presented in all, recognizing winners in construction, agricultural and lift/access equipment categories. Caterpillar and John Deere tied for most awards won in 2017 with four each. Caterpillar maintains a slight all-time edge with a total of nine to Deere's eight accumulated since the program's inception in 2016.
Only five series continued their 2016 dominance and won again in 2017, a sign that residual values among the most popular types of equipment are very competitive. Repeat winners include Apache (self-propelled sprayers), CASE (backhoes), Gehl (small skid steer loaders), JLG (articulating boom lift) and SkyTrak (lift trucks – telehandlers).
"The Highest Retained Value Award is indicative of excellence across a manufacturing organization," said Garrett Schemmel, vice president of EquipmentWatch. "Product quality has the most obvious impact on an asset's performance on the secondary market, but residual values are also highly impacted by brand affinity and fair original pricing. A manufacturer must excel on all three fronts to gain recognition as a Highest Retained Value Award winner."
While the largest brands (Caterpillar, Deere, Komatsu) continued to dominate certain categories, there were a notable number of specialized manufacturers with product series that showed significantly greater retained value than their competition, such as Bomag, Challenger and Hyundai.
"For purchasers of equipment, there is perhaps no single measurement more influential in the buying decision process," says Schemmel. "The residual value of an asset will have a significant impact on leasing terms and lifetime ownership costs. Informed buyers do well to weigh value retention heavily when considering equipment acquisition." 
To create the 2017 Highest Retained Value Awards, EquipmentWatch analysts considered 12,536 models. That list was narrowed down to 156 series from 36 brands. Once the finalists were set, residual values were calculated at the series level by leveraging a database covering more than $412 billion in market activity in order to identify the winner in each category. To learn more about the winning models and program methodology visit www.equipmentwatch.com/residual-value-awards.
2017 EquipmentWatch Highest Retained Value Award Winners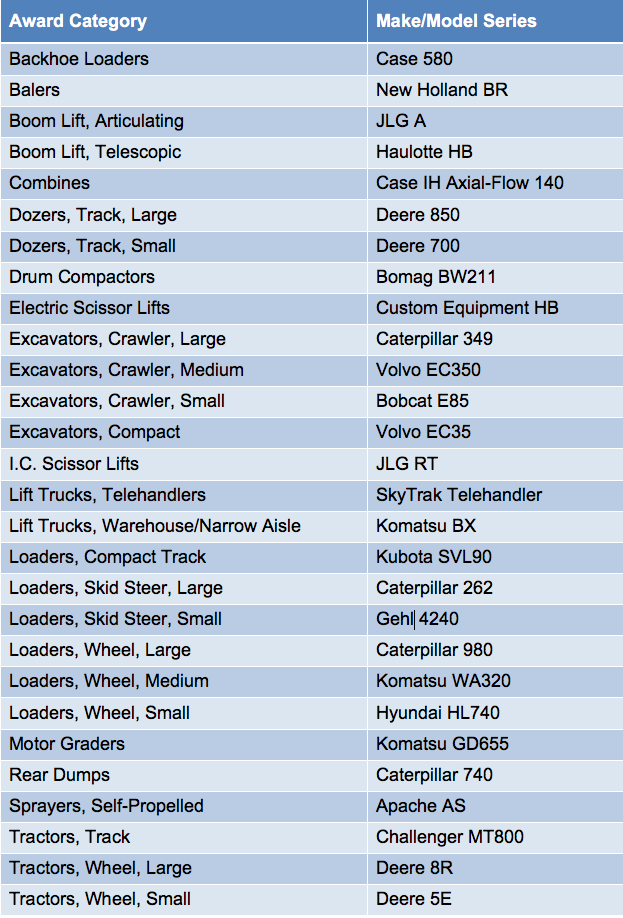 About EquipmentWatch
For nearly 50 years, EquipmentWatch has served contractors, equipment manufacturers, dealers, rental companies, lenders, insurers and government agencies involved in heavy civil construction. It is a leading source for heavy equipment data and intelligence, and produces leading database information products for the construction equipment industry and is the world leader in heavy construction research and serves more than 15,000 professional, high volume users of construction and lift truck data. Our products are valuable tools in decisions surrounding the purchase, valuation, operation, and disposal of equipment.
About Informa
EquipmentWatch is part of Informa, the international business intelligence, academic publishing, knowledge and events group. Informa serves commercial, professional and academic communities, helping them connect and learn, and creating and providing access to content and intelligence that helps people and businesses work smarter and make better decisions faster.