At least one analyst sees Titan Machinery's ongoing destocking efforts paying off and the dealership group's merger and acquisition efforts could restart as early as fiscal year 2018.
"A dramatically improved balance sheet, in our view, puts the compa­ny on track for a resumption of its historically successful M&A activity and possibly opportunistic share buy­backs," Igor Maryasis told investors in a Jan. 10 note announcing Aegis Capital Corp. was initiating coverage of Titan Machinery.
He said Titan's ongoing deleveraging and inventory destocking initiatives have put the dealership group in good position when end markets recover. "In 3QFY17 Titan increased its inventory reduction target for FY17 to $125M from $100M previously. This would add up to a total of nearly $0.5 billion decline from the peak of 4QFY14, a notable feat amid a rapidly contracting industry demand," said Maryasis. "As a result of these actions, in FY17, the company's equipment inventories relative to its total sales will decline for the first time since 2011."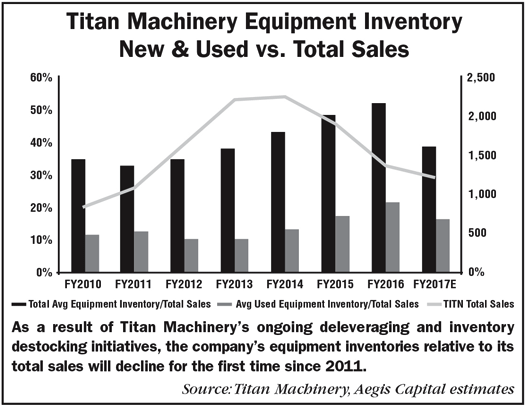 Maryasis sees "significant long term growth potential from Titan's likely return to M&A activity centered on dealer consolidation in North America," which he expects to continue.
The amalgamation of dealers since the mid-1990s has accelerated in the past decade. The main drivers have been and will continue to be the aging population of dealer-principals, increasing size and sophistication of farm operations and farm equipment, in general, as well as higher dealer capital requirements.
He says Titan has been able to capitalize on these trends through M&A. "We expect it to do so again, once it builds up an adequate balance sheet cushion. We believe Titan is one of only a few players in the region possessing necessary capabilities, management depth and proven track record of providing successful consolidation solutions to sellers, its customers and the OEM, Case New Holland Industrial (CNHI).
Titan currently owns and operates a network of 91 agricultural and construction equipment dealerships in the U.S. and 17 European dealerships in Romania, Bulgaria, Serbia and Ukraine.
Maryasis said Titan's renewed M&A efforts could take place as early as fiscal year 2018. He suggests that the dealership group's next acquisitions could "perhaps start with 8-10-12 store dealerships in Titan's home state of North Dakota as well as neighboring Minnesota and possibly Illinois."