Faced with finding tires to support today's heavier farm equipment, farmers are also looking to protect the integrity of the soil, improve productivity and enhance crop performance on their farms.
One of the most effective ways to improve yield is to minimize soil compaction by using tires that are designed to operate at lower air pressures compared to standard radial tires.
Harper Adams Univ. in the U.K. completed a three-year study involving Michelin's Ultraflex Technology IF (Increased Flexion) and VF (Very High Flexion) tires that demonstrated a yield increase of up to 4 percent compared to standard radial agriculture tires.
To this end, Michelin is introducing three new tires for North American farmers that are designed with Michelin Ultraflex Technology, an innovative tire and casing design that promotes soil protection, fuel savings, longer service life and greater endurance.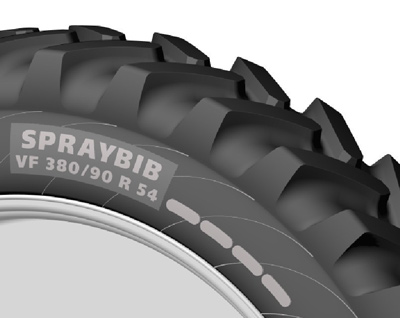 At the Canada Farm Progress Show, June 15-17, 2016, in Regina, Sask., Michelin will feature the following new tire models, designed for sprayers and harvesting equipment, in Booth 70420 (Hall 7) in the Credit Union EventPlex:
MICHELIN SprayBib VF 480/80R46 177D
 
The new VF480/80R46 177D MICHELIN SprayBib is one of the latest additions to Michelin's VF sprayer line. Part of the Michelin Ultraflex Technologies portfolio, this new SprayBib is designed to offer the farmer a unique sprayer tire that falls between the standard, narrow row-crop tire and a flotation tire for pre-planting applications. This tire provides a load capacity of up to 16,094 pounds, at speeds of up to 40 mph, all while maintaining a low-inflation pressure to minimize soil damage and maximize traction.  
 
MICHELIN SprayBib VF 380/90R54 176D
 
Designed for high-clearance sprayers and row-crop tractors, the new Michelin VF380/90R54 176D SprayBib has the load capacity to carry today's largest sprayers and planters on the market and does so at very low pressures compared to standard radial tires. Because of these lower air pressures, it provides a huge footprint that delivers the traction required by tractors used in narrow-row spacing.
 
MICHELIN CereXBib IF 1000/55R32 CFO 188A8
 
The largest harvester tire in the Michelin portfolio, the IF1000/55R32 CFO 188A8 CereXBib is designed for use on large harvesters and grain carts. Harvesters and grain carts are among the heaviest machines to hit the field and have surpassed the weight capacities of most radial tires. This new Michelin Ultraflex tire carries these loads at lower pressures to guarantee the least-possible soil compaction and rutting.