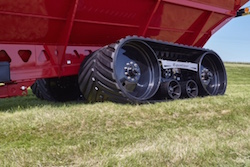 The award winning Unverferth Equalizer™ track system along with Continental Trackman has introduced the largest footprint track for large-volume grain carts. Designed specifically for the Unverferth Equalizer track system, Trackman has produced the only 42" rubber track in the industry. The track system allows each Trackman rubber track to independently camber to the ground contours. This along with the exclusive track design of a shallow tread pattern provides greater flotation and minimal ground compaction. The Unverferth Equalizer track system is available on select 1,100-bushel and larger Brent, Killbros, Parker and Unverferth brand grain carts.
Click here for more information on Continental Trackman rubber track products.
Click here for more information on Unverferth.
---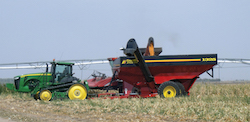 Equipped with a 22-inch computer balanced auger with 5/16-inch flighting, the unloading speed is 50% faster than smaller grain carts with 18-inch or smaller augers. Standard adjustable spout allows better control during unloading. Comes standard with a tandem axle that will go down 30-inch row spacings, providing better stability and weight distribution. Supported by 10-inch-by-6-inch heavy main frame steel tubing and has a narrow 12-foot width design for easier road transport. Tire size is RL 12 ply 520/85R38. Weighs 17,000 pounds empty and discharge height is 14 feet 5 inches.
Click here for more information or call CrustBuster/Speed King Inc. at 620-227-7106.