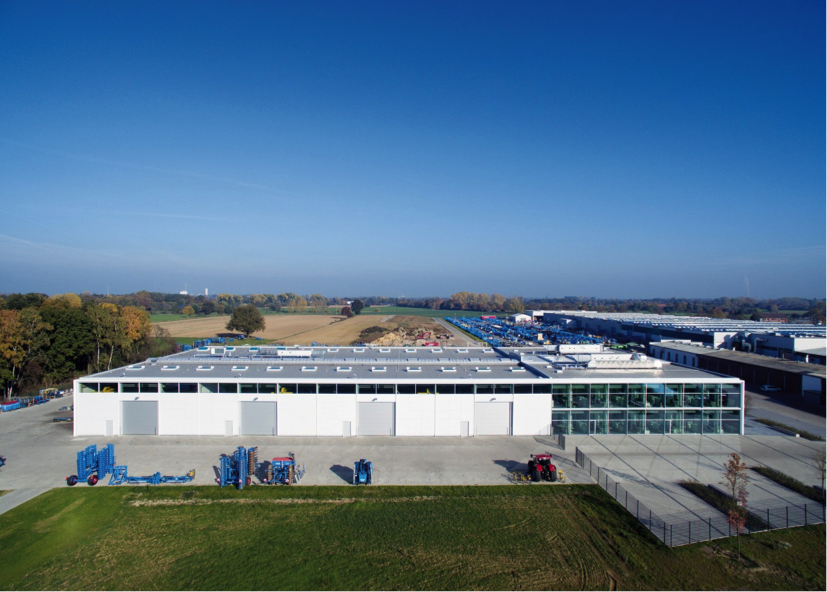 The Lemken development facility with testing hall (left) and R&D offices (right)
ALPEN, Germany — Lemken has built a new development facility with workstations for 143 design and electronics engineers. The building, which was recently opened in February 2016, provides a modern, technically sophisticated environment.
The official opening was attended by 100 invited guests from academia and R&D in agricultural machinery as well as Lemken employees, all of whom gained insights into current industry trends and the development of spaces fostering creative ideas for positive, forward-looking projects. Afterwards, there was plenty of opportunity for having a look around the new premises and exchanging experiences and ideas.
The building comprises a total floor area of 5,800 meters squared. Its striking design combines office areas (3,100 meters squared) and a testing hall (4,200 meters squared) in a single structure. The integration of design offices into the industrial grid of the hall structure has created wide office spaces that are largely free of internal supports and optimally meet user requirements. The new testing hall includes extensive simulation and fatigue testing areas that are directly accessible to the Lemken design engineers.
The office areas are open, transparent and filled with natural light to support team-oriented, communicative work. Acoustically highly effective, partially glazed dividing walls ensure that engineers can sit down for product team meetings, but are also able to work without being disturbed.
Lemken has additionally ensured that the design of its new think tank is energy-efficient. The new building is supplied with waste heat from Lemken's own combined heat and power plants and is therefore integrated into the multi-pronged CO2 reduction program implemented at the Alpen, Germany site.
About Lemken
Lemken, a specialist for professional arable farming with annual sales of EUR 327 million, and a global company employing more than 1,300 staff, is one of Europe's leading suppliers. Founded as a blacksmith's shop in 1780, this family-operated company produces high-quality, high-performance agricultural implements for soil cultivation, seeding and plant protection in Germany at its headquarters in Alpen and its plant in Haren as well as in Nagpur, India. For additional information on Lemken visit  www.lemken.com.