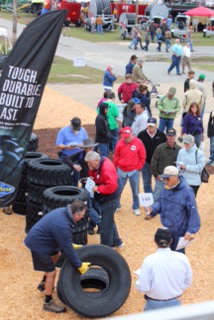 DES MOINES — Titan International is pleased to announce that a total of $216,840 has been raised for various regional FFA chapters over the course of 2015. The total includes amounts procured through special event tire auctions and a social media campaign. In addition to this monetary amount raised, Titan is projected to contribute approximately 1,600 tires through the National FFA Antique Tire Restoration program by year-end 2015.
"Cultivating the next generation of leaders in agriculture is a goal that both the National FFA and Titan share," said Paul Reitz, president of Titan International. "The total amount raised in support of regional FFA chapters this year will help fund programs that advance the future of agricultural education, and we're very proud of that."
In addition to the money raised from this year's special event tire auctions, $50 from every WHO FFA tractor ride tire produced in the Des Moines Titan facility goes directly to the Iowa FFA chapter. "Local FFA chapters make a very direct and positive impact in their communities, and we're glad we can support those efforts in our own backyard," said Scott Sloan, agricultural product manager at Titan. "Our industry needs to empower students to become thoughtful and confident leaders, regardless of the career path they pick, and local FFA chapters help them do just that."
Part of this year's FFA fundraising efforts also included the "FFA Donations for Likes" social media campaign, in which Titan committed to donating $1 to the National FFA for each new follower on Twitter, fan on Facebook and subscriber to the YouTube channel. A total of $20,000 was raised through this campaign for the National FFA.