CNH Industrial announced Monday that it will reduce the manufacturing workforce at its Grand Island, Neb., plant in response to market conditions, reports The Grand Island Independent.
Approximately 70 full time employees will be impacted by the reduction and the layoff is expected to happen in October and is indefinite.
The Grand Island plant produces combines for the North American market, including the Case IH 140 series, Case IH 240 series and the New Holland CR Twin Rotor series.
According to the Assn. of Equipment Manufacturers July sales report, U.S. combine unit sales are down 40.5% so far this year.
Earlier this year the company announced it was laying off 136 full time manufacturing employees from the Grand Island facility. That round of layoffs began in May and was completed last month, The Grand Island Independent reports.
You can read the full story here.
---
You May Also Be Interested In...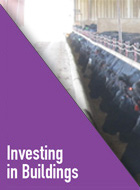 Case Study: When is Investing in a New Structure the Right Decision?
In this year's SOURCEBOOK Special Report, we went in-depth with 5 different scenarios examined in a format similar to Harvard Business Review case studies. In one case study, we explore how a consultant might approach a farmer questioning whether they should invest in a new building. 
---