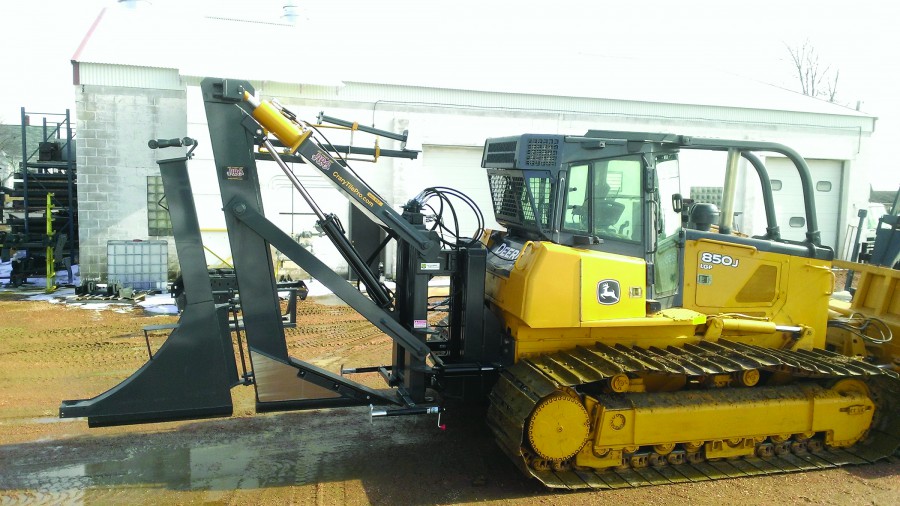 Crary Tile Pro drain tile plows can now be installed on the John Deere 850 J Bulldozer. With the Crary Tile Pro plow users will be able to dig, lay and bury drain tile all in one pass. The frame-mounted tile plows are best in the industry for maneuverability, stability and traction.
Features of Frame-Mounted Tile Plows:
Frame Mounting – the plow acts as a giant lever transferring weight through the entire length of the tractor or dozer. Maintaining consistent depth and grade with no leaning when going around corners or curves
No Wheels – mounting the plow to a tractor or dozer allows for no tires under the plow. Giving operators better access to trash clearance and rock removal. Also, there is no need to pile excavated dirt farther away from the starter hole, thus saving significant time, and no wheels to straddle over the trench to increase safety.
Steerable Plow – a complete steerable plow for all dozers and 2 track tractors leaves both tracks pulling for 100% traction, while steering the plow with the shank. The plow also stays vertical when tiling radius curves.
Dual-Link control system – sets Tile Pro apart from the competition. Controlling shank pitch and elevation, similar to commercial tile plows. End result is precision placement of tile in varying soil conditions.
Installing drain tile to farmland is one of the best investments farmers can make. Increased yields, enhanced land value and earlier planting are just a few of great benefits of drain tile installation.
Crary Tile Pro plows fits most makes of tractors and dozers. To learn more about the plows and accessories, please visit www.crarytilepro.com or call 507-249-3176 to talk with a drainage equipment specialist.