With concerns about increased size of farm machinery, speed and efficiency — not bigger and wider — was a theme of this year's discussions and product introductions at the National Farm Machinery Show in Louisville, Ky., February 12-15. The show had more than 850 exhibitors who covered more than 1.2 million square feet of exhibit space.
Eight editors from Farm Equipment hit the floors of the Kentucky Exposition Center to interview manufacturers and find the newest, cutting edge products. Many of the new products introduced are found on the following pages.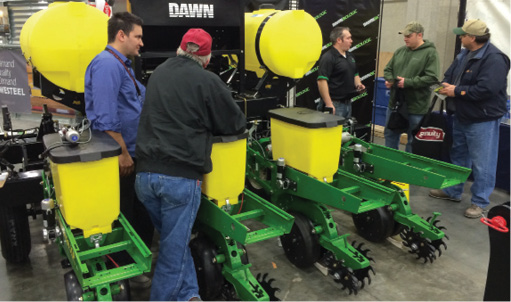 The newly formed DawnBiologic, a subsidiary of Dawn Equipment, exhibited for the first time in Louisville, including its ZRX hybrid stalk roller and furrow opener. "It was designed for the larger organic farmer who is increasingly looking to use cover crops for weed control," says Joe Bassett. "Organic farming is growing, and few manufacturers are addressing their needs." The firm also showcased its new MiFX controller and ground hardness sensors that it developed through an agreement with 640 Labs to provide real-time hydraulic down pressure adjustment on each row unit. It provides cognitive feedback for the operator via Bluetooth application on an iPad interface, says Bassett.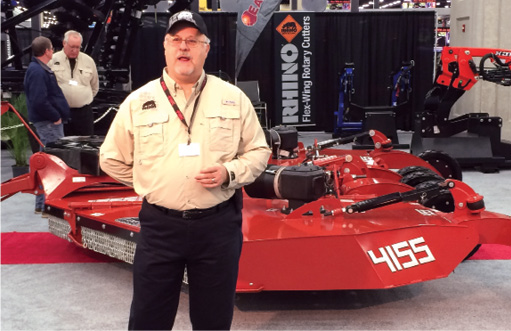 At an opening morning news conference, Alamo/Rhino unveiled its new Flex Wing, what Randy Webb described as the most innovative development in rotary cutters in 40 years. Key features of the 7-model line include unique locking clevis for ease of hook-up, new gearbox design (3 times the torque at same horsepower), austempered ductile iron cast blade pan and three deck styles (Apex, Epic and Icon). After demonstrations at dealer meetings last summer and more than planned for early-orders, president Tom Beard said, Alamo is reorganizing its Gibson City, Ill., plant to add capacity for the line. The firm also announced an evolution in its Earthmaster vertical tillage tool with the 3000 series.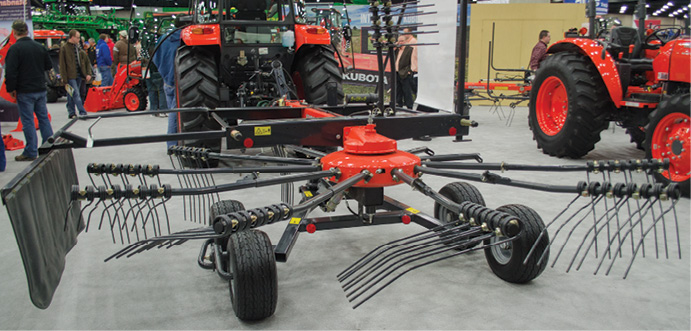 Hay equipment was featured at the Kubota booth for the first time in Louisville. The RA1042T single rotor rake is designed for lower power requirements, while still delivering a working width of 13 feet 9 inches. "It has removable tine arms with a storage rack, allowing it to be stored in a narrow spot in the barn and for easy transport," says Justin Ferguson.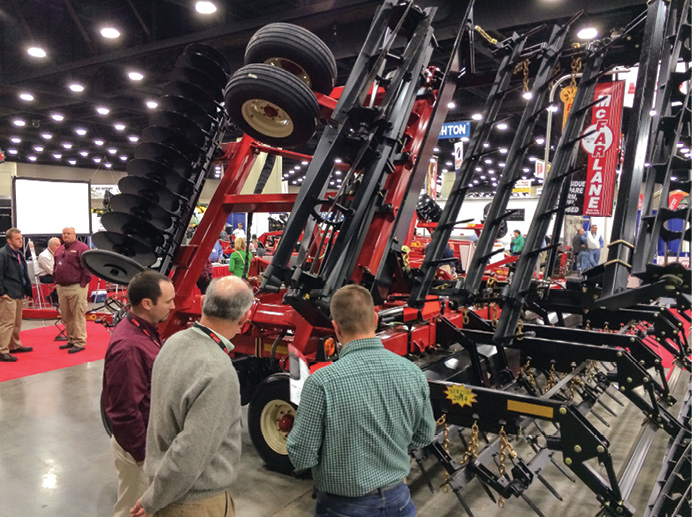 McFarlane Manufacturing showed its next generation vertical tillage tool for the first time, the most significant update to its vertical tillage tool introduced 7 years ago. The 4100 Series Reel Disk features on-the-go hydraulic gang-angle adjustments and no-plug DuraReel — featuring flow-through technology — for wet conditions. As an incentive with the tool's 2014 introduction, dealers ordering this spring receive a hydraulic disc-gang angle at no charge.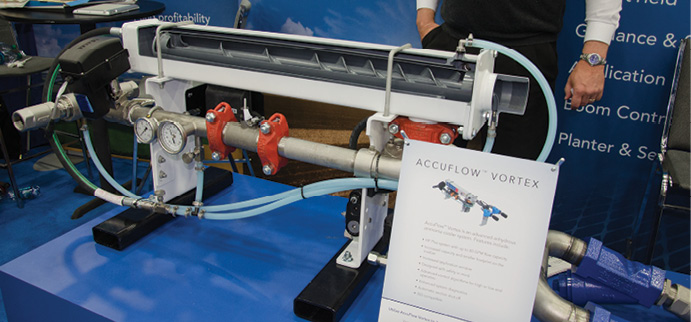 Raven Industries launched its new AccuFlow Vortex anhydrous application system, a first-of-its-kind NH3 application platform featuring up to 80 gallons per minute flow capacity within a single cooler. "Most systems rely on two coolers, and by having just one, farmers are able to maximize their application time and also reduce the footprint of the system on the toolbar," says Gary Esselink. The system is ISOBUS compatible and is available for purchase in early March 2014.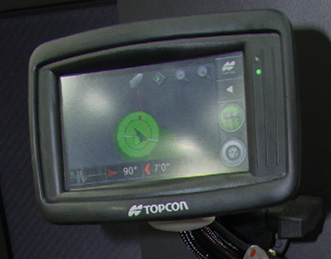 Topcon introduced its new X14 guidance console, an entry-level guidance system featuring a 4.3 inch color touchscreen, 3-D graphics and an on-screen lightbar. Future models will allow for upgrades to perform automatic spray rate and section control. "This is a cost-effective option for farmers just beginning to use auto-guidance and who want an easy-to-use system, with the opportunity to enhance guidance capabilities in the future," says Michael Stone.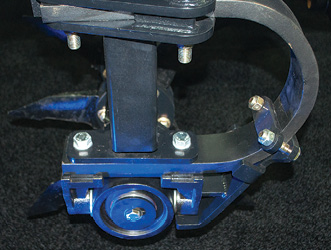 HCC Inc.'s Smart-Till features an all new trunnion bearing, the largest in the ag equipment industry, the company claims. Trunnion mounting ensures positive bearing alignment during operation with a 35% increase in bearing journal diameter. Deep channel raceways allow for higher thrust load capacity with higher strength ductile iron for increased impact and fatigue resistance.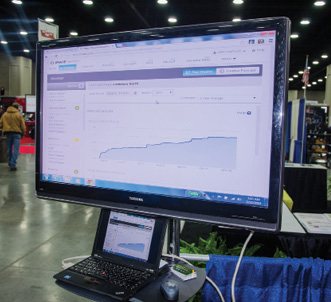 The Climate Corp. introduced its new Climate Pro data management platform. Features include data collection and advising on variable-rate seeding, nitrogen application, pest and disease management and harvest. "This is a decision-making solution to help reduce the amount of time farmers need to spend gathering data and driving the fields scouting crops," says Jeff Hamlin.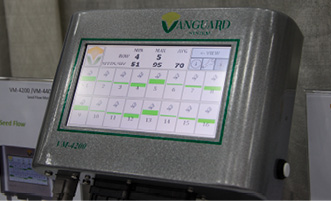 The Daugherty Companies launched its new Vanguard VM-4100 Non-Population seed monitor, featuring a 7-inch color touchscreen, bar graph readings and 1-16 row capabilities for monitoring blockage on planters or grain drills. "Farmers are accustomed to flashing light monitors to indicate when a row stops flowing, but this unit allows farmers to see whenever a row flow starts to drop off or whenever the row is over-seeding or under-seeding in the field," says Shane Maller.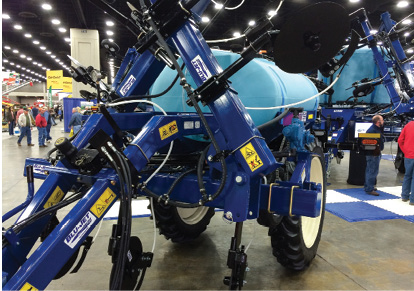 Shown for the first time in North America was Blu-Jet's AT 2000 fertilizer applicator, unveiled in November at Agritechnica. According to Layton Jensen, North American farmers are also increasingly seeking the narrow-transport (10 feet) that the unit was designed for. The 500-gallon unit includes two choices for application and inco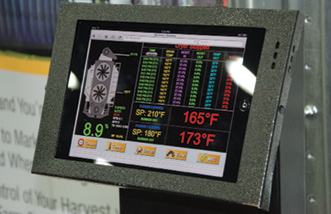 Grain Systems Inc. introduced its GSI Vision Controls, with a new WatchDog system option, allowing farmers to monitor and control temperature and output rate of their grain dryer through a smart phone or tablet. "Through their Vision Control with WatchDog capabilities, farmers can project the same control screen onto any web-capable device," says Gary Woodruff. "This allows them to monitor dryer operations from the combine or their home."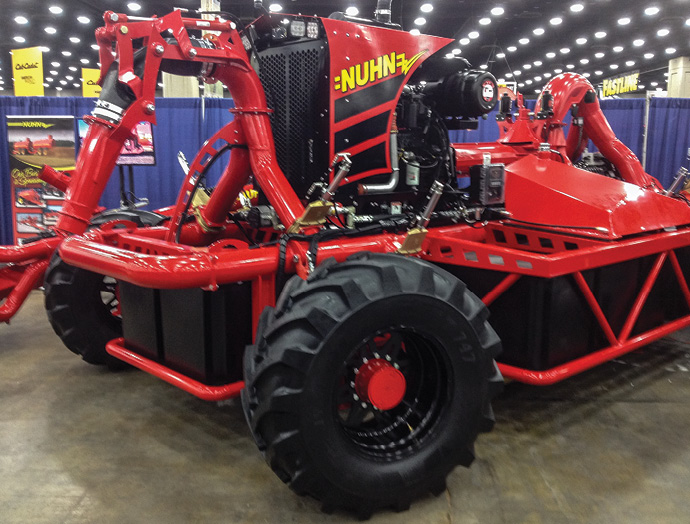 Nuhn Industries presented the Header Series Lagoon Crawler with a submerged pump that requires no priming, four-wheel drive to get out of solid build-up and to drive out of the lagoon. Multiple outlets allow the manure to escape the housing faster, resulting in greater pumping volumes with less horsepower.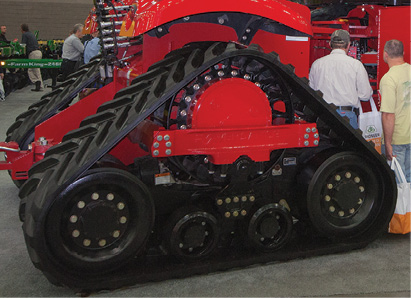 Versatile showcased its DeltaTrack for the first time in Louisville. Unlike other tracked tractors on the market, says Adam Reid, the four-track DeltaTrack was built from the ground up as an integrated solution with the track in mind. The firm also discussed the new self-propelled sprayers it introduced at Commodity Classic, which will be built in Minnesota and feature the largest cab in the industry. Versatile signed up 22 new dealers in 2013, with several rising to its top-performers list in a short period of time, Reid says.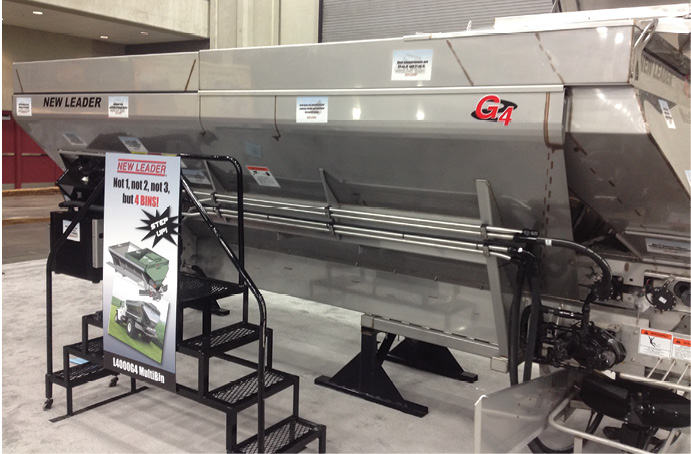 The New Leader MultiBin Fertilizer and Micronutrient spreader increases efficiencies and reduces operation and maintenance costs by consistently broadcasting materials from three or four bins, independently or together, for straight and variable rate applications.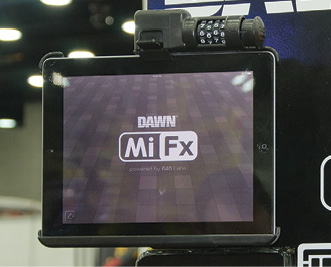 Dawn Equipment introduced its integrated RFX/RFX+ planter actuation products, used in conjunction with Dawn MiFx controller and ground hardness sensors with 640 Labs data management drive adapter. Planter control functions, including down pressure, are configured on the MiFx controller and collected through the 640 Drive system. "With increased emphasis on high-speed planting, this system allows farmers to visualize ground hardness data in real time over a satellite map of their field on an iPad," says Joe Bassett.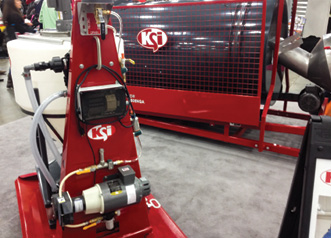 Ksi Conveyors introduced the KSi 4808NGA Seed Applicator. A 2014 AE 50 Outstanding Innovations Award winner, the 4808NGA Seed Applicator is designed for gentle seed handling, accuracy, speed and ease of use.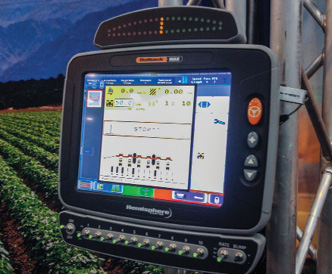 The Agjunction Outback Max ISOBUS features an ISOBUS Universal Terminal and Task Controller functionality that allows the user to connect to any ISO ready implement regardless of color for display, control and data management and works with the Outback ConnX web-based data management system.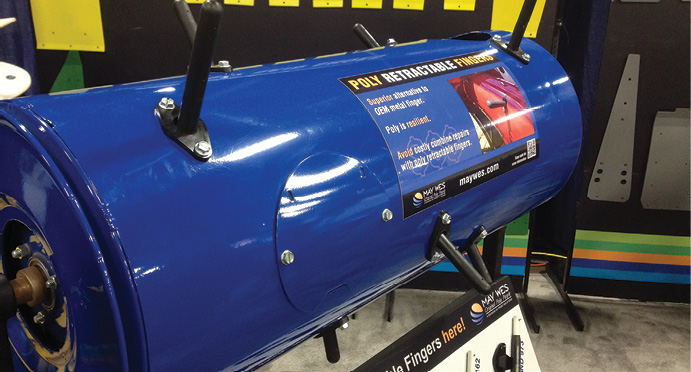 May Wes' Retractable Poly Fingers won't fray with heavy usage and will bend 10 degrees more than metal before breaking, giving them longer usage than metal fingers while reducing breakage and combine damage.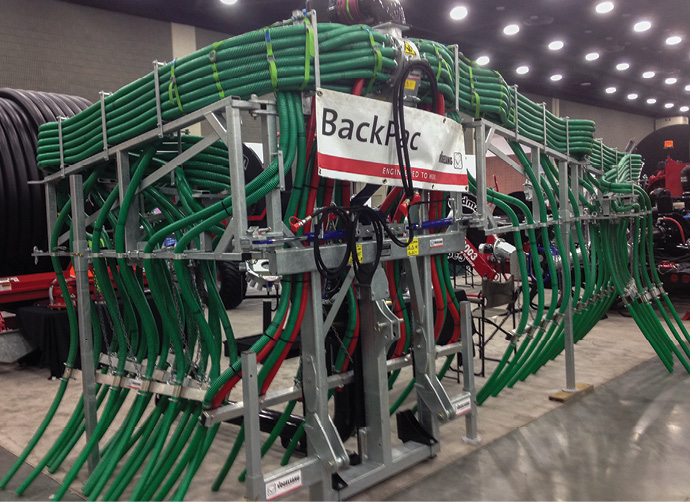 The Vogelsang BackPac Dribble Bar Linkage for Umbilical System for manure spreading will reduce transport costs and reduce field compaction without the need for additional manure transport vehicles.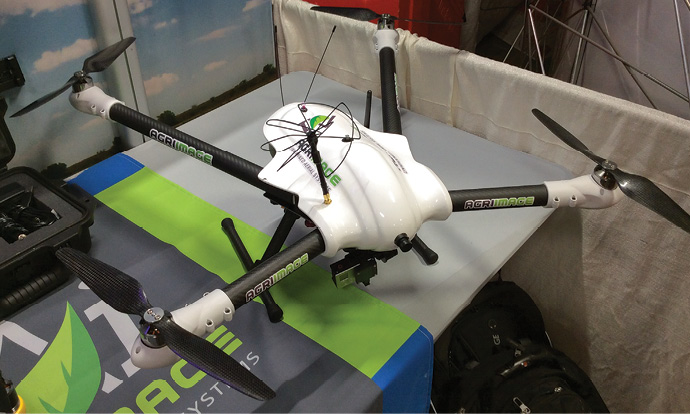 The AgriImage Ag Scout Extreme Unmanned Aerial System will run for 30 minutes in 30 mph winds with a 6 mile range or 12 miles with a long range antenna. The system features GPS tracking and a fail-safe return home feature, Go-Pro mounted flight camera and is NDI (near infrared) compatible.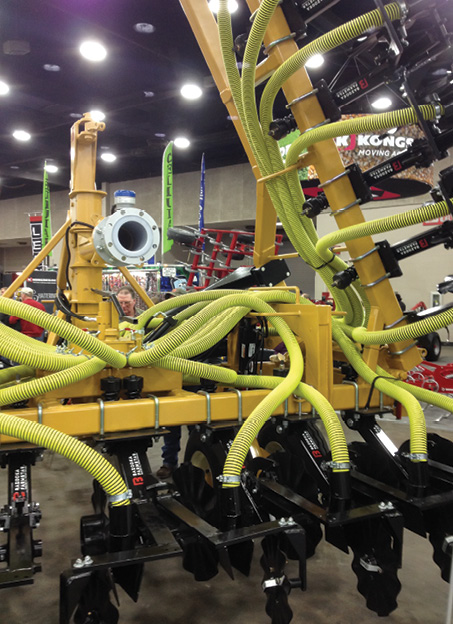 The Bazooka Farmstar Pull-Type Coulter Till Toolbar works with 30-, 24-, 20- and 18-inch spacing and will stay engaged in the ground by using a rolling coulter blade and closure disc. A low mounted time manifold increases safety by allowing the operator to access the manifold without climbing on the toolbar.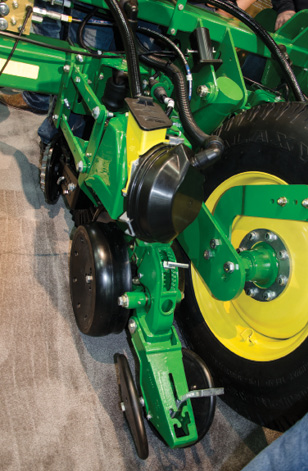 John Deere introduced its new high-speed ExactEmerge planter row units, compatible with 1775NT and 1795 model planters with central commodity systems (CCS) in 15-, 20- and 30-inch row spacings for corn and soybeans. The row unit technology and brush belt system allow farmers to accurately plant at speeds up to 10 mph. "The system controls the seed through the entire planting process, precisely placing seeds in the bottom of the trench and maintaining accurate seed depth during high-speed planting," says Kelby Krueger.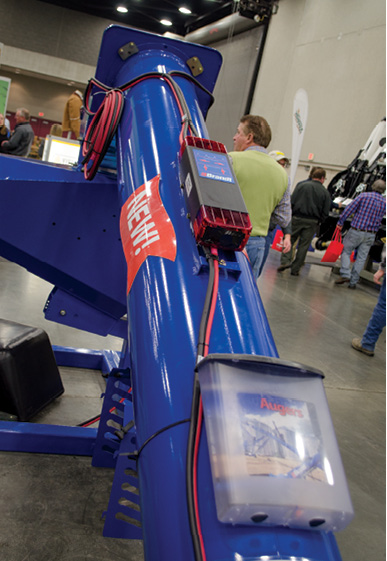 The EZSwing hopper mover is now available on all Swing Away Augers from Brandt. The twin drive system improves efficiency and reliability by maintaining constant traction and reducing scrubbing. "It has double the torque of the previous mover and is designed as a more efficient way of moving the hopper around," says Dave Norheim. An optional full bin alarm informs the operator through a siren and vibrating remote that the bin is full.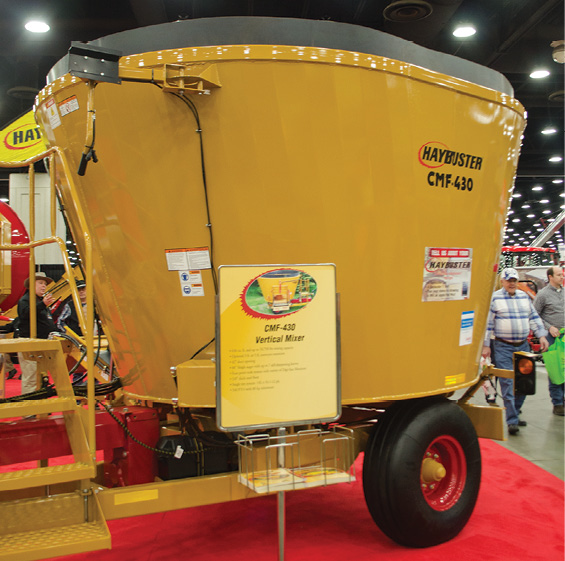 The CMF-430 vertical mixer from Haybuster has a mixing capacity of 436 cubic feet and a weight capacity of 19,100 pounds, and takes a minimum of 80 horsepower to operate. "It's a single-screw, small capacity mixer for the smaller rancher or farmer," says Bob Strahm. "It's another product option to target that small rancher."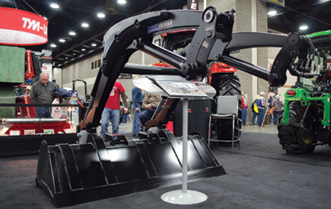 After 5 years of testing, Westendorf introduced its Max series of loaders. With 40 models available, the loaders are made to fit both 2WD and 4WD tractors in the 60-120 horsepower range. Julie Ellingson says the loader is a turnkey package and includes a remote coupler, allowing operators to change attachments from the cab. In addition, she says it doesn't take an extra hydraulic port to work.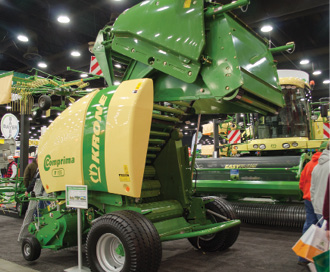 Krone North America introduced the new Comprima round baler. Kristine Walker says the main difference from the company's previous round balers is the NovaGrip elevator, which is made up of rubber treaded fabric belts instead of a chain and slat. It also has three chamber systems: fixed, semi-variable and variable. The semi-variable chamber produces bale diameters from 1.25-1.5 meters.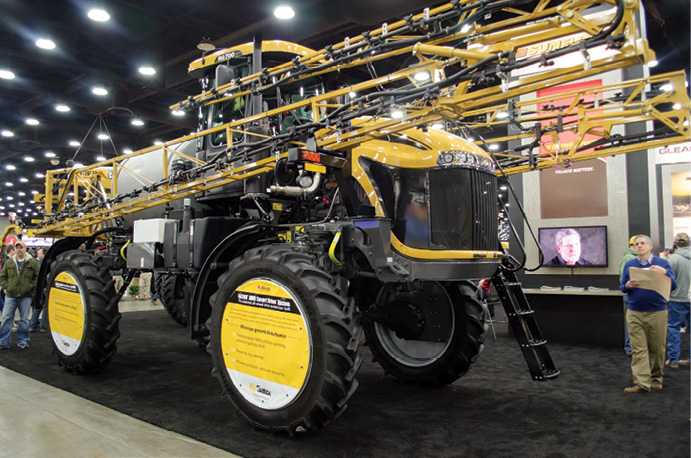 AGCO introduced the RoGator RG700, a sprayer tailor made for the grower segment. Built with the farmer in mind, it has all wheel drive, cruise speeds and maintenance is easy. The sprayer features a 6-post cab design that provides open, curved corners for better visibility and less stress and strain on the operator, as well as three cabin air filters.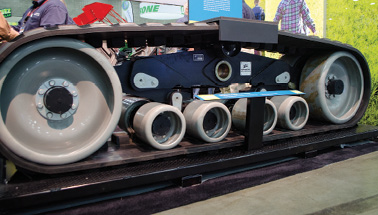 The new Trailed Track Systems from Camoplast are the result of a need in the marketplace for a more durable and stronger track system that also required less maintenance, says Jeff Staab. The new track system is designed for pull behind implements such grain carts. "Implements are getting bigger and this system gives us the ability to carry the load and not damage the field," he says.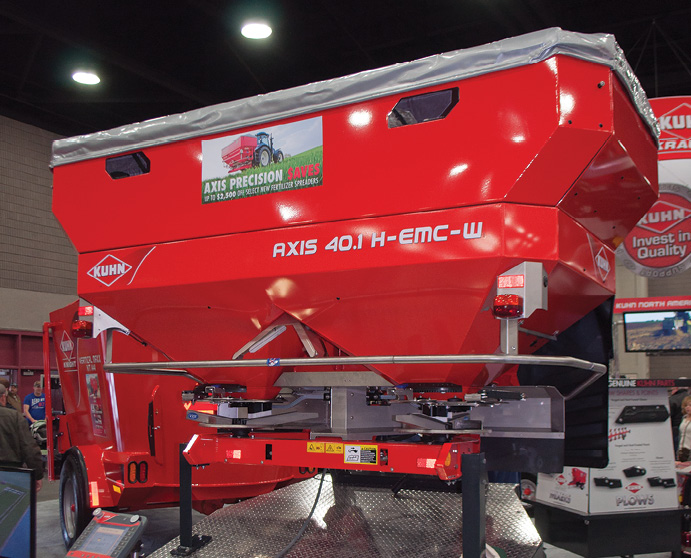 The AXIS 40.1 H EMC W fertilizer spreader from Kuhn North America is equipped with a hydraulic disc drive independent of the engine speed. Fertilizer flow is controlled by the EMC (Electronic Mass Control) System and comes ISOBUS ready with integrated GPS control. High flow rates of up to 1,100 pounds per minute provide high work rates of over 500 pounds per acre at over 12 mph.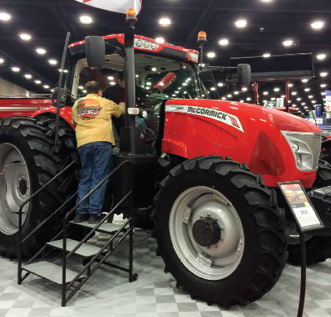 McCormick USA President Tiago Bonomo said its new X7, Tier 4-compliant tractor was designed for user comfort and performance. The X7 ranges from 175-212 horsepower and features a premier cab design with optional, deluxe air-suspension seats and multi-functional arm rest with mounted controls.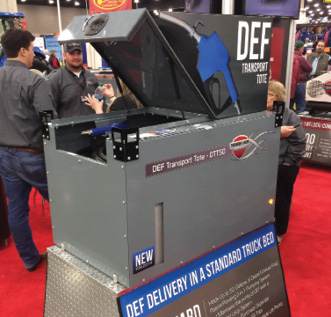 The new DEF Transport Tote from Thunder Creek holds up to 50 gallons of diesel exhaust fluid and offers easy set-up in the back of a standard pick-up truck. It also offers the convenience of pumping both into and out of the tote without the purchase of any additional equipment.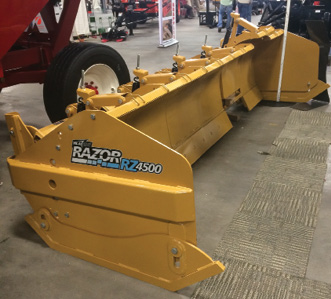 Tom Hall with HLA said its new Razor sectional snow pushers are available in 10-14 inch widths and feature a replaceable, reversible cutting edge. The independent movement of the panels follow the ground contours and allow Razor to clean a variety of surfaces.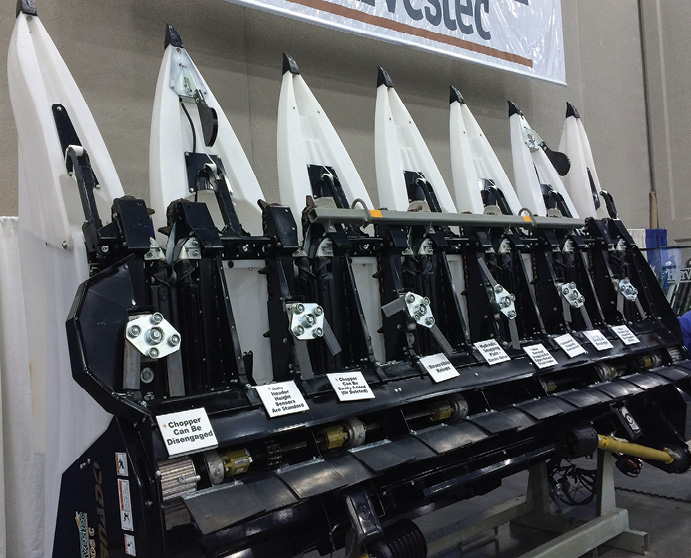 Harvestec introduced its new 6306C Coronado corn header with serrated snapping roll edges to reduce trash intake. The 6306C is designed for 30 inch row spacing and is equipped with reversible knives to extend the knife life.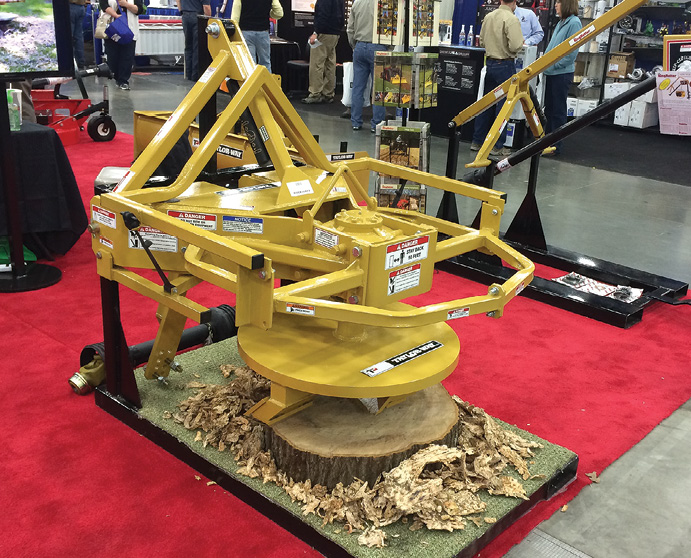 King Kutter's John Bray said they've introduced their SK-30 Stump Kutter to change the way people think about stump removal. The SK-30 features a 30 inch diameter blade that engages larger areas of the stump simultaneously, runs off the PTO of the tractor and comes with standard storage stands.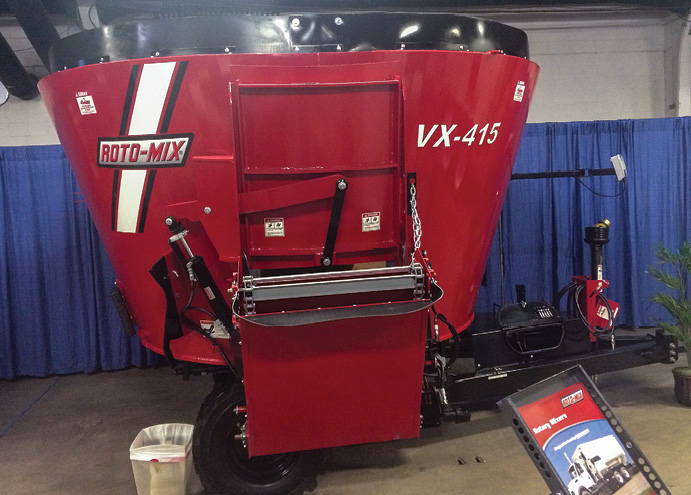 The VX series of vertical feed mixers from Roto-Mix are designed for small to medium sized dairy operations and range from 315-515 cubic feet in capacity. A low profile height under 100 inches makes for a lower center of gravity and greater stability and maneuverability.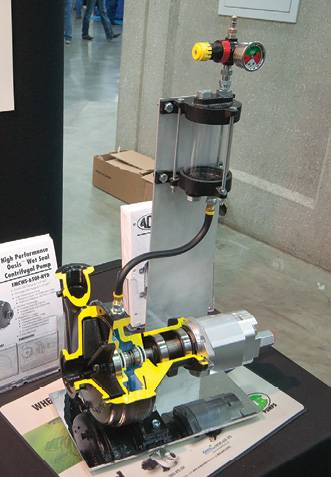 Ace Pumps is making it easier for operators of pull-type or self-propelled sprayers to see and easily service the equipment's reservoir levels. Too often, the pump reservoir gets buried among the other working parts on the sprayer and the operator has to search for it. With a 6 foot hose, the Oasis-Res external reservoir can be mounted to provide excellent reservoir visibility regardless of the pump location.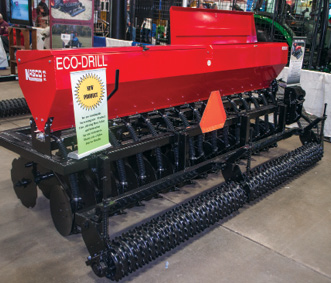 The newest version of its Eco-Drill was front and center at Kasco Manufacturing's booth. Utilizing a unique seed metering system, the Eco-Drill is capable of handling a wide variety of seeds, from clover, alfalfa, oats, wheat and corn to sunflower, soybeans and Timothy. The 3-speed transmission and precise adjustment of seed metering slot also allow for a wide range of seeding rates.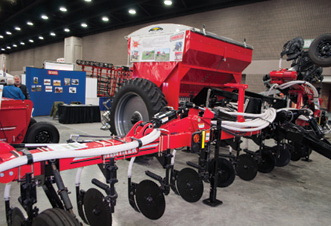 Hiniker displayed its new 7-ton granular fertilizer side-dress applicator. It's a pull-type cart/hitch assembly with a stainless steel hopper and roll top tarp. It features individual stainless steel metering agitator and 1.5 inch diameter hose. It's available with 30 and 40 foot, 7x7 hydraulic fold toolbars for use in 12/16 row applications. Fertilizer is delivered via a hydraulically driven air delivery system. This new unit utilizes 20 inch spring cushioned ripple coulters with adjustable fertilizer knife.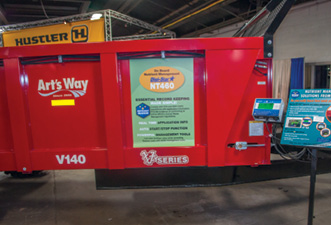 The new V Series vertical beater pull-type spreaders from Art's Way now feature Digi-Star's on board NT460 nutriment management system. This unit calculates fertilizer value while spreading, providing real-time application information to help operators comply with EPA and DNR regulations. According to the company, the Digi-Star system provides evidence that the farmer is conforming to USDA-NRCS animal waste management regulations.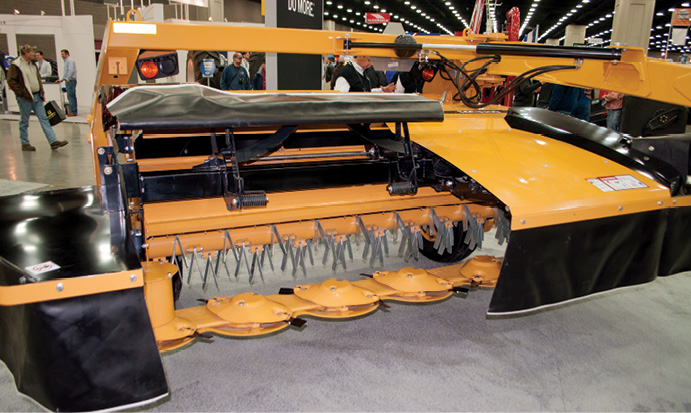 Vermeer rolled out three new models of mower-conditioners that have been completely redesigned for 2014, according to Bret Julian. The modular cutter bar design allows for cutter units to be repaired individually without taking the entire assembly apart. For easy access, the lightweight, spring loaded protective hoods are easily lifted and magnets hold the curtain out of the way during maintenance functions. There are no springs, as a nitrogen-charged accumulator suspension system provides consistent weight on the cutter bar through the full range of motion, reducing ground contact and ensuring a consistent cut. Conditioning levels can be adjusted with the free swinging tine conditioner. The new MC2800, MC3000 and MC3700 models also feature multiple swath adjustment options helping the operator control the formation of windrows.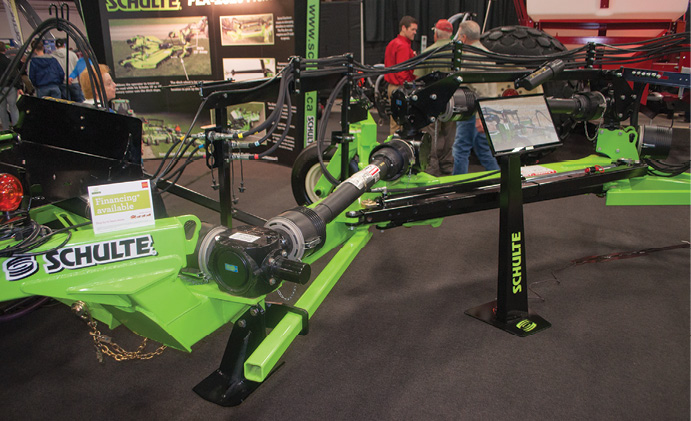 Schulte Industries introduced its new FLX-1510 Flex Arm that allows the tractor operator to drive on the road while the mower cuts the ditch slope. The new generation Flex Arm can be used with either 10 or 15 foot flex wing mowers. By not traveling in the ditch slope, operator safety is greatly improved as the chance of a rollover is minimized. Operating visibility is also improved because the operator is in a better position to see and react to obstacles before the rotary cutter reaches them. Operators of the new unit also report a much higher level of comfort.