Getting rid of herbicides and marketing produce with that goal in mind is the two-pronged business model of GreenField Inc., a south-central Kansas startup that will be fielding 20 robotic mechanical weeders in broadacre row crops this year.
CEO Clint Brauer says his family's roots in agriculture drew him out of a career in software and entertainment to a business building and deploying robots from his grandparents' farm near Cheney, just southwest of Wichita. 
"My co-founders of GreenField started one of the first software-as-a-service companies back in the early 2000s and exited into private equity. I liked that model, where instead of buying equipment, you basically rent it," Brauer says. "It changes your balance sheet, and you use operating capital instead of needing to buy capital and service it with interest rates on top of the debt.
"We've used that as a foundation for our robots, along with the fact we can control what issues we  have with the machinery. The farmer doesn't have to worry about it."
GreenField works with MKC Co-op to schedule and deploy the robots, which are rented on a per-acre basis. 
---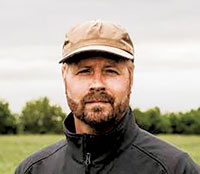 "We want to be commercially viable and less of a science project this year…" – Clint Bauer
---
"The co-op picks them up and drop them off, and we provide engineering and mechanical support," Brauer says.
He says renting GreenField robots to do mechanical post-emergence weeding is much less expensive than using herbicides. 
"A no-till farmer is still going to do a burndown of residuals, but we take care of the weeds post-plant," he says. "With our current mode of action, we're really guarding against runaway pigweeds, marestail and tough, herbicide-resistant species. We'll run 2-3 times after you plant soybeans or your milo in between the rows with robots."
GreenField's battery-powered machines weigh about 350 pounds each. They are designed to work about an acre an hour, and they are guided by Lidar, proprietary RTK signals and machine learning — many times following maps generated by airborne drones. Weeding is done with spinning blades that work within an inch of crop plants. Batteries are good for 4-8 hours, and the service includes swapping battery packs to maintain a typical swarm of 10 robots assigned to each field.
"With 10 robots, we're able to weed 10 acres per hour. This year we hope to be servicing 5,000-10,000 acres," Brauer says. "We want to be commercially viable and less of a science project this year."
Traceable Food Safety
"I'm trying to get chemicals out of no-till farming, and that means starting with herbicides," Brauer says. "No one wants to use these products, but it's the currently the most effective way to farm."
While the initial fleet of robots is aimed at post-emergence weed control, Brauer says trials on his family farm have proven the machines also can eliminate the need for a burndown application and residual sprays.
"We proved that last spring, so we'll be introducing that technology later this year," he says.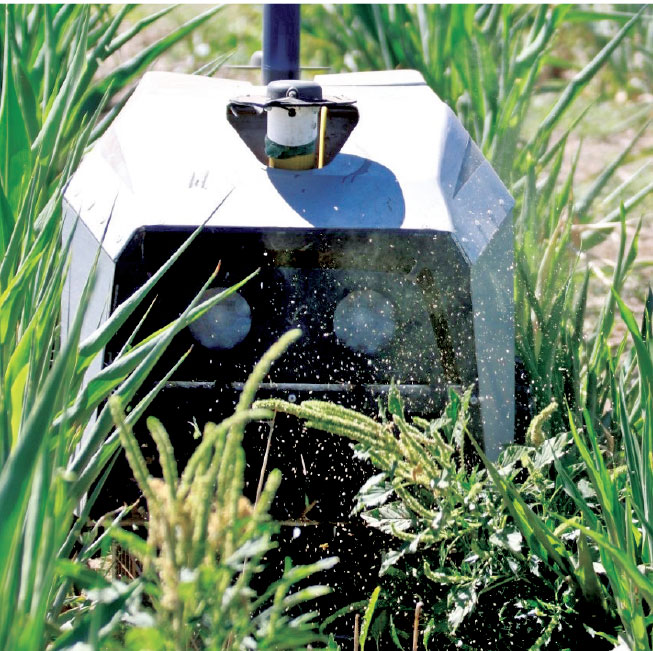 GreenField's new WeedBots are capable of clipping weeds within 1 inch of a growing cash crop. A swarm of 10 rented WeedBots can work 10 acres an hour, and the company says it is working on mechanical operation to also eliminate chemical burndown applications. Photo: Greenfield Inc.
With that kind of machine performance, GreenField is working with food companies to explain its unique selling proposition of contracting traceable, herbicide-free commodities. 
"The sales pitch is we think growers using our system should be well-compensated for their produce, and we can help the food company at the shelf," he says. "We want to establish GreenField as a consumer sub-brand for foodstuffs, and we're already on the way."
Brauer notes his company has agreements with Canidae Pet Food and Snacktivist, a human food company. They're also working on a third collaboration that will be announced later this year or next.
The Future
Brauer says GreenField's technology also lends itself to cover crop establishment, and the company plans on launching a system to seed covers as a row crop is finishing its season.
"Here in south-central Kansas, we're normally done cutting weeds in late August to early September — when a lot of folks are putting in cover crops. We can provide per-acre cover crop planting with good seed-to-soil contact to provide a good stand for winter grazing or a regenerative ground cover."
Other capabilities GreenField is exploring are a premium-priced wicking/micro-spraying system for crops not used for human consumption for growers who want to run sprayers less often.
"That system will not apply chemicals to the crop itself. It's just a micro-dose compared with spraying the whole field with a spray rig," he says.