John Deere is adding the new 2510L Liquid Fertilizer Applicator to its nutrient application product line. This new applicator is designed for more precise liquid fertilizer placement into the soil.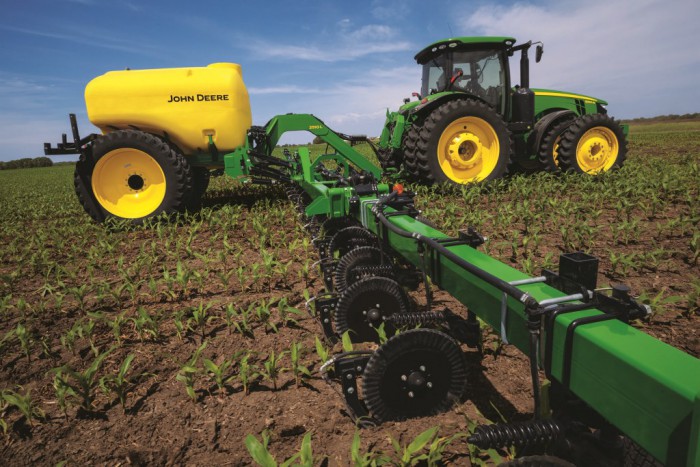 "Precision nutrient application technology has grown in importance as our customers continue to address environmental concerns while improving fertilizer use efficiency for the plant," says Travis Harrison, product specialist from John Deere. "The 2510L enables customers to maximize crop yields through more accurate and timely liquid fertilizer placement."       
The 2510L is offered in two models, vertical or side-fold, and three base widths of 30-, 40- and 60-ft., each with 18 different spacing and row combinations. A high-capacity, hydraulically driven pump delivers fertilizer to plants through knives or injectors.  
Harrison adds, "The 2510L Applicator comes with a GreenStar™ Rate Controller enabling full integration with the GreenStar display for field documentation, map-based prescriptions, and precision application. These features together with John Deere Section Control ensure minimal overlap while applying fertilizer, which improves efficiency and addresses environmental concerns."
"Customers will appreciate the model choices, row spacing and combinations they have to choose from. The 2510L provides best-in-class durability that customers expect from John Deere equipment and ensures farmers can complete application in a timely manner," concludes Harrison.
For more information on the new 2510L Liquid Fertilizer Applicator,  visit www.JohnDeere.com.