VS Networks has teamed up with John Deere to create a Showroom Digital Media System. The system includes readerboards and touchscreens that sit on the showroom floor, but behind the scenes it does much more than scroll weather and commodities. 
With the custom readerboard system, VS Networks has ramped up dealers' typical loops of slides promoting used equipment by doing research and learning what is most effective on a showroom floor.
Using that data, VS Networks designed a readerboard program that displays a host of visually dynamic content that dealers can customize, John Deere can easily make available, and network partners such as Stihl and Frontier can join in on.
This program allows each dealer to decide what content goes on each screen in every location from one browser, set start and end dates, even nail down frequency details. All of this control allows dealers to maximize the time they have with a customer on the showroom floor and impact customers while they wait in line or browse the showroom.
The ads are designed to get the viewer engaged to drive an end behavior, whether it is buying oil filters because they are 10% off or alerting customers of upcoming dealer events.
The touchscreen is kept up to date and is always adding content to the listings by staff who work closely with John Deere to keep the content current. VS Networks also has partnered with MachineFinder to provide a listing of dealers' used equipment in the showroom for easy access to customers passively walking through the dealership, as well as salesmen who need to find the equipment for their customer on the fly.
VS Networks is also developing a precision farming sales tool that allows dealers to have remote interactive conversations about advanced services like variable rate seeding. VS Networks is creating a tool for iPad and Android tablets and is custom to each dealer's offerings, while keeping inline with John Deere's branding. Both parties are seeing it as a way to explain some of the complicated values that precision farming brings to the table.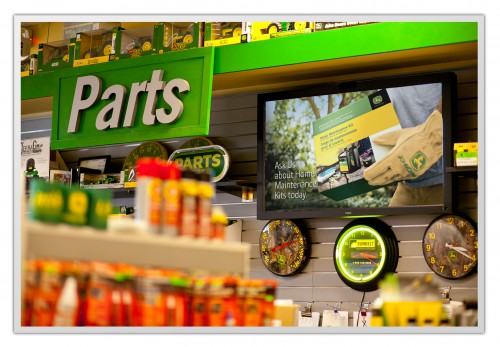 For more information click here.