The results from an annual survey of U.S. no-till farmers reveal that, despite the drought and rising input costs, 2012 produced solid results, both in terms of profitability and crop yields. As a result, no- till farmers expect to slightly increase equipment purchases in 2013.
Overall, respondents came in with a net profit that was more than 16% greater than in 2011. And, on average, each of the conservation tillage practices — no-till, strip-till and minimum-till — surpassed average yields for corn, soybeans and wheat reported by USDA.
The data reported in the 5th annual "No-Till Operational Benchmark Study" is based on the responses of 603 readers of No-Till Farmer, a sister publication of Ag Equipment Intelligence.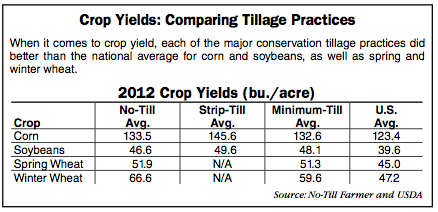 Operating Expenses. The average acres planted by survey respondents' in 2012 were 1,215, down slightly from 1,253 acres in the previous year. However, no-tillers reported they spent on average $479,608 on inputs last year, which was only $6,000 more than 2011 average expenditures of $473,241, but far above the $388,464 they spent for inputs in 2010.
When you consider the reduction in acreage among this year's respondents, the average cost of inputs per acre came in at $394.74, or $17.05 per acre ahead of last year's expenditures of $377.69 per acre. That's a 4.5% increase, according to Darrell Bruggink, executive editor and publisher of No-Till Farmer.
Fertilizer, fuel, labor and land rent were some of the major culprits in dramatically rising costs in 2011. For the most part, expenses were easier to swallow in 2012.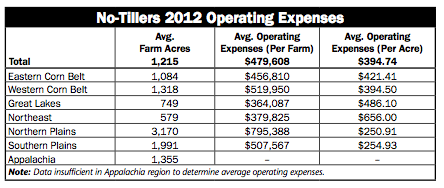 Solid Yields. When it comes to crop yield, each of the major conservation tillage practices did somewhat better than the national average for corn and soybeans, as well as spring and winter wheat. Some attribute the higher yields to no-till's increased capability to retain moisture in the soil, which helps improve crop production even during dry spells.
Compared with the 2012 yields reported by USDA, no-till farmers out yielded the national average by 10.1 bushels per acre in corn, 6 bushels per acre in soybeans, 6.9 bushels per acre in spring wheat and 19.4 bushels per acre in winter wheat.
Overall, no-till, strip-till and minimum-till growers had a sold year despite the drought. "We continue to see farmers 
spending more on the inputs necessary to raise a crop, but we did see a leveling off on some discretionary dollars," says Frank Lessiter, editor of No-Till Farmer. "After some great financial earnings at the start of the decade, we see expenditures on equipment leveling off. That said, the numbers remain solid — even after a drought year.
"Clearly, the impact of the drought was muted to some extent by strong crop prices last year and earnings from crop insurance. No-tillers remain in a solid position entering the 2013 cropping season."
Editor's Note: Complete survey results are available in Ag Equipment Intelligence's special report "Benchmarking No-Till Farming in the U.S. — 2013."
— Ag Equipment Intelligence, April 2013 
---
Subscribe to Ag Equipment Intelligence today and get our 2013 Big Dealer Report FREE!