There was no shortage of innovation at the 2012 Farm Progress Show, held August 28-30 in Boone, Iowa. From precision ag smart phone apps to sprayers never before seen in North America, the new products featured at this year's show were impressive and had attendees talking.
The phrase our editors heard time and again to describe the array of new and innovative products was "bigger and beefier," describing how larger and stronger components are required to keep up with the demand put on the equipment.
Between Farm Equipment, No-Till Farmer and Rural Lifestyle Dealer magazines, a record nine editors spent two days interviewing manufacturers and exploring the over 500 exhibits, to find the newest and most innovative products for the North American market.
Some new shortline innovations are found in the following pages, with more to come in the 2013 Product SHOWCASE coming in January.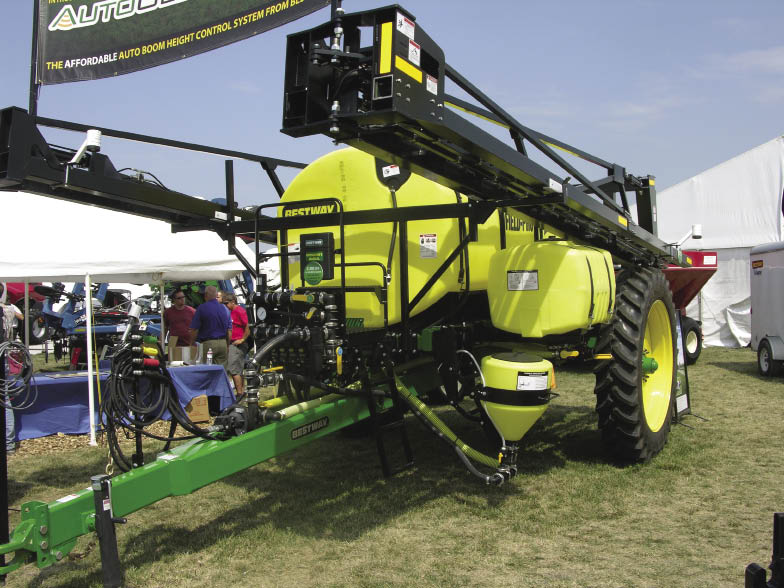 Bestway showcased its new AutoGlide auto boom height control. The system uses ultrasonic range sensors mounted on the booms to continually monitor and maintain boom height above the ground or crop canopy. The result is a more consistent spray pattern, better coverage and reduced drift potential. "AutoGlide doesn't require any extra hydraulic components to be added to the sprayer," says Dave Benson.
---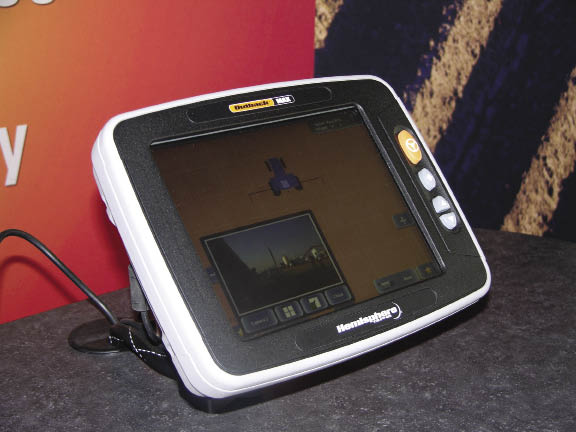 Hemisphere GPS launched Outback MAX with ConnX. The integrated display provides section and variable rate control, GPS guidance and video support for up to four monitoring cameras. The system also offers wireless connectivity through Outback ConnX data management software to deliver real time access and automatic import or export of data. "We wanted to focus on four key elements; simplicity, reliability, user interface and visual clarity," says Jeff Farrar.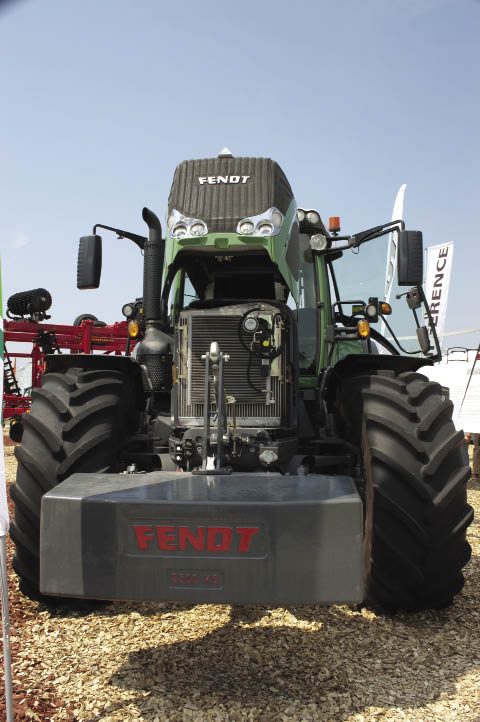 The Fendt 900 Series features a 7.8-liter, 6-cylinder turbocharged and air-to-air aftercooled Deutz engine. It provides up to 300 PTO horsepower and up to 1,104 foot-pounds of torque. They meet all current Tier 4i emissions standards and provide up to 7% better fuel economy than its predecessors.
---

Ag Systems exhibited its new 6600 24-row, 7x7-inch tri-fold sidedress bar, with maintenance-free coulter assemblies and a 1,700 gallon tank. The tool can be equipped with a ground-driven piston pump or Raven hydraulic, centrifugal pump and monitor, as well as fluted or smooth coulters, says Doyle Stern of Heartland Ag in Ames, Iowa. The tool can work in fields with both no-till or conventional-tillage systems, he says.
---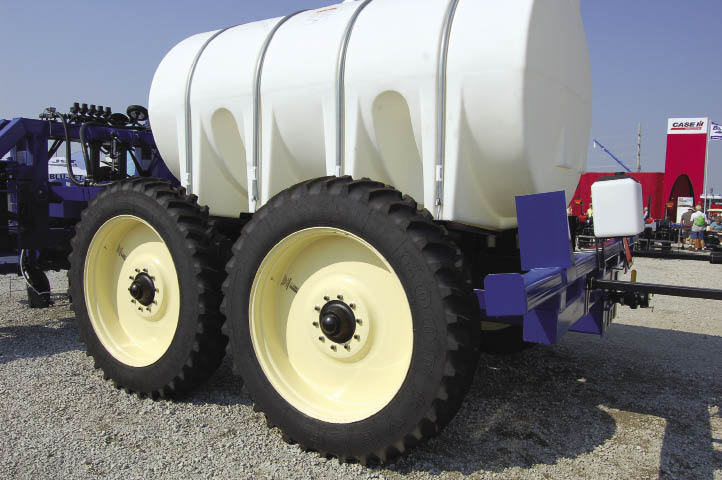 Thurston Manufacturing/Blu-Jet exhibited its inline walking dual package for the Blu-Jet AT7000 liquid injection applicator. Until now, the applicator has only been available on tracks and some farmers complained tracks require too much maintenance or tended to skid more at the end rows, says Nick Jensen. The inline wheel package helps minimize compaction and are centered on the tank for proper balance.
---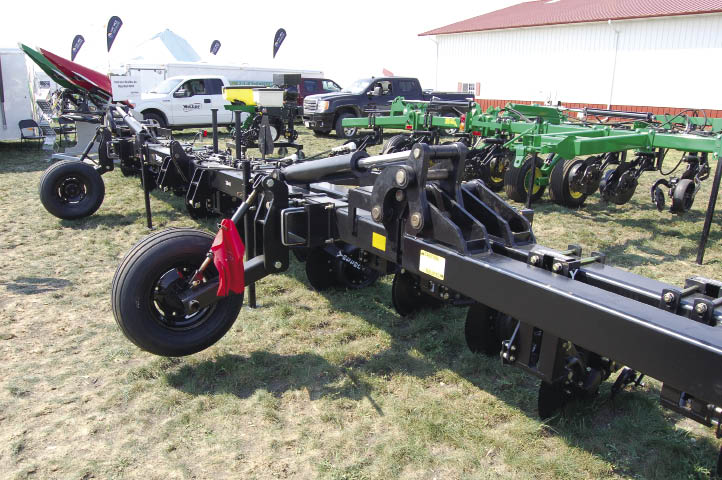 Yetter Manufacturing featured its 30-foot (3830) and 41-foot (3841) toolbars that can be used for sidedressing, strip-till or fertilizer application. The 7x7-inch toolbars, featuring heavy-duty hinges and ratcheting gauge wheels, are designed to allow row-unit mounting as narrow as 14-inch centers and as wide as 65-inch centers, says Jared Head. The wings are folded using 5x16-inch hydraulic cylinders.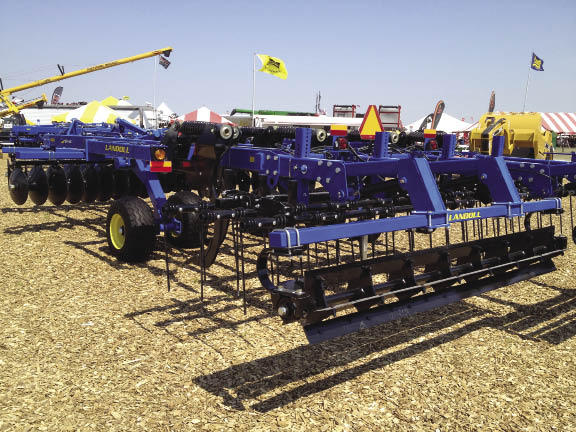 New from Landoll is the 2410 Primary Tillage Tool. Jamie Meier describes the 2410 in three words, "simple, rugged, perfection" with two gangs for chopping and slicing residue, heavy-duty shanks on 24-inch spacing, a combo attachment option with tines and chopper rollers set on hydraulic cylinders.
---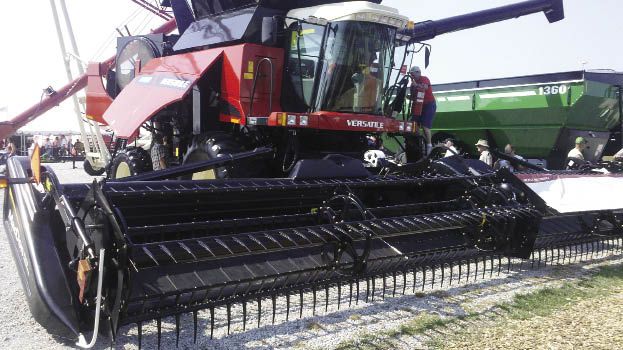 The RT490 is a new 490 hp Class VIII combine from Versatile and the first new combine entrant in a decade. The RT490 was designed to be rugged, reliable and simple to maintain and service. At the core of the Versatile RT490 is its Rotating Concave Rotary System. A 360-degree concave wraps around a large rotor and counter-rotates. The counter rotation of the concave in relation to the rotor creates an unsurpassed threshing and separating area. Three separate "pinch points" are created during each rotor revolution allowing the grain to be threshed three times in each rotation.
---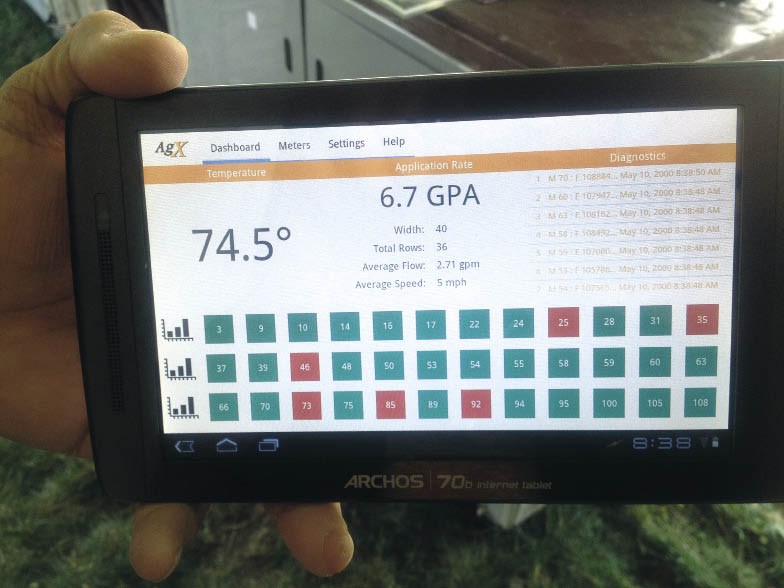 Schaffert Manufacturing rolled out the AgXcelerator GX7 Smart Monitoring System for individual-row fertilizer applications. The in-cab monitor detects plugged fertilizer tubes through real-time alerts. It also senses and provides alerts on decreases in flow rates liquid temperature changes that indicate viscosity issues, and gallons per acre and ounces per minute.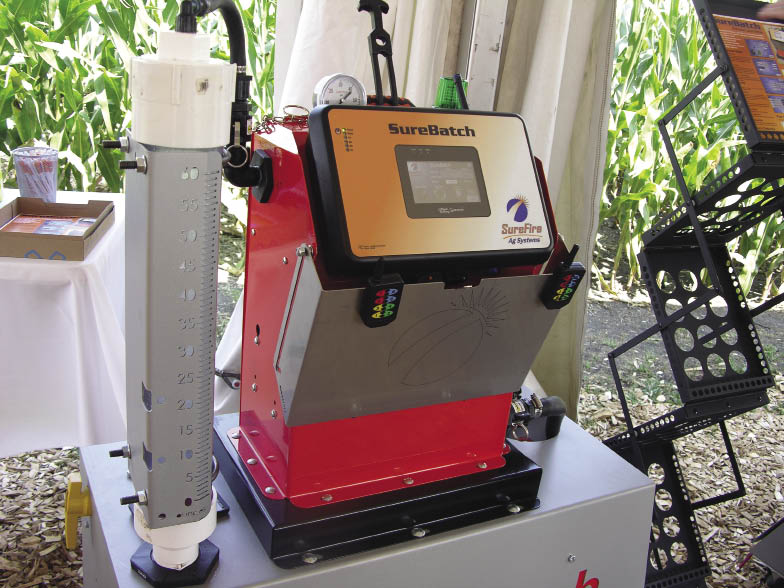 SureFire Ag Systems debuted its SureBatch Precision Liquid Meter. The system pumps and accurately meters liquids to be injected, sprayed or added to any liquid or dry material. It remotely sets application treatments to dry fertilizer, liquid manure, seed treatment and injection of micronutrients in fertilizer batches. "The system allows us to enter an amount to be pumped and the time it's going to be pumped," says Matt Wolters.
---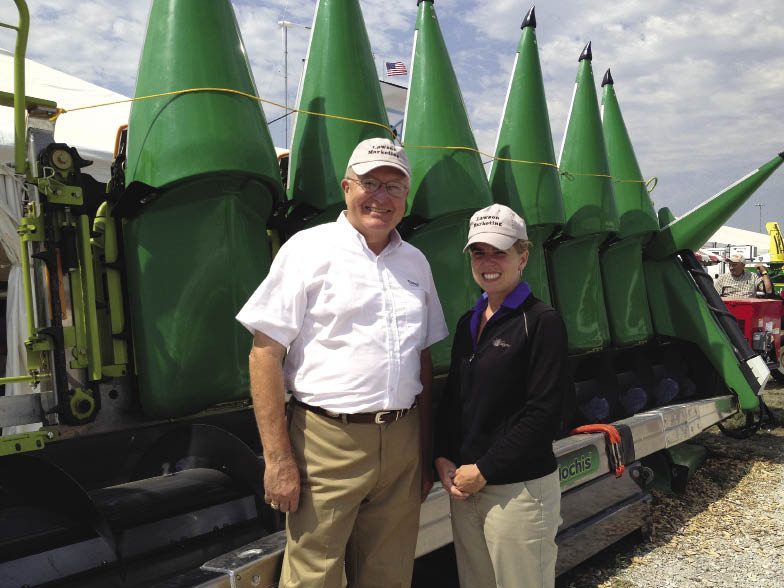 Former Deere deeler-principal Sam and Jean-Marie Lawson showed the Tango4 aluminum corn head proven from Argentina for which they are actively recruiting U.S. and Canadian dealers. Up to 40% lighter than some steel heads, Lawson says there's high interest due to fuel savings, machine and tire wear, ability to increase row-width and reduced compaction.
---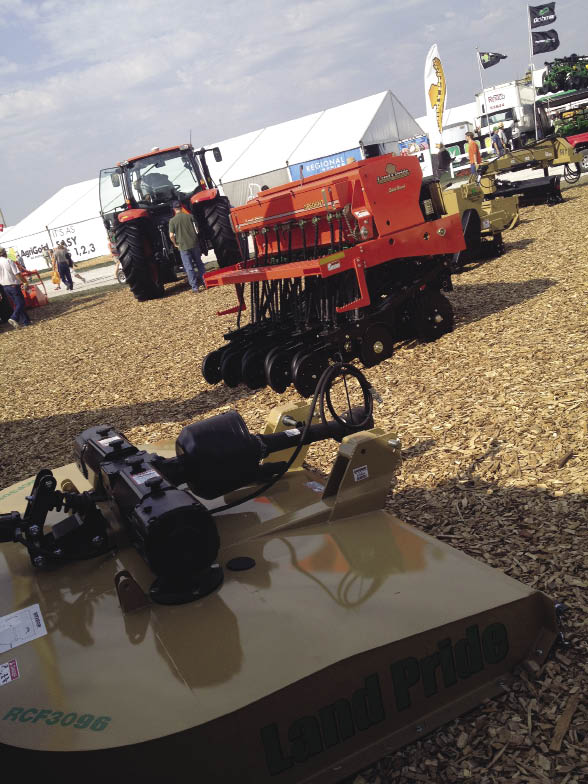 Land Pride introduced several prototype products including the RCF3096 and compact drills that Dee Warren says will be in demand for reseeding pastures come fall and spring.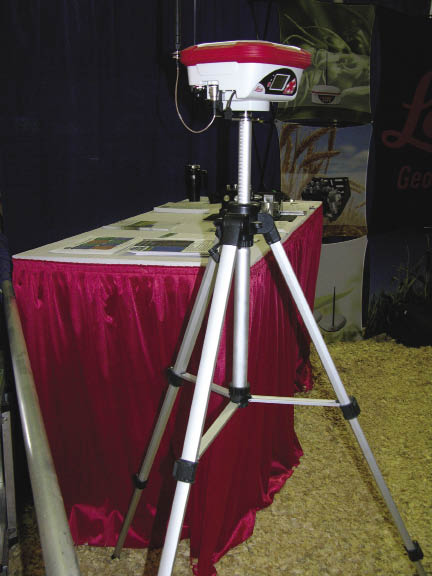 Leica launched its new GeoAce RTK base station. The instrument features multiple positioning modes, open standard formats for cross compatibility and the ability to import and export data for reference positions and configurations. The design offers portability in the field, and Internet connectivity allows for remote servicing and over-the-air software upgrades through Leica Virtual Wrench.
---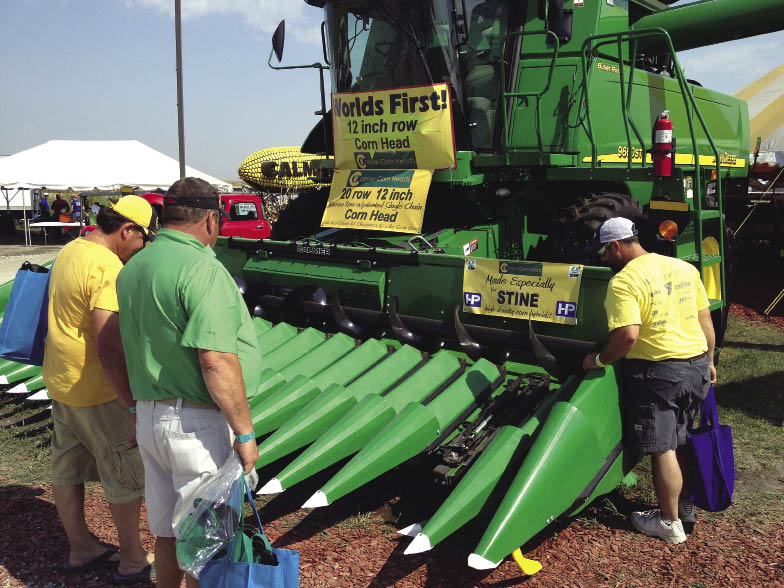 Calmer Corn Heads brought a crowd with the first corn head ever built to harvest corn planted in 12-inch row, built for Stine Seeds' high-density corn hybrids. Calmer's on-farm narrow-corn research shows equidistant spacing between plants improves light interception and yield potential while a denser canopy reduces weed control costs.
---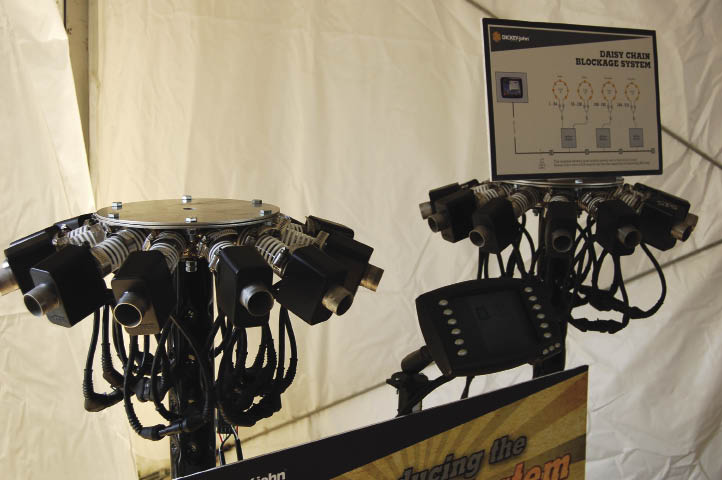 DICKEY-john exhibited its new Daisy Chain Blockage System for seeding and fertilizing that can pinpoint which individual sensors are no longer functioning. The system has a total of 218 sensors and has the capability of monitoring 432 rows, says territory manager Kevin Days.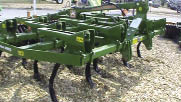 Amazone's Jac Knoop announced that the Amazone Cenius Cultivator is coming to North America. Cenius has 3-D tines with an integrated 1,100 pound spring overload safety device and three dimensional deflection capability, making it ideal in challenging operating conditions.
---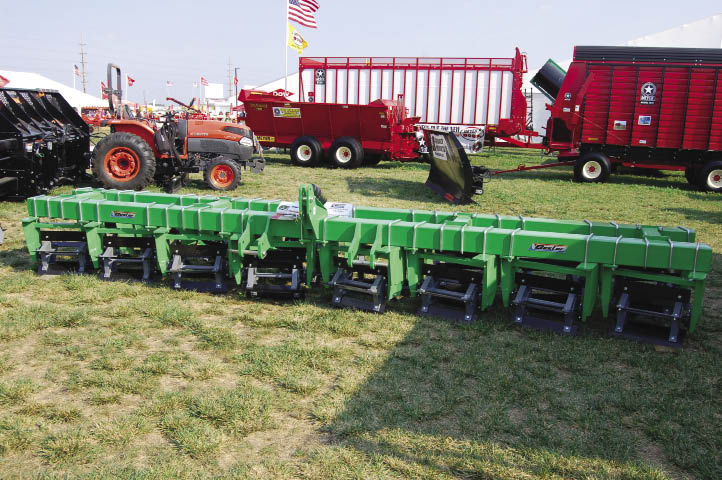 Besler Industries showed its Model 7000 8-row, 30-inch stalk chopper with a 7x7-inch bar that can be ordered as rigid or folding. "Ours can be aggressive but it has different rotor-angle adjustments," says Cliff Kester. "The toolbars are filled with sand for extra weight and have angled blades."
---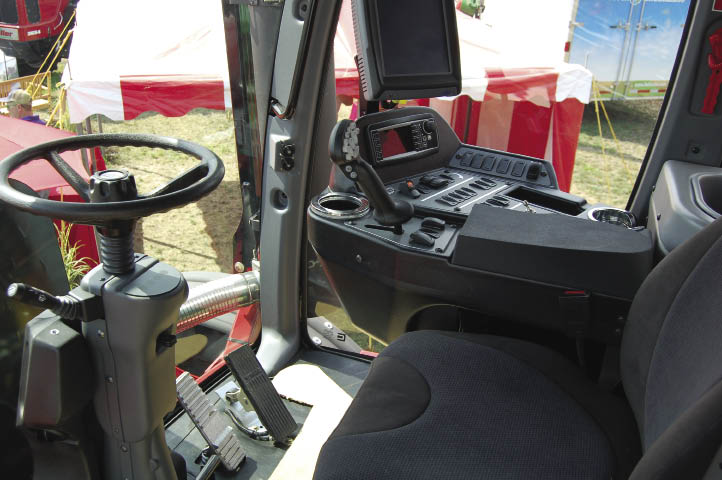 Miller-St. Nazianz unveiled its new SprayView and Premium SprayView cabs for Miller Condor GC Series sprayers that includes an upgraded cab and new access point. "We moved the side ladder away and put a stair-style staircase at the front of the machine so farmers don't have to walk under the boom to get into the Condor," says Tim Criddle. The cabin is larger and wider for better visibility, and includes a new systems-control monitor that serves as a single nerve center to run diagnostics and quickly determine how the machine is running, he says. The new cabs also appear on Miller Nitro 5000 Series, formerly the 4000 Series.
---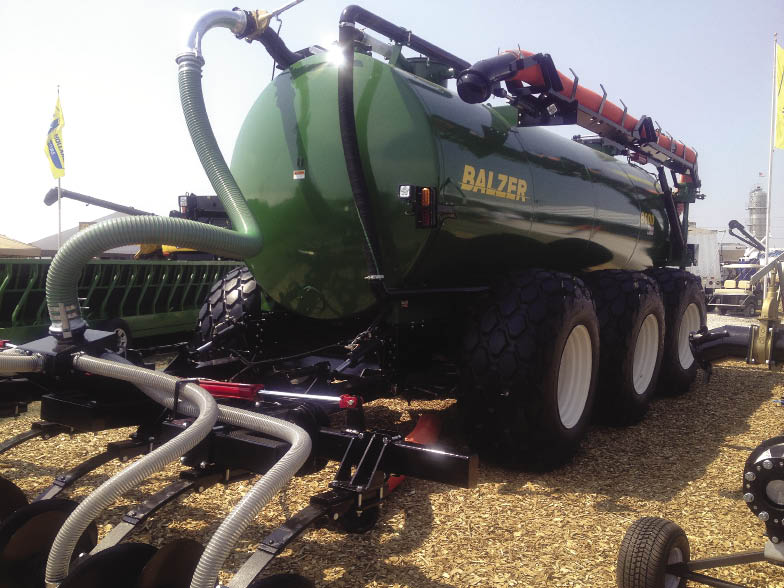 A longer tongue, Auto-Trail steering system and an independent undercarriage have been added to the Balzer Eliminator manure tank for easier handling. This tank features tractor-seat control of the 8-inch loading boom for in-field transfer from semi trailers. The Eliminator is available in sizes from 6,500 to 8,500 gallons with 25,000 pounds of load capacity per axle.
---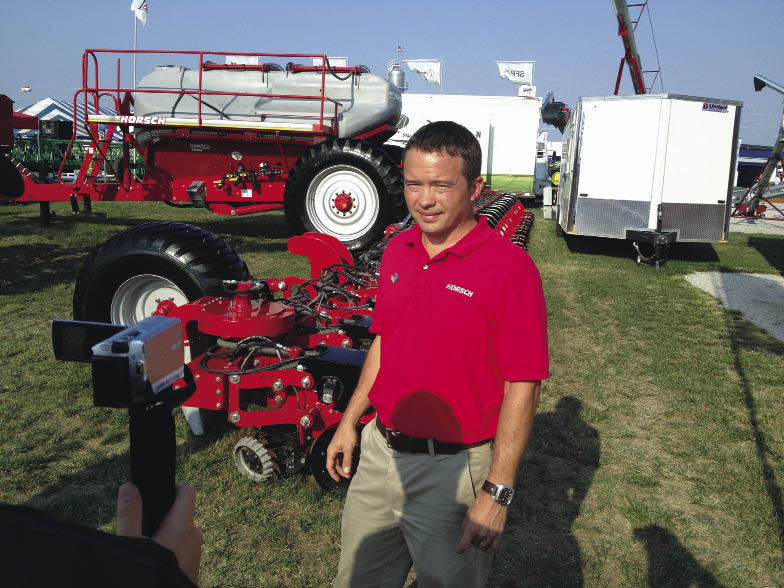 Horsch Anderson unveiled the Horsch Maestro high-speed planter for large farmers seeking higher speed planting. Luke Thornton explained the all-new grooved metering disc and other features that allow precise seeding at a 9 mph working speed.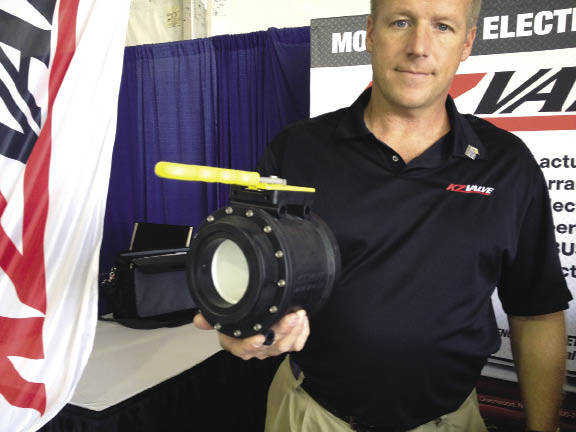 Bob Stoupa shows KZ Valve's new waterproof "true-torque" valve designed for a variety of ag applications. The company is targeting OEM partners as well as end-users and distribution.
---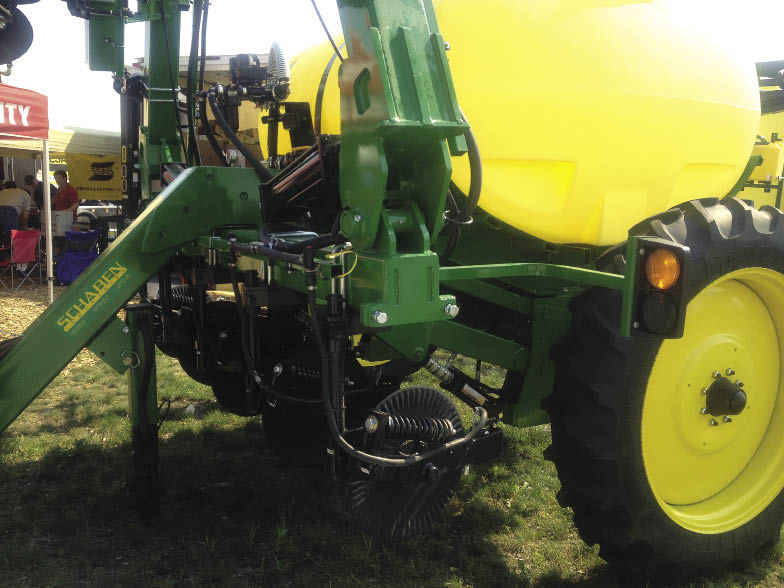 The LA5000 Liquid Applicator from Schaben Industries comes equipped with either a 750- or 1,000-gallon tank and in 27- or 35-foot widths. The 20-inch coulters feature adjustable down pressure. The unit features short coupling for easy tracking and a single tongue for easy turning.
---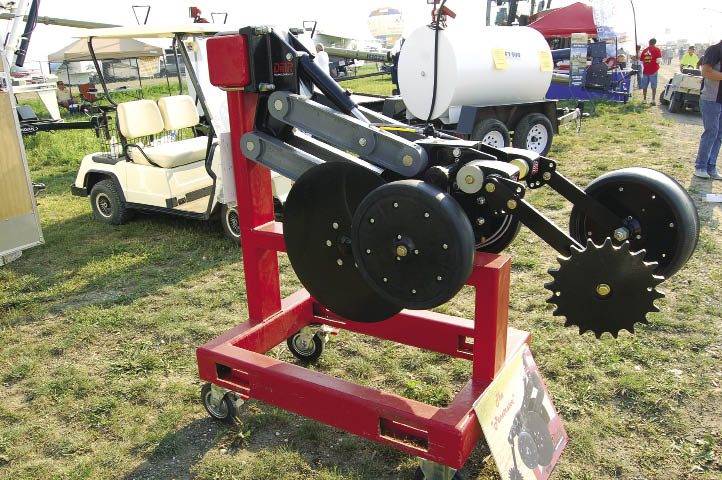 DMR Technologies introduced the new Penetrator dual-band no-till fertilizer coulter for use in high-speed fertilizer application. One unit replaces two typical coulter openers. The unit has 15-inch application bands for NH3, liquid or dry injection tubes. The heavy-duty coulters, available in 22-24 inches, are designed for high-speed performance with low soil disturbance.
---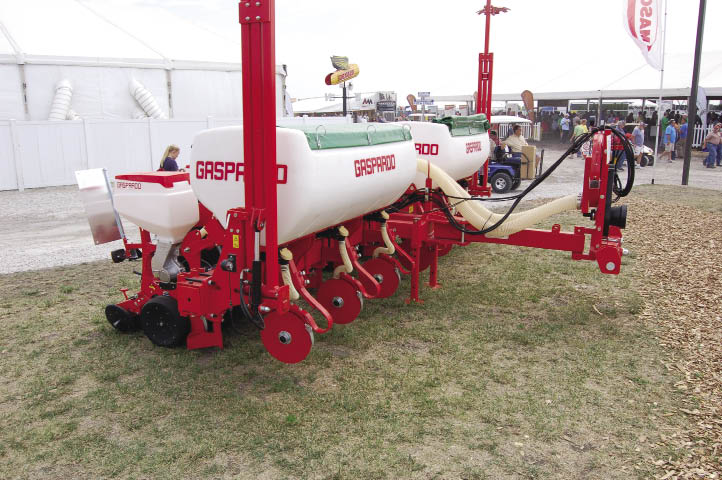 Maschio Gaspardo showed its Romina 6- or 8-row pull-type vacuum precision planter designed for the U.S. market. The machine has a 16.5 double-disc coulter for a narrow "V" furrow, a front disc opener standard and trash wheels as an option. Scrapers with tungsten carbide profile are standard to reduce down time, says Alessandro Cazzin.
---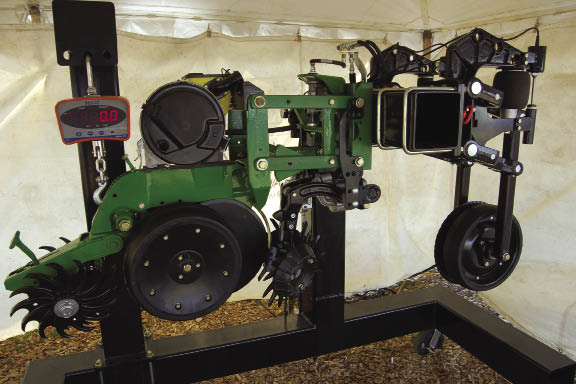 Dawn Equipment showed its new Foresight ground hardness sensor, GFX floating row cleaner and RFX planter downforce actuator. The Foresight offers real-time ground-hardness sensing, along with automatic feedback control of multiple planter attachments. The Foresight sensor accounts for forward planting speeds, letting the planter anticipate changes in soil conditions and adjust prior to reaching that location in the field. Foresight takes hundreds of measurements per second and averages them over 0.25 second. This information stream is processed algorithmically by a processor and outputted to the GFX and RFX to control row unit down pressure, resulting in optimized planter depth control and ride characteristics.
---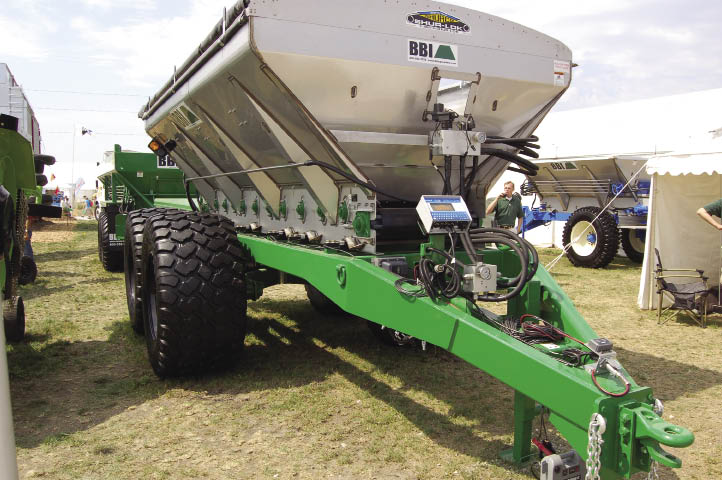 BBI Spreaders displayed its new MagnaSpread spreader with a 20-ton walking-beam suspension, electric roll tarp and capacity of 16-20 tons, depending on material density. The pull-type spreader also features a scale system and plug-to-tractor hydraulic system.
---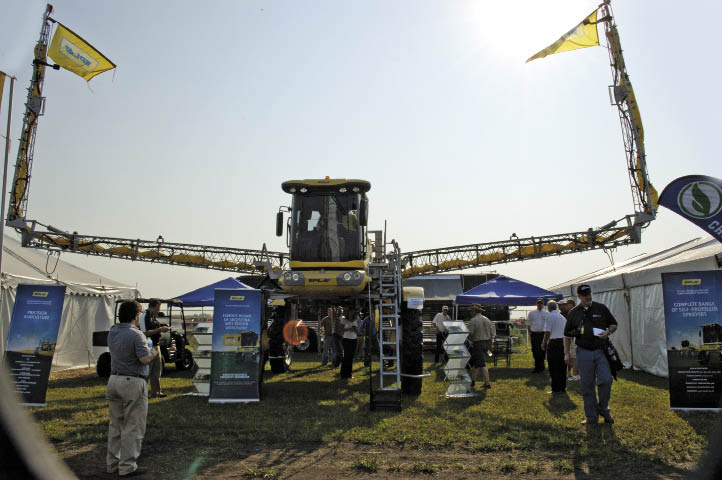 A newcomer to North America is the Pla Map II self-propelled sprayer. Pla manufacturers the sprayers in Argentina and Brazil, and they are being distributed in North America by American Resources Ltd. Steve Nelson says the sprayers are 1-1.5 tons lighter than the sprayers currently sold in the U.S., and a wind tunnel pushes the chemicals down to eliminate drift.
---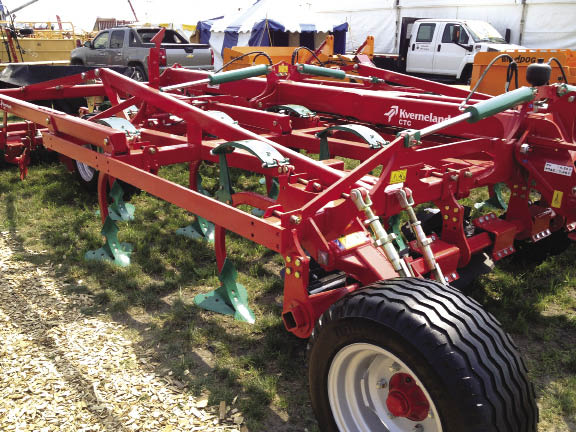 Kverneland's CTC (Conservation Tillage Cultivator) is a "mid-zone" cultivator (6-12 in.) designed to reduce or eliminate disc pan compaction. David Palmer explains that the CTC is a "one pass" tool for spring or fall tillage with chopping rollers, straight and compact disc coulters, shank assembly with three rows of tines, a set of hollowing discs for leveling, and packing rollers on the rear. Each component of the CTC is independently adjustable.
---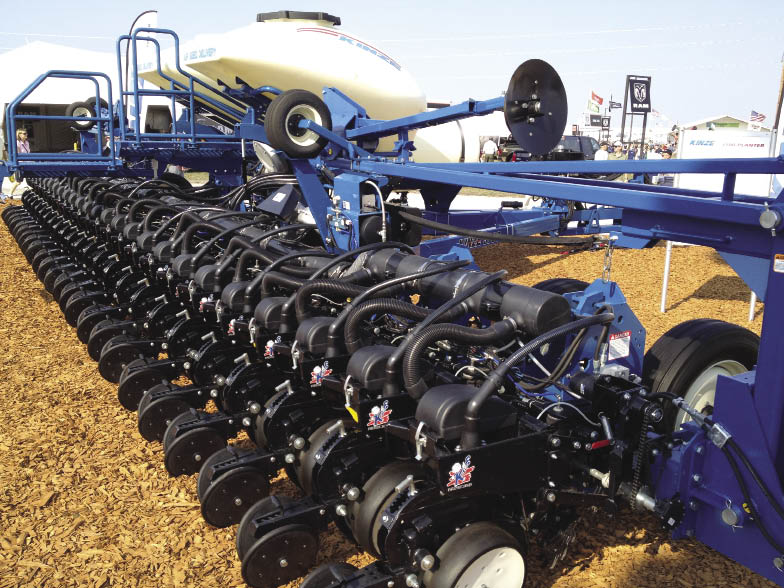 Re-introduction of the Kinze Twin Row Planter is part of Kinze's manufacturing shift from "batch" building to "cell" manufacturing, allowing Kinze to focus on niche products for the market. The benefit to dealers with the new Kinze Twin Row, according to Kinze's Luc Van Herle, is it can be modified to become a standard planter, making it easier to turn on a trade-in situation.
---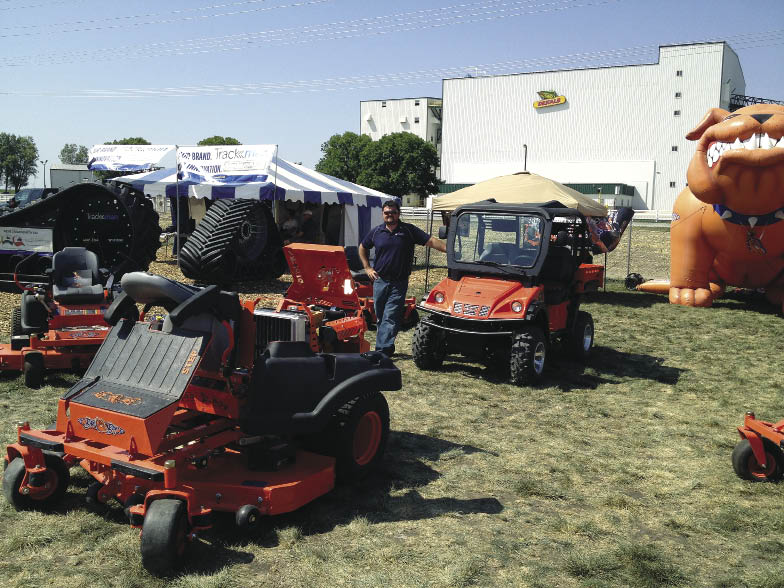 Bad Boy Mowers introduced its NEV (Neighborhood Electric Vehicle) and Outlaw XP ZTR in its lot at Farm Progress. Danny Finch of Bad Boy Mowers is optimistic about the growth of the industry despite the drought, seeing 20% growth with their strongest sales in places like Texas and Kansas. The appeal of the Bad Boy Mower, Finch says, is its durability and accessibility to service.
---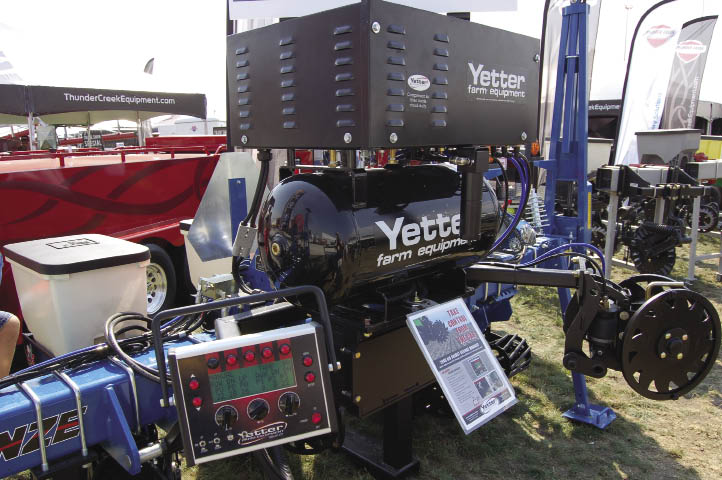 Yetter Manufacturing exhibited its new 2940 Air Adjust Residue Manager that lets farmers adjust the height of row cleaners from the cab with a controller. The system uses up-and-down air-bag pressure to let farmers make adjustments quickly and accurately during planting, says Yetter territory manager Jared Head. The residue manager height and down pressure can be adjusted independently from each other by increasing or decreasing air bag pressure.