Dealers adapt practices to fit evolving GPS capabilities
When Darin Naescher, service technician at Kennedy Implement in Philip, S.D., heard about a new line of windrowers hitting the market last year with GPS capabilities, he had his doubts about how well the technology would mesh with hay harvesting machines.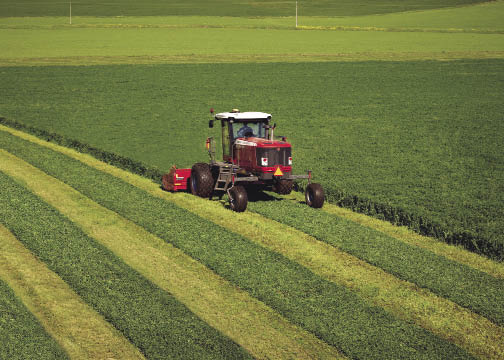 Hesston by Massey Ferguson WR9770, equipped with auto steering and a 16-foot, model 9196 disc header swaths and conditions alfalfa hay. As equipped, the windrower can travel at up to 16 mph in the field. Photo courtesy of Agco.
After all, auto-steering had primarily been utilized with tractors for planting, cultivating and fertilizing, which is far easier to navigate in the field. Prior attempts at marrying GPS to windrowers and swathers left a lot to be desired.
"Last year was the first year they set up GPS on a windrower with an Easy Guide Plus from Trimble," Naescher says. "But I talked with some customers who said it wasn't fast enough in communicating between the light bar and the steering controls, so we never really pushed it. We had a salesman who sold one with GPS, and I told him, 'You better figure out how to work it before you promise anything.' "
The biggest problem hay and forage harvesters had, he says, was keeping a straight line at an elevated speed, despite the auto-guidance system.
That defeated the purpose of installing a GPS unit on windrowers or swathers.
"Windrowers drive so much different than a tractor and their mechanics are so much touchier," Naescher says. "By the time an operator would turn one way to correct, it would be too late because he would have to come back the other way, and he was missing areas."
But last fall, Trimble was one of several manufacturers that introduced enhanced GPS that relied on more responsive electronic relay, instead of slower mechanical communication. This is ideal for windrowing hay, according to Naescher.
The change increased the value of auto-guidance systems for hay forage harvesting equipment because operators could finally cut a larger swath more accurately at faster speeds, says Dean Morrell, hay and forage marketing manager with AGCO.
Taking Control
Last fall, Hesston by Massey Ferguson debuted a new WR Series of windrowers with TopCon GPS, and Morrell says about 60% of the Hesston and Challenger self-propelled windrowers built by AGCO were ordered with auto-guidance.
"Without it, you can't steer it as fast because you can't physically keep it in a straight line," Morrell says. "The benefit is, you are able to keep your header full all the time while cutting a straight line."
On level pasture, at up to 14 miles per hour, an operator with 16-foot rotary disc heads on the windrower can reduce the number of passes and cut overlap in half or more, says Richard Kirkby, product manager for MacDon Industries tractor and hay products.
The added option of merging windrowers with GPS capabilities together as they are being cut allows operators to not only increase the volume of cut material in each windrow, when windrowing for green feed, he says, but also reduce the physical strain of keeping the machine on track.
"There is less fatigue while operating a full header width and you get more done in a day," Kirkby says. "Operators are also being consistent with the amount of material harvested, rather than having to guess. Normally, for a 16-foot header, you've got about a foot overlap and if you have GPS, that can go down to four inches."
Kirkby recently demonstrated two of the new MacDon M205 SP windrowers, which had been fitted with a GPS system, during a company training session in Yuma, Ariz., cutting 7-foot tall Sudan grass. Despite the height of the crop, the windrowers cut a straight line and took the guesswork out of the operation, says Kirkby.
---
"Operators are being consistent with the amount of material harvested,  rather than having to guess. Normally, for a 16-foot  header, you've got about a  foot overlap and if you have GPS, that can go down to  four inches ..." Kirkby says.
---
"I think the fact that we are starting to see windrowers with factory-installed GPS," he says, "is the best indication that this segment of the ag market has started to adopt use of this technology."
But while educating employees about the benefits of GPS on windrowers is one thing, selling them to skeptical farmers is another, says Derek Davis, technology solutions manager at Agri-Service, in Twin Falls, Idaho.
Show Don't Tell
Some operators were burned by earlier windrower models with GPS that promised speed and efficiency, but didn't deliver. Davis says the best way to combat that doubt is to show the machines in action, rather than just tell them about the improvements.
"We spent a lot of time doing complimentary demos all around our territories when we first got the 9700's," he says. "We'd run the machine out to farms, pay for trucking and our guy would let farmers take it out for a few hours. It doesn't take much convincing once they run one."
Soon after the Hesston models hit the market last fall, Davis says he demoed one to a customer in Oregon who does custom harvesting of alfalfa and had previously purchased a rotary disc windrower with GPS from a competitor.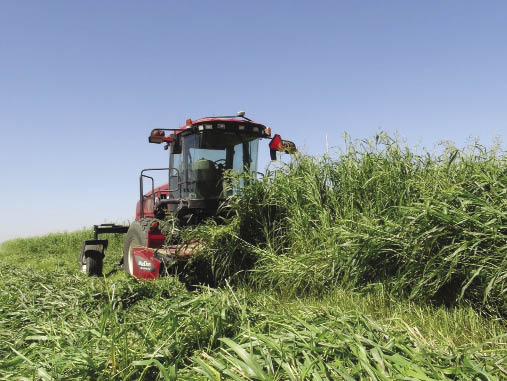 A MacDon self-propelled mower cuts Sudan grass with the aid of auto-steer. Photo courtesy of MacDon.
Davis says the client abandoned the GPS on the machine because it didn't work fast enough.
"He had invested in GPS on other makes and models of swathers before, and speed was the main issue so he just ended up shutting it off," Davis says. "He couldn't go over 8 miles per hour without it fishtailing in the back, so he was really skeptical. We went in with a new machine that went about 13 miles per hour and he was extremely impressed."
This spring, Davis says the client ended up ordering three brand new units for about $135,000 each. Agri-Service also sells and installs the Topcon Precision150 auto-steering systems in windrowers for about $9,000.
"I think the biggest concern we hear is, 'Will the operator be able to understand how to use it?' " Davis says. "But the screen is pretty simple to maneuver through."
Simplicity aside, a substantial investment in a technology still somewhat unproven in windrowers, can be enhanced by the comfort of technical support, dealers say.
Davis says showing operators how to utilize GPS on their windrowers and then abandoning them if the system malfunctions is a recipe for disaster.
"The biggest complaint we hear from farmers is some dealers don't have the technical support close by," he says. "They might make a service call for GPS and not see the tech for two days. There is definitely some frustration there."
Davis says Agri-Service avoids this problem because the dealership has about 50 service technicians throughout its nine stores, with at least one technician in each store qualified to handle GPS service calls.
Given that one of the benefits of GPS on windrowers is that less-experienced operators can get behind the wheel, Jim Burke, sales manager at KanEquip, a dealership in Dodge City, Kan., says customers need to be able to contact their dealer when something breaks.
He primarily sells Trimble 750 GPS systems for windrowers and says his approach at the outset of a sale is to make sure farmers understand what they should be getting out of the machines.
"They always question the technology when they are spending money; I don't think too many will say, 'OK, I'll just give you another $9,000,' " Burke says. "You don't have as qualified operators as you should have on most of these expensive units. So, if they are not taking a full swath when running a harvester, they are losing money because they have to make more passes. That is the only reason you are going to convince anybody, in my opinion."
The ability to get inexperienced operators on windrowers, while increasing productivity, has been a key selling point for Naescher.
He says he recently sold a model with GPS to a producer who wanted to introduce his daughter to the machine.
"She was 16 and had never run a windrower," Naescher says. "She was able to take an 18-foot swath with very little overlap and run a straight line."
Work in Progress
Dealer Takeaways
• Like other emerging technologies, the best way to sell precision ag technologies in haying operations is to give customers a hands-on experience.
• Some farmers had an initial bad experience with GPS on windrowers. Recognize this and take whatever time it takes to help them get over it.
• Dealers say GPS on balers and use of telemetry in hay and forage harvesting is the next big push in this segment. Stay on top of these trends as they develop so you can keep your customers abreast of progress in precision farming in haying.
Naescher acknowledges that a little more than a year ago, he didn't envision people who had never driven a windrower would be on the machines today.
Another encouraging sign that the technology is catching on, Naescher says, has been the demand for GPS-enabled harvesting equipment, despite a dry start to the season in his region.
"The hay has been kind of spotty around the area, so most people are not talking about even taking their machines out of the shed," he says. "But I've already sold five or six with GPS, which is the same as last year and we're just getting started."
One of the barriers to widespread use of precision technology by hay and forage producers, could be the fact that many farmers use the crops for their own use and aren't selling it, according to Kevin Shinners, Univ. of Wisconsin-Madison agricultural engineering professor.
"If you know it's $6 a bushel for corn and GPS reduced losses by 2%, then you are getting 'X' dollar per acre," he says. "Sometimes when you don't have direct marketing of crops off the farm, it's more difficult to put a dollar amount on the value of technology."
Custom harvesters will be more receptive to precision farming tools, Shinners says, but smaller operations may not see as much of a value in the investment.
"In some cases, hay and forage harvesting is still being done by pretty small farms, so adapting this technology may never be in the cards for them," he says.
Still, Naescher says GPS on windrowers is likely only the start of precision technology expanding in hay and forage harvesting.
"The next thing we'll see coming is the mobile GPS units moving from tractor to tractor to rake," Naescher says. "One of the things we see right now is 16-foot headers. A lot of the rakes are not big enough and you have to drive perfectly to pick up two windrows. With GPS on the tractor, you can set whatever heading you want and not have to make more than one pass."
GPS on hay balers is still a new concept, but New Holland is poised to unveil a new unit in late summer that will use moisture sensors to determine the moisture of bales and display them on the operator's monitor, providing an individual bale reading and average which are logged in a data file, says Chris Carrier, New Holland precision land management marketing manager.
"This is extremely new and just starting to pick up steam in the hay and forage industry," he says. "But it will prevent crops from being baled prematurely and enable precise application of preservatives," he says.
Also being incorporated in the New Holland baling equipment is the ActiveWeigh system, which incorporates bale weighing sensors into the bale discharge chute that register the bale weight as it leaves the chute, with an accuracy rate of plus or minus 2%, Carrier says.
"This system allows the operator to view individual bale weight, average weight, total weight and tons per hour, all on their monitor," he explains.
The technology is part of an emerging market in the hay and forage side — the use of telemetry — or the ability to get real-time data readings from windrowers and balers in the field.
Shinners says the technology has not quite reached widespread adoption by the market yet, but it will soon.
The goal of telematics in the hay and forage industry, he says, is to allow custom harvesters of non-cash crops to get a better handle on costs, fuel rates and man hours.
"Instead of managing without data, they can start to quantify the productivity and cost of the whole operation and make more intelligent decisions," says Shinners. "A scenario where this might be used is, let's say, there are telematic systems on the forage harvester and on trucks which can measure things like fuel use and maybe engine load for forage harvesters. You are a manager sitting at the computer watching your harvesters traverse across the field and see that engine load is too low. You may also notice if there are several trucks lined up at the edge of the field not moving.
"Now you can make management decisions that can increase productivity," says Shinners. "Maybe a better job of merging needs to be done, or the harvester knives need sharpening. With live data, sound management decisions can be made."
But the successful combination of GPS and telemetry is still a work in progress for manufacturers, Morrell says. Once it is achieved, there is the potential of saving harvesters time and money.
"They can pinpoint those bales in the field and know where they are so they can pick up the ones with most moisture and set those aside," Morrell says. "If they start intermingling bales with high moisture with drier ones, sometimes they can ignite."
Dealers are optimistic that the telematics will deliver as promised on the hay and forage side, but Davis says he wants to see some results before pushing the products when they hit the market.
"We've begun to dabble in telemetry and talked about bringing products in, but haven't made the jump yet," he says. "Mainly, because there are still a few issues that need to be worked out before we bring them into the dealership."
Given some of the early complaints from operators when GPS was first installed on windrowers, Davis says it's not worth the aggravation of pushing a product too soon, only to have it disappoint the buyer.
"We've learned that the hard way when you bring technology products in too quickly, and I don't want to ever be in that situation again," Davis says.
But he adds precision technology will continue to grow in the hay and forage industry and the key to selling it will be understanding it and showing operator how it can work for them.
"How do you get them to overcome the hurdle of what they had seen in the past, because there are lots of competitive machines that just didn't work very well," Davis says. "We could stand in the yard all day with equipment and tell them it's going to work better, but to truly convince them to write a check, we need to take it out to farms and make that investment in our customers."