"Looking back, one of the best things that happened to me was I never worked for my dad," says Brion Torgerson, who represents the fourth generation of the Torgerson family to run its farm equipment retail operations, which this year celebrates its 100th anniversary.
Torgerson's
Established: 1927
Major Lines: Case IH and New Holland
Shortlines: Brandt, Haybuster, Brent, MacDon, Bourgault
Locations: 6 Case IH and New Holland stores in Ethridge, Great Falls, Havre, Denton, Lewiston and Billings, Mont.
---
The Torgerson Timeline
1912 — Reier and Betsy Torgerson established first store in Ethridge, Mont.
1930s — Their son, Lloyd, takes over the business and operates it as a mercantile selling appliances, trucks and airplanes until the 1960s, when it became a pure farm implement dealer.
1970s — Lloyd and his wife, Gene, sell the business to their three sons in 1970.
1976 — Youngest son Eric buys out his brother's interest in dealership.
1995 — Eric turns over family farming operations to sons Brion, Aaron and Lin.
2001 — Torgerson's acquire Great Falls Tractor and Brion moves to Great Falls to oversee day-to-day operations.
2003 — The dealership acquires Case IH store in Lewiston. Eric turns over the day-to-day business of the dealership to his son Brion, but stays active as a "project specialist." He continues to run both farm and dealership with his three sons Brion, Aaron and Lin.
2005 — Acquires Case IH and New Holland stores in Havre and combined the two locations into one store. Also acquired a Case IH dealership in Denton.
2006 — Acquired a Case IH store in Billings.
While he never reported directly to his father, Eric, Brion spent a good part of his youth working at the dealership and on the family farm. "He always had me work for somebody else," says Brion. "I worked for the service manager, I worked for our farm manager, I worked for the parts manager, but I never worked directly for him."
More importantly, he adds, "My father never allowed me or my brothers to come home and complain about the boss or something going on at work. He'd say, 'You got a problem? Go you talk to your manager.' I didn't realize it then, but looking back, that was a big help. My brothers and I weren't the typical owner's sons. We were required to prove our way every day."
Today, Brion oversees the family's farm equipment business, while his twin Aaron is in charge of its farming operations. The third brother, Lin, splits his time between the two businesses.
Father Eric is what Brion calls a "project specialist because he's a heck of a salesperson. He handles specific projects, our Internet sales and generally takes of other issues as they arise. He's still involved on the farming side, too. He helps out in a lot of different facets of the family business," says Brion.
Eric adds, "I'm also the dealership's resource for old equipment that many of the people working here have never even heard of. I also worked with Wayne Fischer, our aftermarket support manager, to design and build the new shop in Great Falls." (See p. 37 for report on their new shop.)
Ownership of the Torgerson's equipment and farming operations is equal across the board, with father and his three sons each with a 25% interest. Though each has different roles, all decisions are made as a family.
But keeping this family business intact and expanding it is a story of uncommon leadership and a family commitment to stay unified and work together for the good of the entire company, including customers and employees. That's can be a tough deal for any family business.
A 'Young' Dealer-Principal
Eric Torgerson was only 21 years old when he and his two brothers bought the dealership from their father Lloyd in 1970. A few years later, he recalls that his brothers decided they wanted out of the business, and while he thought about buying it from them, he had doubts about his ability to run the dealership.
It took the accountant who had done his father's books for years to encourage him to do it. He told Eric, "You can do this."
With that vote of confidence and at the ripe-old age of 27, he bought his brothers out in 1976 and was the owner of Torgerson's farm equipment dealership. Looking back, he says, "It would have broken my dad's heart if we had sold off the business he built. He was still alive then."
On top of this, Eric says that they had bought a pretty big farm about that time and by 1975 he was in "in debt to my eyeballs." But he says the timing was right and about that time the economy took off and he had eight or nine years of "unbelievable farm economy." With that he was able to pay off his debt and just went on from there.
The next 20 years proved to be formative ones as he ran his business and raised his kids. He says he watched as other business owners who held on to the reins and never gave the younger generation the chance to grow and develop. He says, more often than not, their sons either left for their other careers or grew to feel entitled to the good life without working for it. "I made a commitment to myself that I would never do that to my children," say Eric Torgerson.
"I was lucky in that I got a chance because my dad sold the business to us in 1970 and just literally stepped back and let us run it. He was in his 60s when he did that."
Eric says that set the example for him, as he always wanted his boys to be part of his business, but it was their call.
Keeping Them in the Fold
The first step came in 1995 when Brion and Aaron graduated from college.
Brion Torgerson admits when he graduated with an accounting degree in 1995, he had no intention of going to work for his father's dealership in Ethridge, Mont. He and his twin brother Aaron, who also graduated college in '95, came back home and continued farming. Lin joined them two years later following his college stint.
The deal was Eric would provide them with the equipment through the Torgerson dealership and the boys would lease the land from him. The boys would get a percentage of the crop, but it was up to them to make it work.
From that point on, Eric says, "I didn't second guess them, I didn't pull trump on them, I leased the land to them like the tenants before them. It gave them the incentive to excel and they felt like they had a reason to put their heart into it."
Three years later, Eric decided it was time to computerize the dealership's operations. "I remember clearly, it was February 1, 1998, when my father asked me to come back to the dealership to help get its new computer system up and running," says Brion.
Up until that point, he explains, all of the bookkeeping at Ethridge, the only store his father owned at the time, was done with a pencil, eraser and in a ledger. The only part of the operation that had even heard of a computer in 1998 was the parts department, which was "computerized a little bit, but not much."
"I was going to stay at the dealership for two months," Brion says, "just long enough to get the new system up and running. But we were planning to start seeding in April and I was going go back to work on the farm then." Now, 14 years later, Brion is the CEO of Torgerson's ag machinery retail operations, which has grown into a six store network.
Following his task of getting the business management system up and running, Brion spent the next 18 months as a bookkeeper and then another year and a half as a sales consultant at the dealership.
Get Growing
We Want to Be #1
Joe Hafliger is the general manager overseeing Great Falls and Lewiston locations for Torgerson's. Starting with Great Falls Tractor 26 years ago, Hafliger, he's seen big changes since Torgerson's acquired the dealership. "Since Torgerson's took over our volume has basically tripled. This is why we made changes at the store level recently.
"Previously, the store man- ager was also the sales manager. Now, we have a general man- ager who oversees two stores and a sales manager at each store to focus on customers. My job is to keep things running smoothly. As issues arise with an individual sale, I get involved and help fix them.
"We're positioning ourselves to be leaders in this industry in and the technology, people and facilities. We want to be number one. And I want to stick around and do what I'm doing for about 15 more years."
By then, says Brion, they could see the farm equipment business was starting to a broad transformation that would reshape the entire industry. "We could see if we were going to be successful and stay in the iron business," he says, "we needed to get into the Great Falls or Billings sales regions because these were critical to expanding the ag equipment business in Montana. The Great Falls Case IH store became available and we jumped on it in 2001."
They could also see that dealer consolidation was the "wave of the future," says Brion. "If we were going to take charge of our own destiny, we had to grow."
As is often the case in family businesses, the father doesn't always see eye to eye with the son when it comes to managing the business or people, for that matter. "My philosophy about people was like 180 degrees different from my father's philosophy of people," Brion says.
Following the acquisition of the Great Falls store, Eric continued running the Ethridge location and Brion physically moved to Great Falls to run the new location. The two stores are about 110 miles apart. "I was out to prove to him that I could run my store better than he could run his, so we operated each as if we were two separate companies," says Brion. Eric and his son became competitors of sorts.
Over the course of about four years, the father and son compared notes on their differing philosophies and the results they were getting. "From what he saw in the transformation of the people at the Great Falls store and how we were operating, he came to realize what had to be done if we were going continue growing and operate multiple locations," says Brion.
What it boiled down to is they needed to empower people without the last name Torgerson. "Over time, he saw that he had to do it," says Brion. "And if we didn't do it, we would need to go back to being one-store business. My father wasn't willing to do that."
This was critical to the dealership's continued expansion. By the time he fully took over the reigns of Torgerson's in 2003, the dealership had grown to three locations. During the next three years, the dealership's added three more locations, growing into a six store dealer group.
Willingness to Change
As good a job as Brion had done with the Great Falls store, he credits his father's willingness to adapt to the new business environment that was evolving as the single most important factor in Torgerson's continued expansion.
On the other hand, Eric says it was Brion who helped him make the transformation from trying to control everything himself to sharing the load and giving people the opportunity to grow along with the company.
Eric says as the business expanded he knew in his heart he didn't want the stress and pressure of running a multi-location dealership. "I could have broke my neck and tried to do it all and run most everybody off. But I didn't because I could see the benefit of moving forward. Brion helped me see that I needed to change if we going to move forward."
Eric says his son had a "little mantra" that he didn't buy into to begin with, but he believes it today. It was "perception is truth."
Eric Torgerson explains what this came to mean to him. "You can rationalize all you want, but if someone thinks you're a jerk, it's your job to change his perception. It's not their job to change it. And that is the single biggest thing that I finally got through my head. Once I understood and accepted this, I was able to step back, let these boys take this business over and become more of a mentor and to be a help, not a hindrance."
In 2003, he turned over the equipment business to Brion. "This is what has allowed Torgerson's to stay a family business. The patriarch didn't hang on until he was 80, but had respect for and actually empowered other family members at an early age. I believe the biggest difference in our progression over the past 100 years is this one thing. Our father was willing to step aside and empower us to make decisions without interfering."
Brion still expresses his amazement at how his father was able to change with the changing times. "Nobody ever does everything in the same way and it's a huge testament to him and how he's been able to handle it. He will tell you today that he's the happiest he's ever been because of the change.
"Ten years ago, we were almost exact opposites when it came to people. But he came around to see that you couldn't manage a multi-store operation the same way as you do a single store. When he finally saw that, he changed. He's a completely different guy then he was 10 years ago. I don't think many people can transform themselves the way my father did.
It's Like a Family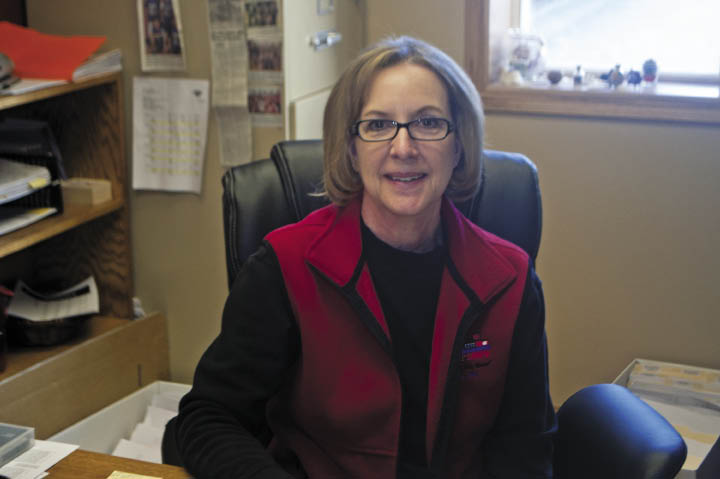 Patty Woods, controller, started with Great Falls Tractor 11 years ago. She says she likes what's happened with the dealer- ship since it was acquired by Torgerson's.
"In nine years, we've gone from 12 employees to 135. We're bigger, we're more well known. I remember back in the old days, people would hear the name Torgerson's and their first question was, 'What's a Torgerson?' We're way beyond that. Everybody in the state Montana knows who we are now. This is our 100th anniversary so that's pretty exciting to be a part of. I fully expect we'll continue to grow. I love my job. It's my life. I just feel like it's a family and I feel very much a part of that family."
"He'll tell you that the reason he's changed his perspective on people and why he's stayed a lot younger than his age, is because he's around young people all the time. He doesn't allow himself to get caught up in the old way of doing things. I found his willingness to change, his transformation, really amazing," Brion says.
Brion credits his father's willingness to change and to consider other ideas and approaches as the foundation for Torgerson's growth because it helped cement the Torgerson's philosophy about its employees. Brion describes his approach as, "I show up every day with one goal in mind. That is to earn the respect of our employees. I look at it as if I work for them, not the reverse."
An 'Objective Perspective'
Another thing the four Torgerson owners did that has kept its business all in the family is sought guidance from outside the company. As Brion Torgerson explains it, "For the past 10 years, we've been working with a trusted, experienced industry consultant who has helped us resolve 'real issues' every business comes up against."
As business matters arise where a disagreement may exist between the four partners, the consultant is called in to hear the differing opinions. Whatever the consultant determines to be in the overall best interests of the company is what the partners accept.
Brion Torgerson emphasizes, "Whatever he decides, we all four agree to do it. No one's bigger than any other partner in these decisions. We've done this for 10 years and it's worked well for us. This has been key to holding us together."
Torgerson's also utilize an outside financial planner, tax attorney and accountant in similar capacities.
Reiterating that his father and brothers are like any business partners, but with the family sensitivities brought to bear, they believe they need an "objective perspective" to keep company moving forward.
But he emphasizes, "We don't do it for business sake at all. We do it from a family business perspective. We all agree we need to come across as a unified ownership group to our employees. If we don't, we're sunk. We struggle with that like everybody else. Believe me, there's always things to work out and to attack, but the objective perspective is what these advisors give us," says Brion.
"We obviously have to agree as a group to whatever the guy sitting across the table advises to do or whatever solution he believes is best for everyone involved. Whether we totally agree it or not, we do it."
Uncommon Leadership
It's these two factors — Eric Torgerson's willingness to change and allowing his sons to grow the business, along with seeking and following the recommendations of trusted outside advisors — that have kept the Torgersons in business for a century. Stated simply, their goal is to continue operating a successful, growing business as a family unit.
Eric Torgerson says it's a matter of maintaining the strong family values and continue building something substantial that's the company's legacy. "One of our consultants has a philosophy that we live by in our ownership group. He says, 'In America, you get up every day, put on the harness and go to work. If you do this, you can't help but be successful.' I've come to believe we have employees that treat this business like it's their own. They have ownership because everyone is on a level playing field. All of us have to earn it. No one is entitled to anything if they don't work for it."
Brion Torgerson adds, "We believe that our employees are the strength of our company and appreciate their dedication. We need them to feel empowered. We need them to believe this is not just the place they work, but it's their store, it's their parts department, it's their sales territory. This is what we're trying to do here."