Corn genetics and changing farm practices are to blame for cornstalks destroying agricultural tires. But solutions — and sales opportunities — exist.
Sudden downtime is the enemy of every farmer, and the sources of trouble these days aren't just mechanical in nature. Farmers are fighting a pitched battle with cornstalks that are damaging or puncturing tires on their tractors, combines, sprayers and other equipment.
It's possible to mitigate this expensive, time-wasting problem. As a dealer, you can present some simple tools to keep your customer out of emergency situations.
Tire manufacturers are discussing the possibility of eliminating stubble-damage warranties — maybe within the next 5 years, says Scott Sloan, product engineering manager for Des Moines, Iowa-based Titan Tire Corp., which makes Goodyear-brand tires.
The main reason is cost, Sloan told attendees at the National No-Tillage Conference last January. He says it's become expensive for manufacturers to warrant tires for damage that, theoretically, could be prevented.
If stubble warranties disappear, he predicts damage complaints will subside, too, because growers will be forced to find solutions instead of relying on warranty coverage.
The Problem: Jagged Stalks
Thick stands of jagged cornstalks left in fields have many potential causes.
Sloan says the number of corn genetic patents has exploded in the past 15 years. The characteristics of these improved hybrids has been difficult for tire manufacturers to combat. Many growers say Bt cornstalks break down slowly.
Weather conditions can also affect the ability of microbial bacteria to break down cornstalks. Soil types can also determine how easily stalks fall over after harvest. Sloan also feels some chopping corn heads on the market leave cornstalks just high enough to be a danger to tires, but too low to be easily knocked down.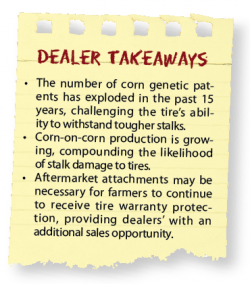 "So we've just pounded a piece of rebar in the ground," Sloan says. "I didn't have engineers from Deere, Case IH or any other major manufacturer ask us if shortening stalks would be problem for tires. Then, all of the sudden, it's a tire problem."
Finding a Compromise
Many farmers would like ag tires to be completely stubble proof. However, designing these kinds of tires is a compromise between stubble resistance, field performance and ride comfort.
Sloan says creating a compound impervious to stubble damage, while possible, might cause cracking at the base of the lug, or in the sidewall.
"No single compound does everything," Sloan says.
Titan and other tire makers are working on solutions to strengthen the resistance of tires to stubble damage. Sloan says it now takes 160 pounds of pressure to puncture Titan's ag tires with a cornstalk — twice the resistance that existed a few years ago.
Titan is also experimenting with hybrid blends of synthetic and natural rubber, and alternative materials like Kevlar for tire construction.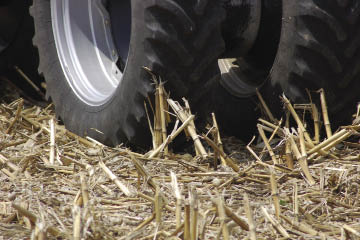 Tire makers are discussing whether to continue offering stubble warranties for ag tires because the policies are too expensive. "Growers must start protecting themselves," says Scott Sloan of Titan Tire Corp.
To address increasing complaints about punctured implement tires, Titan has played with prototypes that include 6-10 plies instead of the usual 7, as well as multiple layers of material similar to the technology found in bulletproof vests.
"Unfortunately, this adds a great deal of cost to the tire," Sloan says. "Currently, equipment manufacturers are reluctant to add additional cost to products. We're hoping, if nothing else, we can give the end users an option."
'Protect Yourself'
So what can farmers do? Sloan suggests they modify the conditions they're running in, rather than constantly replacing tires or believing that changing brands will solve the problem of punctured tires.
Sloan suggests:
Stay off the old rows, if possible. "That minimizes the amount of tire that sees stubble," he says.
Properly inflate tires. "If you run tires too low — even between rows — you'll end up picking the sidewalls with the stalks and seeing damage," Sloan says.
Think about the tillage angle. "What angle are you taking?" Sloan asks. "A steeper angle sees more stubble."
Modify your equipment. Sloan advises farmers to at least consider attaching equipment aftermarket products or homemade devices that push stalks over.
"Some growers don't like laying stalks down as a mat, but once you run over them, you're laying them down anyway," he says.
MAY WES STALK STOMPERS
May Wes of Hutchinson, Minn., was an early entrant into the stalk-crushing category when it introduced Stalk Stompers for tractors and combines.
The device works off of existing tractor hydraulics to raise and lower with implements, or be controlled independently with an open remote. The system also has an optional automatic lift switch that raises the device when the tractor is put in reverse. The shoes are made of 3/16-inch thick metal and are covered with a ¼-inch thick poly surface to reduce drag.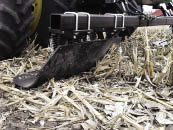 Stalk Stomper by May Wes
Cade Bushnell, who farms 1,300 acres near Stillman, Ill., normally likes to leave as many cornstalks standing in his fields as possible, but he ran into a dilemma when stalks began damaging the tracks of his Deere 8410T tractor.
Bushnell has 450 acres of no-till corn-on-corn, which concentrates a band of residue in the path of the tracks. He'd been spending thousands of dollars replacing sets of tracks and had just accepted the damage.
Last year, he put Stalk Stompers on the front of the Deere, attaching them to a ram so they can be raised or lowered automatically. He ran them for the first time this spring, although there wasn't as much residue to contend with because of high precipitation levels.
"The Stompers are nice and wide in front of the tracks, so we can put them in the field and you don't run over standing stalks," Bushnell says.
Paul Butler, who farms 400 acres near Macon, Ill., plants corn-on-corn and soybeans into cornstalks with a 12-row planter, sprays with a 40-foot sprayer and harvests with a 6-row combine without spacers on the wheels.
He also recently began sidedressing corn, sometimes creating a third trip through stalks. Butler often runs the tractors completely on the old rows, which decimates the front tires and rear outside tires of the Deere's duals.
Two years ago, Butler replaced his combine with a Deere 9500. His old combine had spacers so he could run between rows, but the new machine doesn't have them. With its bigger tires, about one-third of the rows get mashed. So he attached Stalk Stompers on his combine to protect the middle of the tire.
"I'm glad to have them," Butler says. "The stalks are glancing off the outside of the tires, so it's not a direct hit."
DURHAM STALK PUSHER
Durham Ag Tech out of Burlington, Colo., introduced its Durham Stalk Pusher device 3 years ago. More than 100 sets have been sold to date.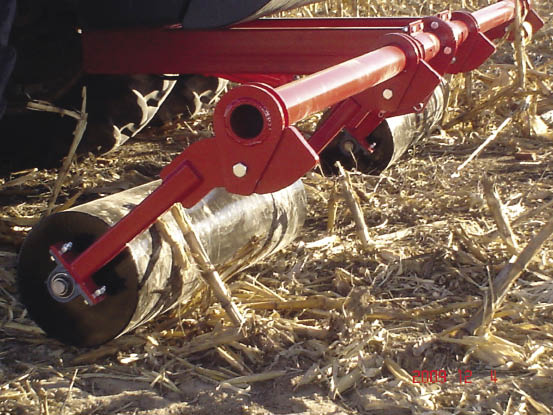 Stalk Pusher by Durham Ag Tech
The Stalk Pusher begins with a 3.5-inch diameter steel bar mounted to the tractor that pushes over the stalks, which are then run over by two 12¾-inch rolling pipes mounted on either end of the steel frame.
Durham Ag Tech owner Galan Durham says the Stalk Pusher works well because there isn't much equipment to wear out. The barrels follow the contour of the ground and they're heavy enough to do the job without springs. The equipment is wide enough to protect dual tires on the front.
"It's not rocket science. It just knocks the stalks over in the direction of travel so they're not standing straight up," Durham says. "Many guys are running them in front of the tractors pulling grain carts, and leaving the Stalk Pusher on when they're planting corn. Some of them are getting five or six different applications where they're using it."
Durham has nine different models that fit Case IH and Deere tractors. He's done some custom kits for Caterpillar and New Holland tractors. Another kit will let farmers switch the Stalk Pusher between Deere tractors.
RWF STALK SMASHER
A handful of longtime former Art's Way Mfg. employees started Ringsted Welding & Fabrication in Ringsted, Iowa, and introduced the Stalk Smasher, their first product, a year ago.
The Stalk Smasher features a 5-inch square toolbar mounted to the front of a tractor, and a 3½-inch-diameter, solid-steel shaft that pushes down cornstalks.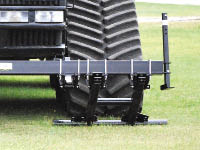 Stalk Smasher by Ringsted Welding & Fabrication
The attachment is wide enough for all tracks and duals and can be transferred to different tractors with the proper mounting brackets. The unit also features a hydraulic system for a full range of adjustments.
Kits are available for Deere, Case IH, New Holland, Caterpillar and Versatile models.
RWF co-owner Toby Morris — who spent 15 years at Art's Way — says Ringsted has more than 100 units in use in Nebraska, many of them purchased by farmers using chopping corn heads and dealing with stalk-damaged tires.
Morris says famers just wanted something simple, so the Stalk Smasher was designed to let growers bolt it on themselves and avoid modifying the machine. There are no springs or short pivot points on the attachment.
"You just put the pins in it, grease the pins and there's no trouble with it," Morris says.
TUTHILL STALK HOG
Brookston, Ind.-based Tuthill Drive Systems introduced its Stalk Hog attachment for various combine models earlier this year.
The Stalk Hog mounts directly to combine heads with mounting brackets, a metal foot and spring.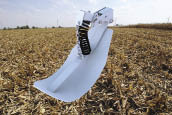 Stalk Hog by Tuthill
Tuthill has released Stalk Hog equipment for Deere 600-series combine headers. Designs are pending for Geringhoff and Case IH corn headers.
It's similar in design to some competitors, but Tuthill believes it has a heaver design and is easier to connect to machinery.
Depending on the model, Stalk Hogs are mounted on the gearbox or near the back of headers.
"We've spent some time on the angle of the spring, so we think it will last longer," says Darren Foster, Tuthill's marketing manager. "Since we've built rear axles for combines, we're good at designing with steel, so we think it will last in the conditions farmers will be dealing with."
Tuthill isn't currently making Stalk Hogs for tractors, but Foster says farmers can buy the shoes and design their own mounting brackets.
CUSTOM MACHINES STALK CRUSHER
Adrian, Mich., manufacturer Custom Machines Inc. introduced the Stalk Crusher earlier this year as a tractor- and combine-mountable device for flattening stalks.
The tool is the brainchild of Dean McClenathen, who farms 2,200 acres near Blissfield, Mich.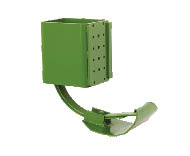 Stalk Crusher by Custom Machines
McClenathen says the idea came up a few years ago after he ripped up a set of combine tires while running through cornstalks. The tires cost $1,800 each.
The Stalk Crusher relies only on a mounting bracket, downpressure spring and shoe.
"It also has a swing-away bracket so you can load the corn head on a header cart without taking them off," he says. "The shoe design on ours also has a curl in the back, so it won't puncture the tires if it comes off or detaches from the machine. And if you go in reverse, it won't dig into the ground," says McClenathen.