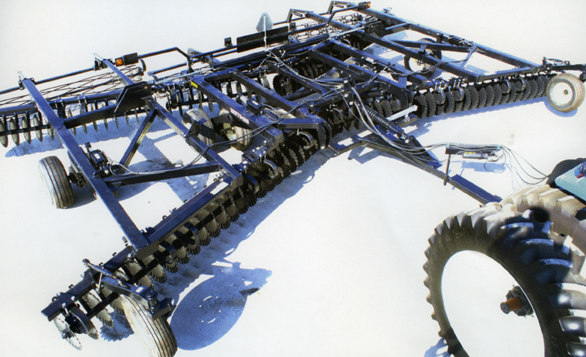 Alamo Group introduced its new implement for vertical tillage at the Farm Progress Show in Boone Iowa.

The Earthmaster Verti-Go MWT3400 represents Alamo's entry into the vertical tillage market and will mark the firm's building of a full tillage line, the company tells Farm Equipment. The line was unveiled to 35 dealers in Boone in a private event, and orders are being taken now for March delivery to dealers.

According to literature distributed at the show, the MWT3400 cleans up small spring weeds, mixes residue, and prepares a smooth seed bed quickly. It also helps meet exacting fall residue management requirements by chopping through stalks, stubble or straw, and by covering the residue with enough dirt to minimize erosion.

The MWT3400's SoilRazor disc blades are designed to cut through tough BT stalks with ease, and the discs maintain their sharpness and wear better than many competitive blades.

Designed for low draft, the MWT3400 lets farmers get the job done quickly while burning less fuel. And the implement's simple and consistent leveling control, and a single-point depth control helps farmers work the field evenly across the width of the machine.

Heavy-duty walking tandem axles and spindles on the MWT3400 are designed for high-speed vertical tillage over uneven terrain. Also, 360-degree pivoting gauge wheels under the wings maintain consistent tillage depth in rolling terrain and provide easier turning in tight corners without skidding over the soil surface.

The rugged, large-diameter rolling basket finisher provides a final touch for smooth finish, reducing the pain of extra trips across the field for chemical application or spring planting.
For more information, send an e-mail to Greg Pollock at gpollock@alamo-group.com.