The shortage of service technicians isn't a new problem facing the farm equipment industry — but it is a growing concern and a challenge that is getting harder to overcome. With how quickly technology is changing and how advanced farm equipment is becoming, finding qualified technicians isn't going to get any easier if the industry as whole doesn't work to change it.
The Numbers 
According to the 2022 Dealer Business Outlook & Trends report, 79.3% of dealers ranked technician availability as an issue they were "most concerned" about. The report ranks the top concerns by combining the scores for "most concerned" and "concerned." In the latest report, technician availability came in at No.2 (97.2%) behind finding and retaining new personnel at No. 1 (98.1%). Another 86.1% of dealers said they plan to hire service technicians in 2022, up from 78.1% who intended to hire service techs in 2021.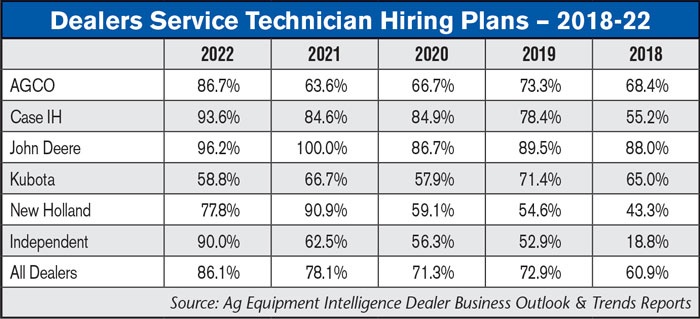 According to Jay Goninen, founder and president of WrechWay and Find a Wrench, 50,000 individuals are leaving the industry every year. WrenchWay is a job board website focused on automotive, diesel and collision technicians. During a webinar with Fullbay, a heavy-duty repair shop management platform, Goninen noted there are 40,000 technician jobs posted on Indeed. But he thinks that represents only one-third of the need. He estimates there are 120,000 open diesel technician positions open. Zeroing in on open technician positions specifically in the ag equipment industry, a search on Indeed in late November 2021 showed 2,548 positions open. 
According to American Diesel Training Centers, by 2025 there will be more mechanic openings than working mechanics, and U.S. schools are only producing 20% of the technicians that are actually needed. Breaking that down more, ADTC says 5,000 technicians enter the industry a year in the U.S., but 8,000 techs retire each year. On average, a job is open for 45 days. And by 2025, there will be 228,000 technician jobs open. 
The ADTC website (www.americandeiseltraining.com/employers) has a tool that calculates how much being short technicians is costing an organization. According to the calculator, being down 1 tech for 30 days results in $21,510 of lost labor revenue. The lost parts revenue is $15,060 and recruiting and onboarding costs are $8,000. The total revenue lost for being down 1 technician for an average of 30 days is $44,570. The calculator also lets you put in a profit margin to help calculate the lost profit. Using the Cost of Doing Business Study as a basis, in 2021 service gross margins were 56.8%, which when plugged into the calculator results in $24,405 of lost profit being down just 1 technician for 1 month.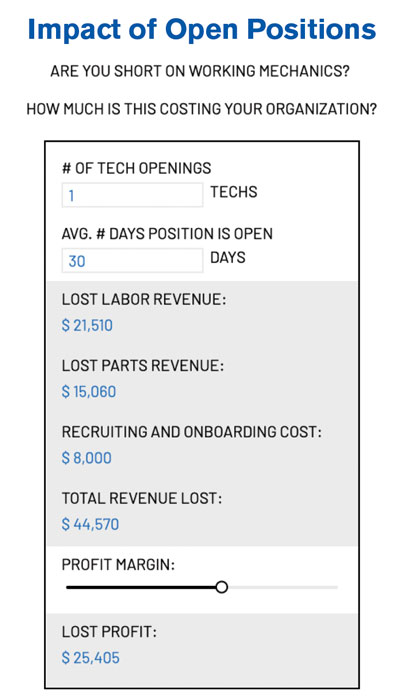 This calculator from American Diesel Training Centers shows the impact that being down just 1 technician can have on your dealership's bottom line.
In the 2020 EDA Dealership Compensation and Benefits Survey, dealers were asked "How many technicians could you hire today (what is your technician shortage)?" On average, dealers said they could hire 4 technicians. For dealers whose annual revenue was greater than $100 million, that number grows to 13 open technician positions. If you plug the average of 4 technicians into ADTC's calculator, the lost labor revenue jumps to $86,040, lost parts revenue goes up to $60,240, for a total loss of $178,280 in revenue and $101,620 in lost profits. When you use 13 as the number of needed techs, in a month the lost revenue is over half a million dollars. 
However, the picture could be bleaker than this calculator suggests. According to Gord Thompson, trainer and consultant with the Western Equipment Dealers Assn., the numbers on ADTC's tool were light compared to the average farm equipment dealer. Based on 2021 Cost of Doing Business Study numbers, he suggests: 
Foregone Revenue:
Average dealer has 7.4 techs, 1,165K service revenue = $157K service sales/tech
Target parts sales is $1 of parts per $1 of labor on workorders.
Even if we assumed it's at $.80 of parts sales per $1 of service sales, because the study can't tell us this, then $157,000 x .8 = $126K of parts sales
So lost revenue per CODBS is $157 + $126 = $283K
Lost GM Dollars:
Service $157K x 57% = $89K
Parts $126K x 35% = $44K
So lost GM$ are 89 + 44 = $133K
"The last part of the question is what the expenses are associated with that employee beyond wages, and that's the tricky part, but the reality is adding a tech that you already have physical space for and management in place for isn't very expensive, whereas expanding costs quite a bit. But with $133K of gross margin dollars at stake, it's easy to see $100K at stake every time," Thompson says. 
Tackling the Perception Problem
With fewer students pursuing diesel technician and ag technician post-secondary programs, the industry needs to tackle the perception problem. "We're fighting schools who think a 3.5 GPA is too high for tech training," says Steven Coyle, Universal Technical Institute director of counselor and academic relations. 
"That perception is changing, but we have to do a better job advocating for ourselves. I tell our instructors, 'You're your own worst enemy by not advocating for yourself.'" 
The Equipment Dealers Foundation is focusing on the pipeline issue says Joe Dykes, vice president industry relations for the Equipment Dealers Assn.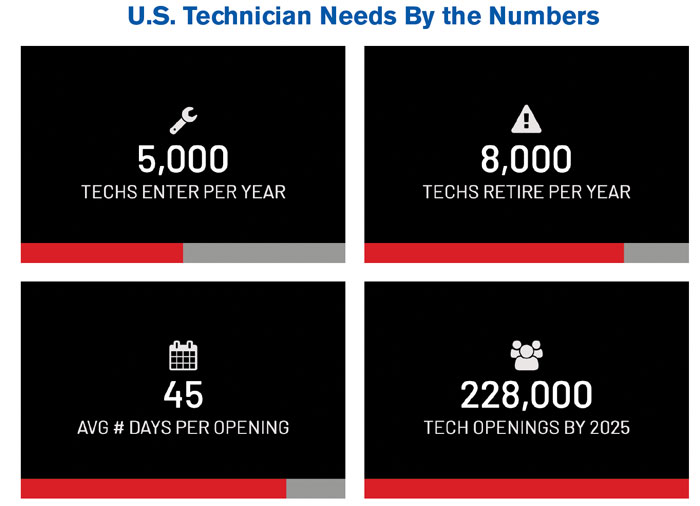 According to American Diesel Training Centers, 5,000 diesel techs enter the workforce per year but 8,000 are retiring every year. ADTC says by 2025 there will be over a quarter million technician openings.
"As we talk to our dealers and the recruiters at the dealership, we had always talked about high school kids, getting them into the diesel tech program and then how to get them in post-secondary trade," he says. 
"And they said, 'You've missed them by that time. If you're going after them when they're a senior or junior in high school, they're already made up their mind. You missed them.' 
"We decided, no one's really addressing the pipeline issue. Dealers recruit and recruit and recruit, but it doesn't matter if kids don't know about our industry and the opportunities in it," he says. 
But more specifically than the kids, Dykes says it is the people who are influencing kids in middle school or in their freshman and sophomore years in high school — teachers and parents — who need to learn about the opportunities at farm equipment dealerships for a service technician. 
He says they've found that very few teachers at that level were aware of the opportunities, and many parents are already focusing on college even at that younger age.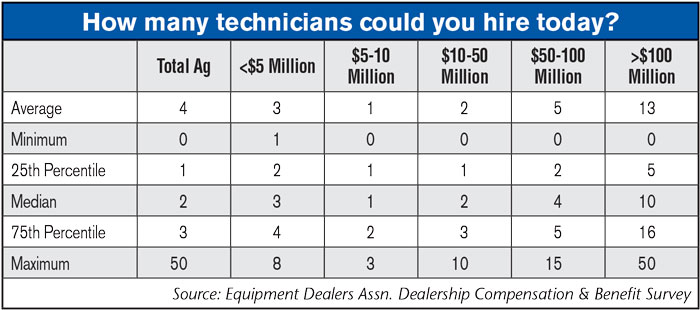 "We've been addressing this for 20 plus years. There's always been, 'We need more technicians, we need more technicians.' If you don't address the pipeline or getting people set up to get into this industry, or even aware of it, it's never going to change. You can have a great job and a great company to work for, but if people aren't aware of you, we're never going to solve the problem."
Now's the time to start planning for the future, Thompson says. 
"If the tech shortage is much worse in the future than it is now, you had better start planning to make it a very desirable position to the pool of potential techs that exists. This alone could easily squeeze out of business the pretenders who have poor service facilities or weak service management," he says. 
"The part that will stall out the weaker ones and speed the process is that they will say to themselves, 'Well I don't make money in service now, so these numbers make no sense to them. And they will wake up one day in the not too distant future and realize it is exceedingly difficult to sell anything at all with no service techs."     
Sounding the Alarm: Technician Shortage Hurts the Bottom Line
Putting Technicians in the Pipeline
AGCO Partners with Universal Technical Institute for Fendt Ag Tech Training
KanEquip Takes New Approach with Tuition Reimbursement for New Techs
Titan Machinery Takes Grassroots Approach to Technician Recruitment
State Apprenticeship Program Bolsters Birkey's Recruitment Efforts