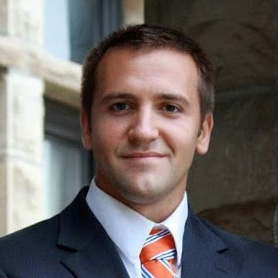 ST. LOUIS, Mo. – The Equipment Dealers Association (EDA) and its regional affiliate members welcome Joshua Evans. He joined EDA on May 1 as Vice President of Government Relations and General Counsel. Evans is an experienced litigator practicing law in Southern Illinois since 2014. He also has significant political experience at the state and federal level. Josh is a graduate of St. Louis University School of Law and the University of Illinois, Carbondale.
Evans will bring significant value to EDA's members. In his role as Vice President of Government Relations, Evans will track key legislation affecting our membership. In addition, he will spend time in Washington, D.C. participating in key coalitions and industry partnerships on EDA's behalf. In his role as General Counsel, Evans will be the first point of contact for members through EDA's Legal Resources Hotline.
He will connect members with the information and/or legal talent they need to effectively operate their businesses. In addition, Evans will assist in EDA's forthcoming initiatives to provide members with top-notch regulatory and legislative training programs. Further, Evans will head the Coalition Opposed to Illegal Tampering, providing the equipment and offroad industries with leadership and resources on so-called "Right to Repair" legislation. He is a native of Carrollton, Ill. In his spare time, he loves to spend time with family and friends, read political history and travel.