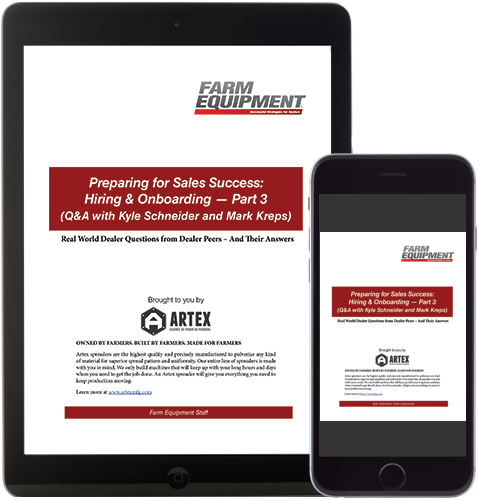 Dear farm equipment professional,
The editors of Farm Equipment  identified two presentations from the 2019 Dealership Minds Summit that were easily the highest rated dealer presentation of the entire Summit. These two speakers, both Dealership of the Year Alumni and Advisory Board Members to Farm Equipment, are considered "world class" in their talent development, with programs to groom talent in the specific ways that they want business done.
Their sessions were so highly rated by those in attendance that we withheld these sessions from Farm Equipment's coverage in the October/November issue because we believed it was just too powerful to convey in limited space, and was suited for a more in-depth report offering a deeper dive into the key takeaways. 
We've packaged this content into a 3-part series, "Preparing for Sales Success: Hiring & Onboarding," featuring advice and practical approaches from Vice President of Sales at RDO Equipment Co., Mark Kreps, and Stotz Equipment Used Equipment Manager, Kyle Schneider, on the best ways to hire and on-board new salespeople.
Part 3 of this series offers an insightful Q&A between Kreps and Schneider. Each share the out-of-the-box hiring and on-boarding strategies that have been most successful for their dealerships. They discuss these topics and more:
Introducing a New Salesperson to the Customer — Read about RDO Equipment's unique approach to on-boarding a new salesperson, and why they encourage their sales people to NOT sell anything for the first 6 months.  
On-boarding an Existing Employee vs. a New Hire — Schneider stresses the importance of walking a fine line when taking someone from within your organization and promoting them up to a salesperson. He also shares thoughts on why it's important to take a look at that person and at their past experiences within the organization to see if they are truly ready. 
Leadership Development Programs — Learn how Stotz Equipment has found success with a 2-year "Aspiring Leadership" training program taught by their CEO, which meets every 6 months with a group of about 25 employees.
Download "Preparing for Sales Success: Hiring & On-boarding – Part 3" for FREE and get a fascinating "fly-on-the-wall" perspective into Kreps' and Schneider's  leadership development programs, and how they encourage personal development in their employees which, in turn, helps develop their businesses as a whole.
Get this eGuide for Free with a Free Account!
New members, click "Sign Up" for free account. Or, regular members click "Go In".
Have you read parts 1 or 2 of this 3-part "Preparing For Sales Success" eGuide series yet?
Click here to learn about Part 1 of "Preparing for Sales Success: Hiring & Onboarding."
Click here to learn about Part 2 of  "Preparing for Sales Success: Hiring & Onboarding."