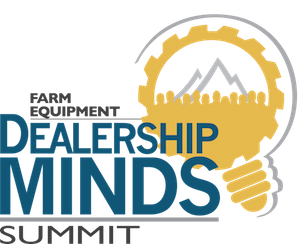 Digest the "best of the best" ideas from the 2019 Dealership Minds Summit through replays of the 2019 conference general session and panel session speaker presentations, made possible with the support of DeLaval.
The videos below offer you multi-camera coverage — including the slide presentations — from these inspiring, informational and thought-provoking Dealership Minds Summit sessions.
To view any of the exclusive 2019 Dealership Minds Summit videos, you must be logged in with a free user account.

The 2019 Dealership Minds Summit Video Replay is brought to you by DeLaval.
---

Tuesday, July 30

Sales Managers, Do You know What You're Managing

Scott Downey, Dept. of Agricultural Economics, Purdue University

 

Roundtable Recap: Day 1

 

Dealer-to-Dealer Panel: Creating a Clear — and Effective — Sales Strategy

Don Van Houweling, Van Wall Equipment, Perry, Iowa
Ron Ritchie, President, Ritchie Implement, Cobb, Wis. 
Shawn Skaggs, President/ COO, Livingston Machinery, Chickasha, Okla.

 

Dealer-to-Dealer Panel: Compensation Plans that Motivate the Sales Force

Ryan Polete, H&R Agri-Power, Hopkinsville, Ky.
Fred Titensor, Chief Operating Officer, Valley Implement

Dealership Minds Summit: Special Dealer Exec Q&A

George Russell, Founder, Machinery Advisors Consortium

 
---

Wednesday, July 31

No Sales Lead Left Behind: Rewarding Salespeople Who Respond

Ben Garton, Garton Tractor, Modesto Calif.

 

 

Roundtable Recap: Day 2

Outside Looking In: An Analyst's View of the Farm Equipment Industry

Timothy Thein, Director Citi Research, Citi Group

Dealer-to-Dealer Panel: On-Boarding New Salespeople for Success

Kyle Schneider, Stotz Equipment, Avondale, Ariz.
Mark Kreps, RDO Equipment, Fargo, N.D.

 

Sure-fire Strategies for Sales Success

Dr. Jim Weber