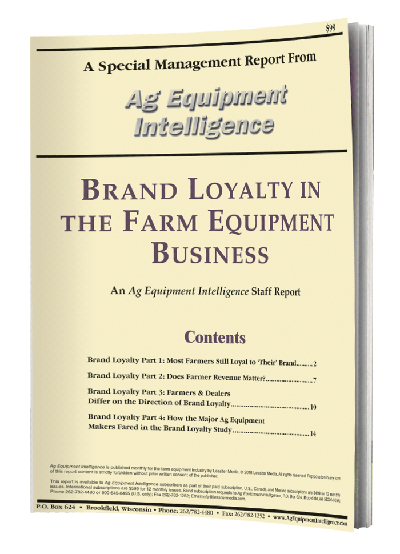 The editors of Ag Equipment Intelligence have announced the release of their newest special dealership management report, Brand Loyalty in the Farm Equipment Business. 
The culmination of a nearly decade-long study that surveyed farmers across 12 states to gauge the level of loyalty they hold toward equipment. Brand Loyalty in the Farm Equipment Business offers an essential business strategy tool to help dealers better understand and position their dealership's unique selling proposition, products and overall value against the competition amidst an ever-shifting ag equipment landscape. 
Based on primary research conducted by Ag Equipment Intelligence editors, this dealership management report offers insight and analysis into what motivates farmers to switch brands, compares the differences of brand loyalty between farmers of different revenue levels and sheds light on top dealers' perceptions of brand loyalty. It also features insightful commentary directly from brand-specific farmers. 
Commenting on Ag Equipment Intelligence's objective for conducting its brand loyalty study and releasing the data in this special report, executive editor and publisher Dave Kanicki remarked, "This study set out to confirm or dispel the widely held assumptions around brand loyalty. Some in the ag equipment business insist that brand loyalty in farmers has diminished over the years; however, that is not what farmers are saying. The thorough by-the-numbers analysis featured in this report offers dealers a valuable resource to help them be better informed and prepared to align their dealership and the brands they represent with the right customers, at the right time and with the right message."
Available free of charge to subscribers of the Ag Equipment Intelligence newsletter, Brand Loyalty in the Farm Equipment Business can be purchased for $99.95 here.