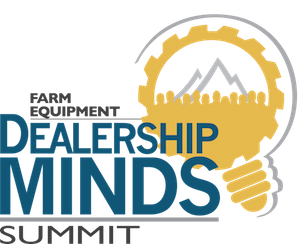 Digest the "best of the best" ideas from the 2018 Dealership Minds Summit through replays of the 2018 conference general session and panel session speaker presentations, made possible with the support of Dealer Spike Agriculture.
The videos below offer you multi-camera coverage — including the slide presentations — from these inspiring, informational and thought-provoking Dealership Minds Summit sessions.
To view any of the exclusive 2018 Dealership Minds Summit videos, you must be logged in with a free user account.

The 2018 Dealership Minds Summit Video Replay is brought to you by Dealer Spike Agriculture.
---

Tuesday, July 24

Moving Your Marketing Department from Traditional Marketing to Intelligent Marketing

Jeff Bowman

 

Roundtable Recap: Day 1

 

Using Content Marketing to Target Customer Interactions

Hannah Ross
Lisa Steffens
Heather Hetterick

 

Proving Your Marketing ROI

Tyler Musson

KEYNOTE PRESENTATION: Effective Digital Marketing Strategies for Ag Equipment Dealers

Speaker

 
---

Wednesday, July 25

Digital Marketing – Strategically Influencing Your Customers and Prospects

Tim Whitley

 

 

Roundtable Recap: Day 2

Technology Tools that Simplify Marketing Automation

Video Marketing – What Work's & What Doesn't

Mike Wiles