It seems to be a peculiar name for a farm equipment show, but the National Ploughing Championships didn't start out as anything but an event to settle a dispute between two Irish farmers in 1931. Since then it has evolved into the country's largest exhibition of farm machinery, but it still features a ploughing (plowing) contest among the country's farmers. It was previously known as the National Ploughing Championships Machinery & Livestock Exhibition, but the reference to machinery and livestock was dropped somewhere along the way.
While much of the equipment technology currently being adopted by the most advanced agricultural regions of the world was on display, in Ireland more of it is aimed at livestock operations than for fieldwork.
It was also interesting to note that a dozen or more equipment dealers were exhibiting at the show. We had the opportunity to interview one of the prominent New Holland dealers who was exhibiting. We discussed many of the issues confronting farm equipment sellers in Ireland and shared some of the similarities and differences between Irish dealers and those in the U.S. and Canada. You can listen to our interview with Billy Shaw, managing director of W.R. Shaw Ltd., here. He said that because New Holland was not present at the show, his dealership was giving the equipment maker a presence at the National Ploughing Championships.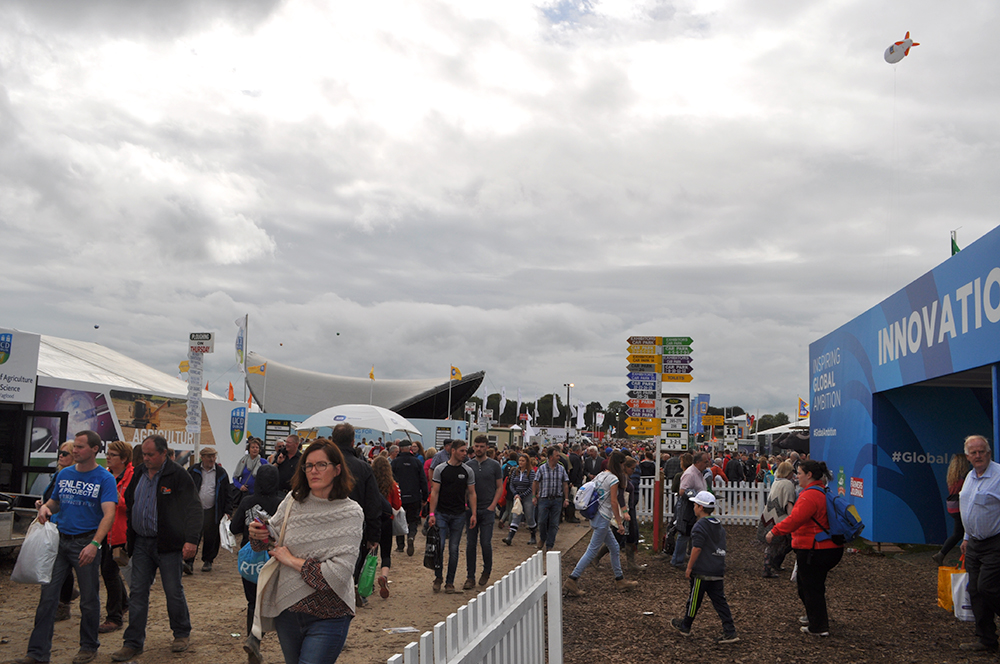 This was the first time that a Farm Equipment editor has attended the annual event in late fall. For comparison purposes, it is similar to the annual Farm Progress Show in that it is outdoor event and very large. It is also subject to the whims of Mother Nature. This year was no different as rain on the second day of the show created rivers of running water and muck through many, if not most, of the exhibition area.
It covers about 800 acres. The 3 day event this year featured 1,700 exhibitors and attracted over 290,000 people. Locals treat the show as a social event with throngs of families, children and teenagers making it difficult to maneuver between the exhibits. It also featured the latest equipment and products available to Irish producers.
Here are a few of the products on display that Irish manufacturers are actively introducing to the North America market and looking for dealers.
Major Equipment Cyclone Mowers
Major Equipment's range of Cyclone Mowers have been designed to do the work of a flail mower but require a fraction of the horsepower and fuel that a flail mower typically consumes. They are ideal for everyday grassland management —including shrubs, saplings and brush — as well as the clearance of arable stubble, including corn and oil seed crops.
Strenx 700 MC high-strength steel is used in the manufacture of these machines, as wells as Hardox 450, a wear and abrasion resistant steel, for the discs and blades, and a heavy duty rear roller. These mowers are designed to be low maintenance machines with fewer wear parts than a traditional flail mower.
Major Equipment offers a wide range of equipment including disc mowers, flail mowers roller mowers, grass toppers and finishing mowers.
Eibhlin Murphy, Major Equipment's marketing coordinator, spoke with Farm Equipment and described the company's product line and its efforts to connect with dealers and distributors in America.
SAMCO System's Punch Machine
The Punch Hole Film Layer and Seeder is an innovative method for precision seeding. It consolidates the soil, lays a film layer over the field and accurately sows the seed using the "Punch Wheel Unit," which ensures precise seeding depth and spacing.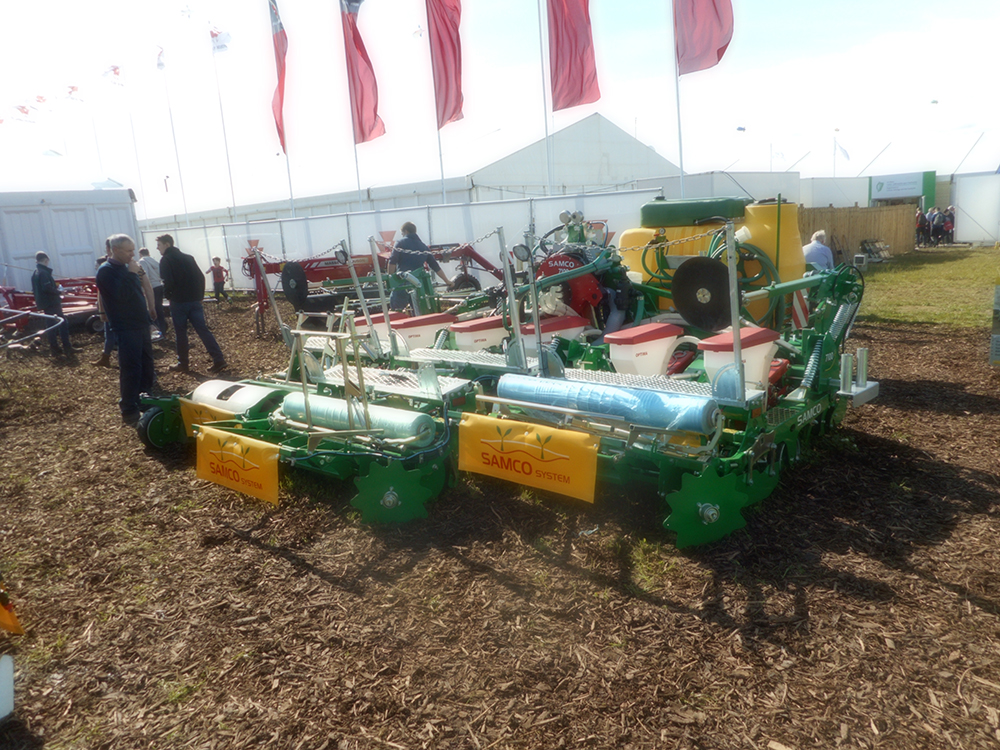 The machine can utilize black Bio Films for weed control in organic farming or transparent film types for better seed germination and faster emergence and young plant establishment.
According to Brian O'Shaughnessy, it can lay film roll widths of 1.2-2.2 meters (approx. 4-7 feet) for seed rows of 23-75 centimeters (9-30 inches). It's easily adjustable and allows for a wide range of seed types regardless of soil conditions in a range of agronomic systems.
Dromone Hydraulic Push Back Hitch
Dromone Engineering Ltd. introduced its new Hydraulic Push Back Hitch that allows implement changes without leaving the cab of the tractor. According to Patrick Duffy, product manager, the hitch provides excellent visibility of the hook and trailer ring from the cab, which helps speed up equipment changes and the dropdown and pick up function eliminates the need to manually lift implements into the drawbar. The hitching system uses a patented latching and locking system for maximum safety. Use of the tow hook can increase static load capacity by up to 300%. The increased load and speed capability gives the farmer confidence when towing on the road.