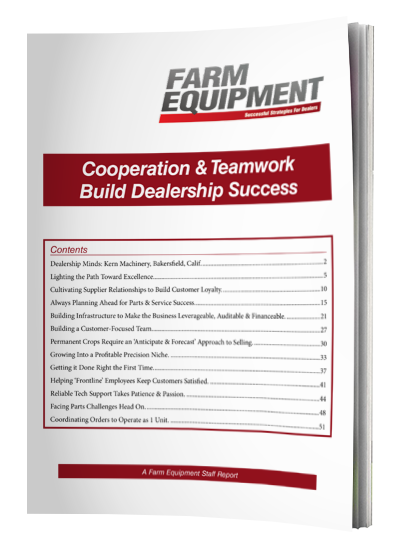 Now is the time to maintain – and grow – YOUR dealership's profitability  
This "Cooperation & Teamwork Build Dealership Success" eGuide shares how you can build a foundation based on customer satisfaction and employee cooperation to grow your operation, and it's FREE!
Dear Dealer,
There are so many different elements that go into running a successful dealership whether it is a single store or multi-store spanning across several states. Farm equipment dealers must hire a team that works as one unit to further the good of the dealership and lay out the tools to maintain organization and progress. With a foundation in place, the dealership can build revenues and expand to better serve customers.
The Camp family started Kern Machinery in 1969 in Bakersfield, Calif., and since has expanded through California and into other parts of North America. The Camp family built an operation based on customer-driven service and dealership cooperation that has made the now 7-dealer group into a highly successful dealership, employing 155 members and doubling their revenues of just 5 years ago.
To help improve your own dealership operation, we've sat down with 15 different members of Kern Machinery to uncover actionable takeaways and advice to running a productive dealership and compiled the results into a special eGuide download — and we've made it absolutely FREE to get it into the hands of as many marketers as possible.
Download Cooperation & Teamwork Build Dealership Success below, and start the ball rolling on more equipment sales today.
Detailed data from professionals, compiled by the most trusted name in farm equipment 
This eGuide includes 53-pages of tangible advice from professionals in the farm equipment industry, all in one reader-friendly eGuide. It illustrates the many keys to a better dealership with easy-to-understand examples and scenarios to improve your own decision-making and strategy skills. It's the kind of eGuide you and your team will turn to again and again as you review your business operations and work to continued success. Keep it handy as a primer prior to leadership meetings.
Get this eGuide for Free with a Free Account!
New members, click "Sign Up" for free account. Or, regular members click "Go In".
Cooperation & Teamwork Build Dealership Success is a comprehensive, foundational guide to understanding the many different steps that go into building a successful dealership. It is simple, straightforward and actionable. In fact, this eGuide is designed to help you …
Build a customer-focused service team. 
Earn customer loyalty through relationships.
Increase productivity with a detailed planning strategy and dedicated management team.
Utilize new technology and develop a niche in precision ag.
Start your team on a path of recognizing how to capture more sales in an agricultural equipment market that is constantly changing.
Of course, we know you're very busy. But we both know the risks of not paying attention to the little details of your operation, which can lead to big picture problems. Creating and maintaining and organized operation with dedicated employees is compulsory to survival. Consider this:
Understanding new forms of technologies, such as precision ag or mobile, can lead to increased sales as well as a better relationship with your customers.
Some of the biggest challenges involve hiring the proper manager to keep your department in line and motivated to work.
Frequent communication with members of your departments will lead to better organization of your parts and products and more satisfied customers.
We know time is money. But if you did nothing more than scan this 53-page FREE eGuide, you'd be significantly ahead.
Farm Equipment is dedicated entirely to helping customers understand the trends, data and analysis impacting the farm equipment market. Editors make it their job to know the score, and to help progressive marketers improve their operations. Did you know …
Building a Customer-Focused Team
Everyone knows that building a dealership team that prioritizes customers' needs is essential to running a successful business, but did you know that some of the easiest ways to build a customer-focused team involved personal organization and developing stronger communication skills.
Make sure there are people on your staff that are bilingual in order to break down any communication barriers between an employee and a customer.
An Outlook calendar can help with staying organized about parts and suppliers.
An employee that is cross-trained in other departments and can perform a variety of jobs allows for added help when needed.
Ask customers before they leave if they got everything that they came in for and where they plan to go from here.
To understand these trends and how to leverage it for your business, Read our FREE eGuide, Cooperation & Teamwork Build Dealership Success.
Takeaways from professionals, compiled by the experts 
This eGuide includes interviews with 15 different members of the Kern Machinery group — a multi-store dealership that originated in California and expanded to Oregon and Idaho. Six Farm Equipment editors traveled to California to witness first-hand the success of Kern Machinery and learn about what makes the dealership group so successful. The eGuide includes advice from professionals in the industry and takeaways from a variety of topics relating to dealership success. Keep it handy for your strategy decisions.
That's the kind of actionable information you get throughout this FREE eGuide – all of the data presented in clear, straightforward language, and with easy to follow charts and tables.
But you also get more than just data and tables; you'll gain insight into dealer's owner's thought processes and strategic decisions in maintaining day-to-day operations. You'll get answers to these vital areas:
How to use technology to increase efficiency
Hiring the proper employees to further your business
Maintaining organization in your variety of departments
Confronting challenges with patience and confidence
For every question you and your team consider, you'll find a way to exponentially increase your effectiveness, while better assisting your customers make sound decisions in the process. 
Read this free eGuide right now to learn how to make this important topic a #1 directive for your team this year. 
Takeaways to improving efficiency in parts & service  
In addition to wealth of data this in-depth eGuide delivers, it also provides actionable takeaways that you and your team can use today:
To better maintain organization in your parts department, monitor overall year-over-year sales as well as year-over-year sales by product category on a two-week basis.
Keep track of ticket counts per employee to monitor your worker productivity.
Talk to your technicians and parts counter employees before making long-term orders to hear their impressions on how the dealership is doing.
These are just some of the takeaways you'll find by downloading this free eGuide and reviewing it your cup of morning coffee. 
Here's a few more…
Track parts that have been on the shelf for 12 months without selling. These are called "zero sales."
Measure turns per line on your parts. Have a target of 4 turns or greater on each line.
Have service managers meet with members of the team bi-weekly to discuss metrics and give a projection of the work ahead.
And that's just a glimpse of what is included in this eGuide. Put some of the examples from this eGuide through the lens of your company and you'll break energized by the possibilities. 
By now I'm sure you see the value of this carefully-prepared eGuide and what turning in to this knowledge can do for your business. No one who wants their company to be a leader should overlook it! And because you've taken the time to read this, you're clearly a person who values how to protect, and grow, the stake you've already claimed in the farm equipment business. 
That means you're exactly the kind of person we hope to reach with Cooperation & Teamwork Build Dealership Success. The kind of "in-the-know" person your team expects out of a leader. 
If you're a manager today, you know how valuable eGuides like this are to calibrate and validate current thinking. If you're still developing as an equipment marketer, you're eager for the foundation and new ideas to increase your success. Either way, what better way to move forward than with this comprehensive, authoritative – FREE – eGuide?
Do you want to understand what makes a good employee and a cooperative dealer group?
Are you ready to use new technologies and planning strategies to expand your dealership?
Do you know how to improve work processes and accountability of your team?
Then download this free eGuide right now, and get started. The minute you do, you start the momentum toward greater sales.
Get this eGuide for Free with a Free Account!
New members, click "Sign Up" for free account. Or, regular members click "Go In".
Yours for a better dealership business,

Dave Kanicki, Executive Editor
Dave is the Executive Editor of Farm Equipment, and the Editor/Publisher of Ag Equipment Intelligence and related properties. 
PS: What kind of questions should you consider when pursuing new technology? Find out by downloading Cooperation & Teamwork Build Dealership Success right now.
PSS: There are many ways manage dealership meetings. You can start you and your team on the path toward more success and satisfaction by reading this free eGuide now.
---
Discuss
What new insights did you gain? What jumped out at you? Share your observations.