The recently introduced Job Ready program from Vermeer provides a new solution for the pre-owned equipment market. Job Ready equipment receives a detailed inspection from a Vermeer technician, and comes with comprehensive parts and labor coverage for major components.
"We're pleased to offer a program that provides farmers and ranchers confidence that the pre-owned machine will be productive long after the initial purchase," explains Bob Martin, Vermeer Solutions Manager."This type of coverage is standard with a new model purchase, but is not easily found in the pre-owned market."
Job Ready service contracts cover parts and labor for major components for 12-months or 10,000 bales from the date of purchase – whichever occurs first. Currently, the Job Ready program is available on select baler models that fall within a 7-year model range and have baled less than 20,000 bales.
"This isn't about a full bumper-to-bumper warranty," says Martin. "It's about making sure that the failure of a significant item during the contract period won't add financial stress to the equipment owner and it's about providing reassurance that they can bring their machine to any Vermeer dealer for a covered repair."
Prospective buyers can find Job Ready equipment listings on vermeerused.com, a marketplace dedicated to Vermeer dealer inventory listings and providing the assurance of a vendor with the experience and knowledge to support a used equipment transaction fully.
"There are lots of places to buy used equipment, but few can offer the knowledge, experience and reputation of the Vermeer dealer network,"
continues Martin. 
For more information about the Job Ready program visit vermeerused.com.
---
You May Also Be Interested In...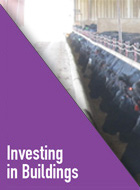 Case Study: When is Investing in a New Structure the Right Decision?
In another Harvard Business Review-style case study from this series we explore how a consultant might approach a farmer questioning whether they should invest in a new building. 
---