Watching Zach Reiter work the TruAG exhibit at the 2014 Farm Progress Show in Boone, Iowa, you might have thought he worked for the manufacturer of seed tender products, as well as anhydrous bars. As it turns out, Reiter is an independent farmer-dealer who handles TruAG products as his main line of equipment.
He is one of a growing number of full-time farmers looking to diversify their revenue streams by taking on the sales and service of shortline ag equipment. (See also "Peters Bros. Combine Farming with Equipment Sales," Farm Equipment, Oct./Nov. 2014, p. 50-53.) He says, "I had learned the business when I worked in sales and I saw an opportunity there."
What he's referring to is, after graduating with a degree in ag studies from Iowa State University in 2000, he went to work in sales for a local farm equipment dealership. At the same time, Reiter started his own farming operation raising corn and feeding some beef cattle.
In 2007, Zach and his father, Jeff, joined forces and formed Z&J Farms LLC in Cascade, Iowa. Today, the father-son duo work nearly 2,000 acres of corn in and around the northeastern part of the state. At Zach's urging, but with some reluctance, Jeff agreed to expand the business by incorporating shortline equipment sales in 2009. Zach already visualizes the equipment side of Z&J Farm Equipment Co.'s business expanding and diversifying in the future.
Anticipating Farmer Needs
His nearly 4 years of selling equipment for a dealership in Monticello, Iowa, gave Zach the confidence to know he could sell. Combined with his vision of how farming was changing provided the impetus to get into equipment sales.
"We had bought a seed tender and I could see an opportunity because in the future more seed is going to be handled in bulk. First, farms are getting larger. Second, farmers who are getting older operate many of the farms that aren't getting any larger. So I saw there was going to be a lot of opportunity to sell them seed handling equipment too. That's why we got into it," says Zach.
Their initial efforts selling the equipment were so successful that they had to switch suppliers because that manufacturer wasn't able to supply them with enough equipment to keep up with Z&J's demand. They hooked up with TruAG a couple of years later.
"We were not getting enough product to meet our needs from our previous supplier, so we went to TruAG and asked them if we could become a dealer. Then we started showing their machines next to our competitors' models, and customers liked some of the options that TruAG offered that the other companies did not," says Zach.
TruAG was formerly known as Azland Inc., a manufacturer of D.O.T. compliant fuel trailers, seed tenders, head transporters, nurse tanks and anhydrous running gear. Today, the company has narrowed its focus to anhydrous toolbars, seed tenders and fuel trailers. Z&J handles the company's full line of equipment.
Ongoing Momentum
The new dealership is demonstrating that adding shortline equipment sales to its base of operations isn't just a sideline for the farmers. They have every intention of growing this side of their business.
Since establishing Z&J Farm Equipment Co., the company has sold over 100 seed tenders per year. In fact, their reach has continued to grow as well and Zach reports they've sold seed tenders as far away as Corpus Christi, Texas. "A gentleman found us on the Internet. He was looking for a seed tender and we ended up putting a deal together for him and shipped it right to his farm there."
In addition to their website, the new dealers utilize local publications to advertise their equipment lines and work 7-8 trade shows each year. So far, it's worked well for them, but Zach adds that being a farmer selling to other farmers has definite advantages.
"When a customer calls and needs help or has a problem and they can describe what the machine's doing, we can help them out very quickly. We've been working with it, so we can pretty much visualize what he's talking about and give him a faster fix than what other dealers who never really get the opportunity to sit on the machine may be able to do," he says.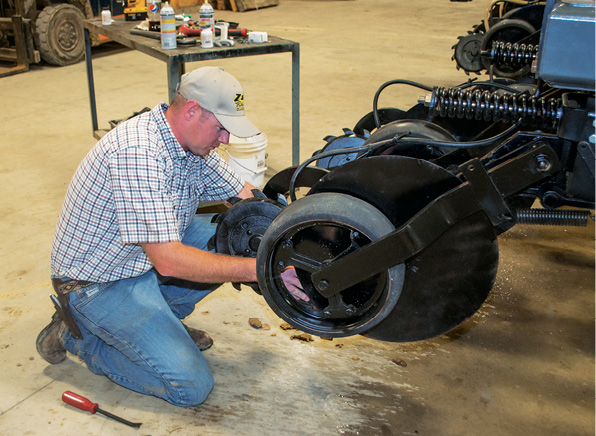 Derek Shireman handles the bulk of the service work at Z&J Farm Equipment. So far, all the work is mechanical.
More Opportunities Coming
With their early success behind them, Z&J added TruAG anhydrous applicators to its product lineup, and are selling several per season. This is a number he has no doubt will continue to grow.
"TruAG has been building anhydrous applicators for 8 or 9 years, but we've only really started to market them heavily in Iowa, Illinois and Wisconsin in the last 3 years. Every year our sales have gone up. As soon as we sell an applicator into a community, within a year, we're getting phone calls from other producers in that community who want the applicators. They tell us they like what they see," says Zach.
What makes this equipment unique, he explains, is the anhydrous applicator can be teamed with a Yetter Magnum high speed applicator. "It makes a really nice combination that produces minimum disturbance, like a no-till type."
The manufacturer has also added a liquid nitrogen applicator to extend its lineup, and Zach sees an even bigger opportunity to grow the dealer's unit sales, especially now that commodity prices have dropped. He also sees nitrogen being more stringently regulated in the near future.
"They're just coming out with a line of liquid, 28% nitrogen applicators, and they're starting to get out on the marketplace right now," he explains. "In 2015, I believe nitrogen applicators are going to be huge. With slower economic times, nitrogen matters, and it's going to be pretty key for most farmers in the next year or two."
Zach also believes to succeed as a shortline equipment dealer is to have equipment on the lot and ready to ship when the farmer wants it. "We keep 12-15 seed tenders and at least 4-8 anhydrous applicators in stock and on the lot all of the time." It also demonstrates that you're not in the business as a part-timer, he adds.
Another vital aspect to succeeding at what Zach is trying to achieve is to set your operation apart from other long-established dealers in the area. "The reason the anhydrous applicators and the 28% nitrogen applicators fit us well is because not every dealer out there handles this type of equipment. This sets us apart from other dealers."
Service & Expansion
But, like other dealers, he realizes he must offer service to his farm customers, as well as take in trades if he hopes to remain competitive, while keeping a lean staff.
At present, Z&J employs only 3 full-time employees, but several part-time people are also vital to both its retail equipment and farming business. Zach is the chief salesman, while Derek Shireman also handles sales and provides a bulk of the service that is required. Zach's father, Jeff, helps at the various shows where the dealership is represented and also makes many of the equipment deliveries.
He says, as a dealership, he doesn't hesitate to take in trades on new equipment purchases. If needed, they'll refurbish the used equipment before putting it back on the market.
At the same time, he's expanded the dealership's reach by signing up additional sales representatives in Mt. Ayr, covering the southwest region of Iowa, and in Manley handling the north central portion of the state. In addition, the main Cascade, Iowa, office now offers sales and service for TruAG products in Wisconsin.
"Our hope is to expand our market area for the TruAG product line, and potentially take on more salespeople and expand our market area," says Zach. He's open to possibly adding a tillage line.
While much of the industry braces for a further slowdown in equipment sales during the year ahead, Zach still sees solid potential for growth. "I think 2015 is going to be a good year. It might not be quite as good as what we saw last year, but I think as commodity prices come back, its definitely going to help the equipment dealers and the farmers bounce back again."
He adds that he's not going to ease up on his marketing efforts. "We're going to continue with our advertising campaign and we're also going to pick up some additional booth space at shows where other companies are backing out."
It's just another opportunity as far as Zach Reiter is concerned.