HARDI International A/S and specifically HARDI North America Inc. have announced a $2.1 million investment in building, machinery and most importantly jobs in Davenport, Iowa, commencing in spring of 2014.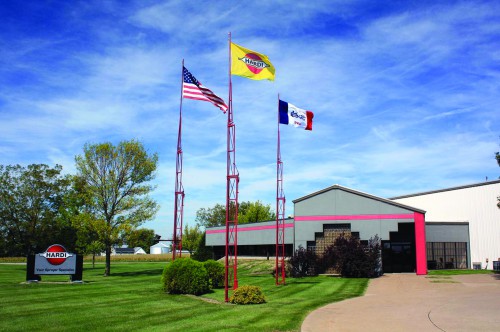 "This very important investment in capital and people is possible thought continued growth and profitability in our core business. Today we are investing in the future as we prepare to enter new markets with new products," the company says.
The building expansion will add 21,000 sq. ft. of dedicated manufacturing space for the assembly of Self-Propelled products. In addition to the plant expansion, 25 new positions will be added at the Davenport facility, which will include plant supervision, engineers, and production personnel. "We will produce both models SARITOR and PRESIDIO in Davenport with the additional models to come within the next two years. These products bring many innovative features and include numerous product patents and industry leading concepts," says HARDI.
"Our market analysis and business plan show consistent and prorated growth over the next 5 years and our projections indicate a business with double the current sales volume at the end of that 5 year period. We are pleased to invest at our current location of Davenport Iowa, as an international company headquartered in Denmark, the investment in North America is substantial and long term. Our future is bright, and we hope to bring job security, growth and opportunity to our current and future employees and their families. We look forward to presenting ourselves in a professional and positive way in the community, and hope to serve as a business model for others who make the Quad Cities their place of business," the company says.