North American equipment dealers' latest outlook for 2014 calls for equipment sales to decline about 2%. This is slightly better than the 4% falloff dealers projected in the previous month. This compares with John Deere, which has forecast a drop in North American ag equipment sales of 5-10% for the year, and AGCO's outlook that calls for flat to down 5% for sales in the year ahead.
Results from the Dealer Sentiments & Business Conditions survey conducted in mid-March by Ag Equipment Intelligence and Cleveland Research Co., also indicated that farm equipment manufacturers were somewhat more assertive with sales incentives in February.
Overall, a net 9% of dealers report that manufacturers were more aggressive with incentives in February — 21% more aggressive; 67% same; 12% less aggressive — up significantly vs. the net 22% who reported manufacturers were less aggressive in December and January.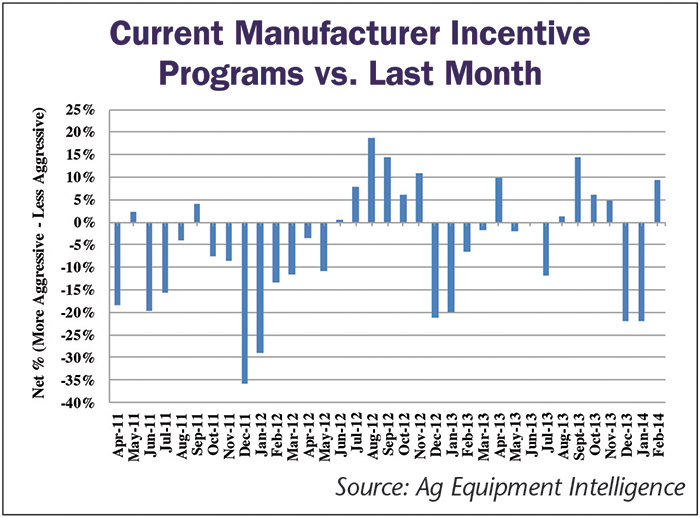 ---
Inventories Remain a Concern for Dealers
A net 30% of dealers reported used equipment inventory as "too high" in February — 44% too high; 42% about right; 14% too low — somewhat better than the net 42% of dealers who reported used inventories as "too high" in January. A net 46% of dealers reported used combines inventories were "too high" — 54% too high, 39% comfortable, 8% too low — which was flat with the previous month.
Dealers reported used combine values got worse in February on both a year-over-year and sequential basis to down about 4.5% year-over-year compared to down 3.5% in January. Used high horsepower tractor values rebounded slightly compared to last month and were reported flat year-over-year in the March Dealer Sentiments report.
In terms of new equipment, a net 9% of dealers categorize their new inventory as "too high" — 22% too high; 65% about right; 13% too low — slightly better than the net 12% of dealers last month who categorized their new equipment inventory as "too high."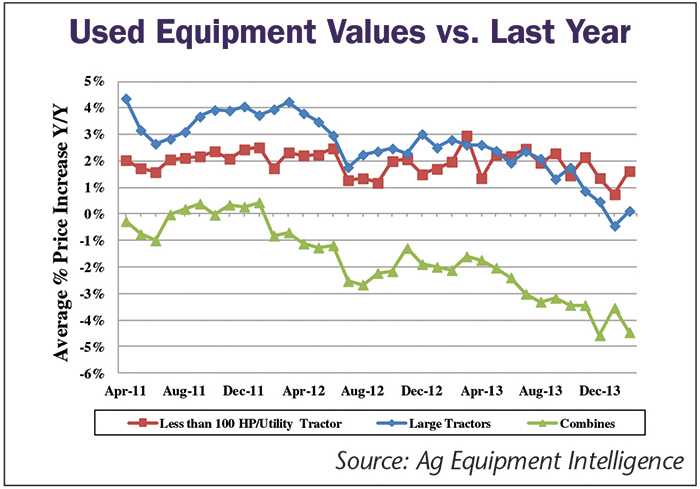 ---
Ag Equipment Sales Soften in February
North American large ag equipment retail sales fell in February, with 4WD tractor sales down 14.1% year-over-year, combine sales down 15.2% and row-crop tractors down 6.4%, according to the Assn. of Equipment Manufacturers.
Inventory levels and days-sales of inventories rose year-over-year across all large equipment categories (except combines), with growing risk for inventory destocking in 2014 given projected sales declines, Mircea (Mig) Dobre, analysts with RW Baird, said in a note to investors.
U.S. and Canada large tractor and combine retail sales decreased 9% year-over-year in February, down from the 12% increase in January. U.S. sales decreased 9% vs. the same period last year and Canadian sales were down 8%. Combine sales were down 15.2% year-over-year.
—Ag Flash Reports, Assn. of Equipment Manufacturers