Trelleborg presented the giant IF900/65R46 TM1000 High Power tire at the AGRITECHNICA exhibition taking place this month in Hannover, Germany. The innovative TM1000 High Power tread design maximizes the tread width and ensures the widest footprint on the market, providing optimum pressure distribution and the utmost respect for the soil.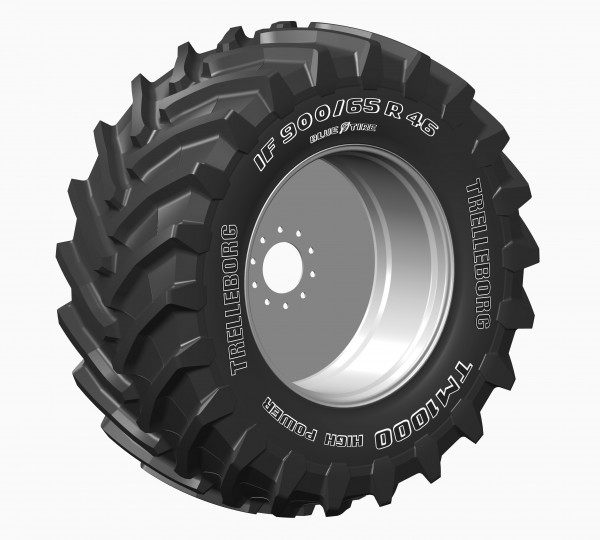 Piero Mancinelli, R&D director, Agricultural and Forestry Tires at Trelleborg Wheel Systems says: "The BlueTire technology tread developed for our latest giant tire is a powerful outcome of our advanced engineering.
The new BlueTire tread significantly enlarges tread width and when applied to the IF900/65R46 TM1000 High Power, it ensures an extra wide footprint at low pressure and an unbeatable floatation performance. This results in optimum pressure distribution on the ground to boost crop yield, while preserving soil from compaction and erosion."
Lorenzo Ciferri, marketing director Agricultural & Forestry Tires, Trelleborg Wheel Systems, says: "Over the years, to meet the needs of existing and future generations of High Power tractors, Trelleborg has conducted many joint product development initiatives with leading tractor manufacturers. Because of this, we can claim many 'firsts'. In the 60s and the 70s, Trelleborg was the first to introduce the low-pressure concept for agricultural tires with the Trelleborg Twin Tractor range. Over the last decade, Trelleborg launched the first 710/75R42 2.15 meter in 2005, the first 900/60R42 in 2007 as well as the first IF750/75R46 2.3 meter in 2011."
Trelleborg is the only tire producer to offer two alternatives in the 2.3 meter on 46 inch segment, the IF750/75R46 and the new IF900/65R46, both available as complete wheels with THK Trelleborg rims.
Lorenzo Ciferri continues: "The extension of the TM1000 High Power and its THK rim range offering has been driven by two key targets, improved tire performance and greater environmental care. In other words, our latest innovations aim to boost the efficiency and productivity of today and tomorrow's farming, while increasing the environmental performance of the tractor."
At Agritechnica, the characteristics of the new tire were demonstrated by showing the tire appearing to float on water, which signifies Trelleborg's ongoing commitment to environmental care.