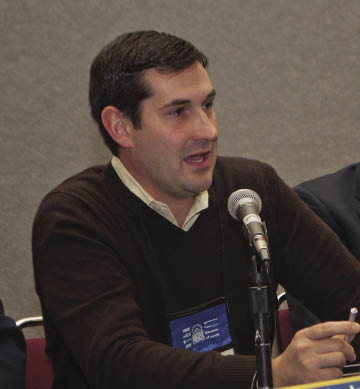 Agri-Service's Clint Schnoor walked attendees through the nuts-and-bolts of the Employee Stock Ownership Plan (ESOP) structure. Schnoor, who is president of an ESOP association, explained that ESOPs are qualified retirement plans designed to own the stock of the sponsoring company. Agri-Service, a 9-store AGCO group, was founded in 1990 and moved to an ESOP in 2010. In effect, all 170 employees are now "owners."
Schnoor debunked the myth that an ESOP is a democracy. "Democracies don't make money; they spend it," he says. "It's still run by management." He told dealers to think of an ESOP as a mini publicly-held company. "You have a bunch of shareholders — your employees."
Moving to an ESOP won't change how most dealers do business (other than a board of directors). "Essentially all we're doing is taking shares from one ownership group and moving it to another in an ESOP."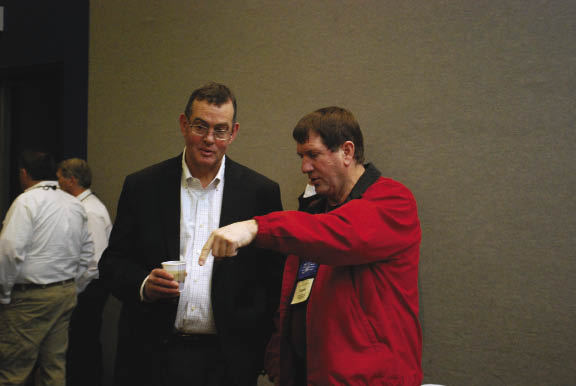 Peer-to-peer networking among dealers of all regions, sizes and OEM representation was a key objective of the Dealership Minds Summit format.
ESOP Advantages
Liquidity For Owners, But Keeps Them Involved.
Rewards Employees Who Built the Business — Plus, Schnoor says, it provides incentives for all employees. "It gets them aligned with the goals of the company — to run a business that serves our customers well, and provides a good ROI."
Significant Tax Savings — "If you're an S-Corp, an ESOP makes you a company that's owned 100% by a qualified retirement plan, so you eliminate any tax consequences. We don't pay income taxes at all anymore."
Spurs an Ownership Culture — "If you open your books and treat people as shareholders, you can really push revenue and bottom- line growth just through creating an ownership culture."
Considerations for an ESOP
Clint Schnoor, chief operating Officer and Director, Agri-Service, Inc., Twin Falls, Idaho, shared a checklist to work with for equipment dealers considering an ESOP arrangement.
How long do I want to be involved? If you're thinking of the 5-10 year window, it's probably a good vehicle.
Do I have people currently working for me that can run the company? "Every one of us should be developing people that can run our company as we exit." Is my turnover low?
Do I have employees that helped build the company? Are there people that have worked for you that should be rewarded through this transaction?
Do I want my money now or can I wait? Selling to a larger company can provide a larger liquidity at a faster rate. The ESOP spreads it over time, but it also rewards the financing. "In our structure, we did about 40% of our buyout through senior debt financing and 60% through our seller financing," says Schnoor. "A lot of dealers are financially invested in the company, so it isn't really going to change that a whole lot."
Cons of ESOPs
Not for Small Dealerships — Testing requires percentages of ownership to be calculated each year, he says. It's not generally attractive for the smallest dealers.
Requires Owner Involvement — "ESOP structures aren't the easiest to finance; it often involves the owner of the company financing a portion of the buyout," he says, noting it won't make sense if the owner is eager to get out entirely. "You can't wait until you're 65 to start considering it," he says, noting that previous owner Cleve Buttars (now CEO) began the process when he was 54.
Expense — "As companies grow, the actual transaction itself can be expensive," he says. There are also regulatory requirements and valuations that add ongoing expense.
Corporate Governance — Schnoor says some independent-minded dealers might view the formality of corporate governance negatively, but he believes it's a positive. "Having outside directors in your businesses helps gain a better perspective on what you should be doing to run your company more effectively."
Additional Regulatory Burden — "Although it's not significant, you will fall under ERISA guidelines, just like you would in your 401K. An ESOP has some additional ramifications for ERISA."
Structure & Results
Agri-Service formed a 5-member board of directors (3 are "outside" directors) upon the ESOP, along with a senior management team of 10 who head up various departments. The management team executes the daily business plans.
The ESOP works, he says, because everyone is vested in the company's performance. "Each employee wants to know the share price, and we manage in a way that they know — on a weekly and monthly basis — where we're at. You've got to teach them how they contribute to the share price, which contributes to their future retirement. We feel it provides a better customer experience for all the customers that work with us." He adds that the "ownership culture" sets Agri-Service apart from other companies in its area.
"It fit what we wanted to do, kept our owner involved in the company and also let us grow. The tax benefits really fund the buyout and we've traded loan payments for tax payments. That's how we pay for our ESOP, which is a significant benefit. It hasn't slowed down our growth structure at all; we're continuing to grow and try to acquire a new dealership every 2 years."