Zetor Tractors, a.s., one of the leading Czech manufacturers of agricultural technology, presented its top new product for 2012 at this year's Techagro trade fair in Brno. It is the new Forterra HSX, which introduces a number of technological innovations that provide a higher level of performance, use value and comfort along with new safety features. Farmers can also look forward to a new small compact tractor model in the fall. With these new products Zetor once again proves itself as a traditional and reliable manufacturer of tractor technology and as an innovator.
Power, durability and efficiency – these three words characterize Zetor tractors. "Through continuous development and innovations we strive to make purchasing Zetor tractors and other agricultural technology a smart choice for our customers, which will make their work much easier and save them money. Our clear competitive advantage is the fact that we manufacture our own tractor engines, which are energy saving models. We also offer customers very affordable spare parts for use during the long lifespan of Zetor tractors," says Marián Lipovský, Deputy CEO and Manufacturing Director at ZETOR TRACTORS a.s.
In a relatively short time Zetor has introduced a number of new products that have further increased efficiency and comfort levels for farmers. These include the Zetor Forterra 135 tractor with a new 16-valve engine, which earned one of the best marks in the difficult German Agricultural Association (DLG) test. This places it in the category of four-cylinder tractors with the lowest and most efficient fuel consumption on the market. Another new feature, which Zetor was the first in the world to launch, is the unique HitchTronic technological function, which enables the tractor to automatically adapt to terrain conditions by itself.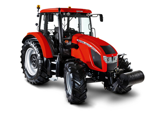 New This Year: Zetor Forterra HSX
The Zetor Forterra HSX universal agricultural wheel tractor continues Zetor's line of time-tested tractors and is designed for aggregration with agricultural machinery and industrial adapters. One of the Forterra HSX's main innovative features is its reverse gear, which provides greater ease in tractor control.
The new synchronized transmission offers 30 gears for forward and reverse driving and also has a three-stage automatic torque multiplier. The main innovation is the Power Shuttle – smooth, fully automated reverse controlled by a lever under the steering wheel.
The engine features high durability, low fuel consumption and also a particulate filter to reduce emissions. High performance is also guaranteed by a modified cylinder head, modified intake ducts and a new fuel injection system. This tractor uses a unique new automatic three-point suspension control system, HitchTronic.
Reduced transmission of noise and vibrations to the driver's cabin also helps improve user comfort. When designing the new model, Zetor optimized the cab suspension on silent-block shock absorbers and also used new combined flooring materials. Driving safety is enhanced for example by a switch placed in the driver's seat, which prevents the engine from starting or the tractor from moving off unless the driver is seated on the seat. Due to its power, Forterra HSX can work with tools for deeper cuts. The tractor can also be aggregated with combinations of agricultural equipment, which reduces the number of field traverses. This model can use a wide range of tyres, including low-profile ones.
Techagro 2012 was an opportunity to introduce the new model to the public. Serial production of the Zetor Forterra HSX will be launched this June.
Zetor Exposition at Techagro 2012
The Zetor booth at the Techagro trade fair also had other new products on display, such as additional attachments designated Zetor System for both field work and communal services, as well as existing models such as the Antar or Proxima Cabrio.
As for aggregated tractors, visitors could see the Forterra 135 with a plough-share and a sweeper, the Proxima Power with a foreloader, a sweeper and a gritter, the Proxima with a tedder, the Forterra 125 with a forestry extension, and many others.