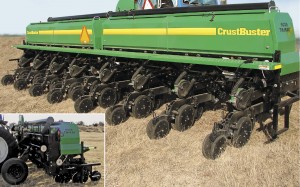 The Crustbuster Twin Row 3-Point Vacuum Planting System is currently available in four models:TW 1636, TW 1638, TW 1640 and SL 3238. This Twin Row Planting System is a vacuum metered planter that plants corn, cotton, soybeans or milo seed precisely on a seed bed in a twin-row configuration. Vacuum metering components improve seed singulation and seed spacing from meter to seed trench for maximum seed placement accuracy.
Crustbuster's parallel linkage planter opener offers five pressure spring settings from 125 to 500 pounds for constant down pressure throughout its 10 inches of travel for stringent no-till conditions.
Large two bushels-per-foot seed boxes carry a total capacity of 50 bushels on the 3-point frame so that down pressure is not changed by varying seed weight on the opener.  Two-inch adjustable gauge wheels put the finishing touch on even plant emergence.
CrustBuster also offers the Twin Row SL 3238. This Twin Row planter adds 32 volumetric Wobble Slot meters and 16 more row units and provides a combination twin row vacuum metered planter to plant 32 rows of corn, cotton, soybeans or milo in a twin row configuration on 38 in. wide seed beds. This planter can quickly convert into a solid stand grain drill for the volumetric metering of soybeans, wheat, rice and other cereal grains.
For more information, contact Wayne Daubert, (620) 227-7106, or www.crustbuster.com.