Play the latest episode:
In this special episode of the Farm Equipment podcast, brought to you by the Dealership Minds Summit, Editor/Publisher Mike Lessiter visits with John Schmeiser, COO of the North American Equipment Dealers Assn.
Let's jump in now as John shares a bit about his background growing up on the farm and in the family's farm equipment dealership and how that influenced his career trajectory.
Watch the VIDEO REPLAY of this podcast.
To learn more about John Schmeiser as he recounts his father Percy Schmeiser's historical lawsuit against Monsanto, visit No-Till Farmer.com.
---
Farm Equipment's "Used Equipment Remarketing Roadmaps" podcast series is brought to you by 2023 Dealership Minds Summit.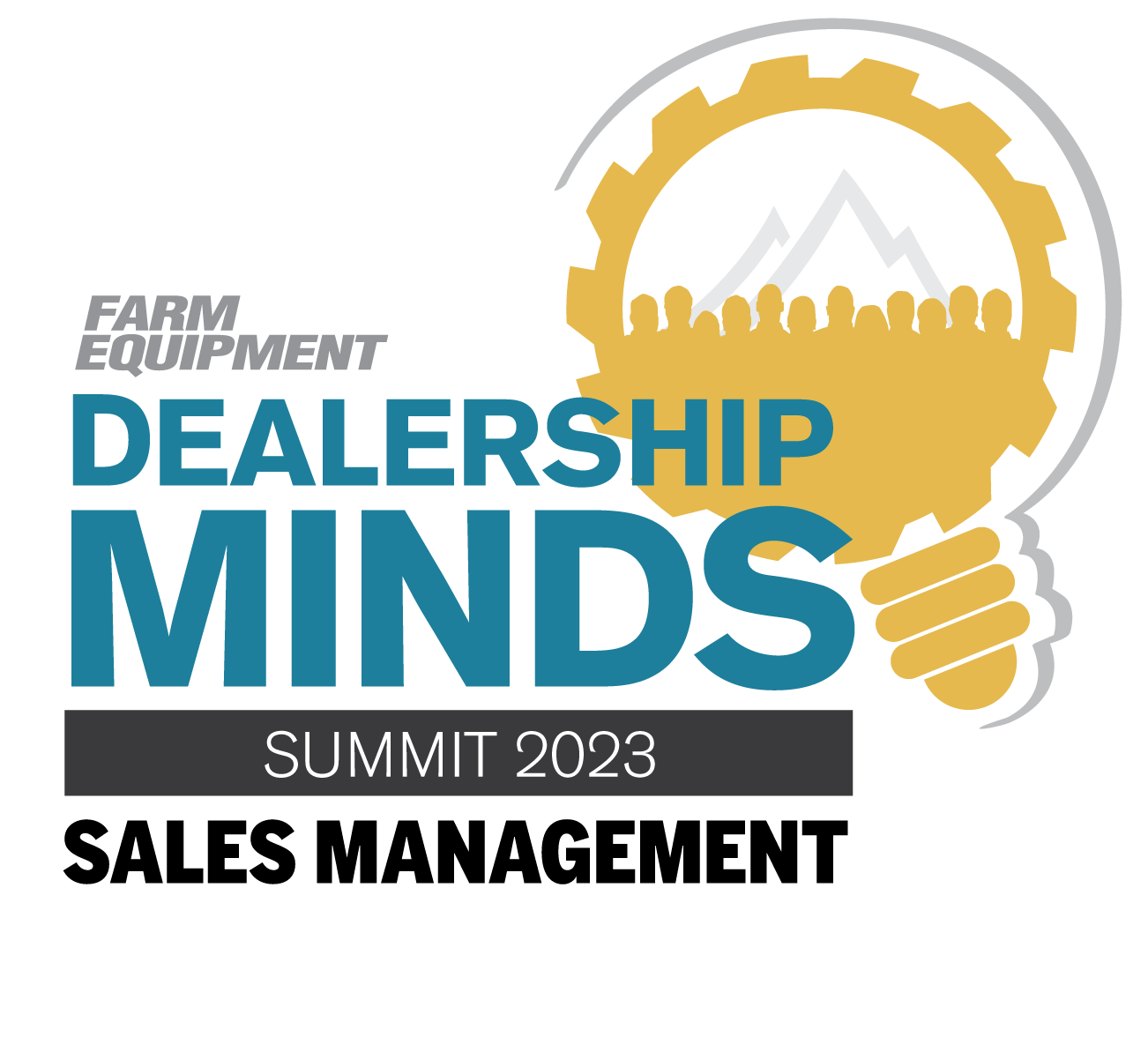 Join top farm equipment dealerships from around North America for 2 days of unrivaled learning and networking!
The Dealership Minds Summit features collaborative, dealer-to-dealer learning over a 2-day, knowledge-packed agenda that is guaranteed to give you authoritative strategies from the most progressive minds at farm equipment dealers.
No other event gives you a 2-day, FOR DEALERS ONLY learning opportunity featuring targeted sessions that deliver the latest research, ideas and tools to help your dealership reach its top potential.Register today to join the brightest minds in precision farming and leave with a roadmap for implementing ideas and technologies for precision farming retailing and servicing success. Register Now.
---
Full Transcript

Kim Schmidt:
Hi. I am Kim Schmidt, executive editor of Farm Equipment. In this special episode of the Farm Equipment Podcast, editor, publisher, Mike Lessiter, visits with John Schmeiser, COO, of the North American Equipment Dealers Association. This episode's brought to you by the Dealership Mind Summit. For more information, visit www.dealershipmindsummit.com. Let's jump in as John shares a bit about his background growing up on the farm, and in the family's farm equipment dealership, and how that influenced his career trajectory.
Mike Lessiter:
So, tell me how you grew up in a farm family, but also in a dealership. Tell me how this impacted your decision on what to do with yourself in your career and what happened after university to where you are today.
John Schmeiser:
Yeah. So, I mentioned earlier that dad also held elected office. And that's what the attraction that I had. So, when I went to university, my major was in political science. And I think for four years of college, my mom would ask me, "Well, what can you do with that?" And I couldn't really provide her with an answer. And I had thought about doing something within the dealership in one of the locations.
But right out of college, I got a great opportunity to work in the legislature in Saskatchewan's Capital in Regina. And I just grabbed that opportunity. And that was the springboard to finally ultimately ending up with the Dealers Association, after working in Saskatchewan's government. And I worked right in a cabinet minister's office, moved up the ranks from an assistant to eventually, the chief of staff, to a cabinet minister.
And then when the majority changed, I went to work for a university. And then went to work for a federal political party. It was called the Reform Party at the time. It's now the Conservative Party at the national level in Canada. So, I was working for them. And honestly, I picked up a newspaper at the right time. I wasn't looking for an opportunity. And I saw one in the classifieds where the Canada West Equipment Dealers Association was looking for an assistant general manager.
I honestly looked at that, said, "I'd like to do that." And immediately called dad. And because when my dad was on the board, it was for one of the associations that had merged into becoming Canada West. And that association was the Saskatchewan Manitoba Implement Dealers Association. Dad was on the board for them. So, I called him just to make sure that that was the Canada West, that my dad had merged into.
And he said, "Yes." And yeah, he said, "Why are you asking?" And I just told him about the job opportunity that was being posted and I was going to apply for it. And immediately he said, "Well, let me know what I can do." Which my answer was, "Nothing. Don't get in the way of this."
Mike Lessiter:
Right.
John Schmeiser:
Yeah. And so, I applied. And I was so fortunate because that government affairs experience that I had, and I still look at government affairs or politics, a little bit of a hobby, right. And that's what the association was looking for. They were looking for somebody with government affairs. So, I don't know if I would've ever even had the opportunity to do this job at the Dealers Association if it wasn't for that government affairs experience of that coming right out of college.
Mike Lessiter:
And what year would that have been?
John Schmeiser:
I joined in 1996. June of 1996 when I started with the Association.
Mike Lessiter:
So, you were in that role just as all this was unfolding with the Monsanto lawsuit pretty much, wasn't it?
John Schmeiser:
Absolutely. Yeah, absolutely. And just to be frank, it was on my mind a little bit about was this going to interfere with perception my board members had with me, or our members had with me? And not once did I hear a negative comment, not once. I heard a lot of positive comments, a lot of well wishes, and, "Hopefully, he does okay." Or, "How is he doing?" No concern about them.
And at the president at the time when it was going through the court, the lower court, and appeal court, and Supreme Court, I made a point of asking the president of Canada West, "Is it okay if I go to the court proceedings?" And each time I was getting, "Well, yes. Absolutely, it's okay." And so, there was never an issue. And boy, I really appreciate our board, our past presidents, and our members, for that. That was generous of them to be supportive like they were.
Mike Lessiter:
Tell us how things have transpired here with what you did with merging the regional groups together? And then the new National North American Equipment Dealers Association that's coming up on its new one-year birthday, correct, this summer?
John Schmeiser:
Yeah. Well, I've been so fortunate just to be in the right place at the right time. And what's happened is whether we like it or not, there's been consolidation at the dealer level. And it's been going on forever. And we have a group of dealers that want to grow and expand, while at the same time, we have a group of dealers that want to exit the business. I can say that today. And I can say that back in 1996 when I started. And it's just going to continue to evolve.
But what we noticed is that the dealer associations weren't merging as quickly as the dealer organizations were. And the dealer leadership at the North American Equipment Dealers Association in 1999 said, "We really have to look at consolidating some of our dealer associations, or we run the risk of being irrelevant to our members." At one time, there was 66 regional equipment dealer associations in North America. And in 1999, at this time, I think there was still 23.
And so, that process crashed and burned in 1999. They tried it again in 2003, same result. They tried it again in 2013, same result. And so, fourth time's a charm I guess. In 2018, the leadership of the Equipment Dealers Association at that time, led under Tom Rosztoczy from Stotz Equipment said, "For the past 20 years we've been talking about it. We never could get it over the finish line. Now is the time to start a new effort."
And the difference with this effort is for the first three meetings, it was only dealers in the room. And these were dealers from across North America. There was no association managers there. Maybe we could be accused of interfering in the process. And after those three meetings is when I got brought into the first time. And they had narrowed it down to which associations that wanted to go to the next step.
And the next step was a plan being put together, a merger plan being put together. And so, with great privilege and pride, I was asked by Tom Rosztoczy and Kevin Pawlowski, two dealers on this committee, to put the plan together, the merger plan together. And so, with the help of my colleagues, with staff, with dealers, we presented a plan in January of 2020 that would merge five associations into the North American Equipment Dealers Association.
One of them, Far West, decided a few months later that the time wasn't right and they stepped away. And we had some more due diligence to work on financials, budgets for three years, budget forecast with performance for three years. And then of course, COVID hit, right. And so, because of the significance of this question, we did not want our boards to vote on this question of a merger through a Teams meeting or a conference call.
We wanted this to be an in-person meeting dedicated solely to this question because the amount of materials to go over. And so, we really had to wait til COVID had kind of run its course, and slowed down a little bit, and people had received their vaccines. And so, directors were comfortable in traveling, and going to meetings, and comfortable being in meeting rooms with other people. And that took us til September of 2021.
So, between September 2021, October, and November of 2021, the respective associations had their in-person board meetings. And all voted to proceed to a member vote. The member vote took place from January 1st to February 28th. Resounding overwhelming support from the members for this with an effective date of July 1st, 2022. So, after the vote was completed, we went into transition mode of merging all associations together. And I think we're going to crack a bottle of champagne on July 1st because we made it through our first year.
Mike Lessiter:
Congratulations. Yeah, I know it's-
John Schmeiser:
Thank you.
Mike Lessiter:
... a long time coming and a plan that had been envisioned for 10 years or more. And made it happen in 2022, right?
John Schmeiser:
Yeah. And perhaps maybe even further consolidation down the road. We're having informal conversations with some other associations. Informal at this time, but we'll see if they get any traction. We'll know a little bit more over the summer if anything's going to come out of it. But at the very least, it tells me that dealers like our model, like what we've done. And board members from other associations are at the very least asking the question, "Should they be a part of this? Should they merge into us?"
So, that's a positive step forward. And ultimately, our goal is one association across North America, speaking with one voice for dealers. And having a very coordinated effort where our messaging is the same, whether it's manufacturer relations or government affairs. Look, this is the position of the Dealers Association in North America. And just removing any ambiguity where one association might have a different perspective than another. There's still going to be representation coming from all those different associations. But the goal is to seek consensus and speak with one voice on everything that we do.
Mike Lessiter:
But for the farmers who might not be as readily familiar with what NAEDA does and why it's important to North American agriculture, tell us a little bit about how this is in turn by looking after the machinery dealer's interest is also helping North American agriculture as a whole?
John Schmeiser:
Yeah. Thank you for this question because I think it's an important one. One of our priorities is on training, okay. And we want all of our staff and our dealerships to be trained, whether it's a parts counter person or a technician. We want you to get the right part the first time. We want our technicians to fix it the first time, right. So, we're there to support you. But as our business has evolved as an association, we're trying to make sure that our dealers are more professional, our customers are larger in size. But they have different needs.
We're trying our best to prepare through our training division to prepare our dealership to be better prepared in delivering the services that our customers need. And I think that's probably the most direct impact on the farming community that we have. But there's also another one that's a little bit behind the scenes. And it's issues that we deal with that have a positive impact on customers. And so, I'll give you an example.
Back in Saskatchewan, okay. Saskatchewan is the only jurisdiction in North America that requires a manufacturer to have a parts depot in the province, okay. So, it doesn't matter large or small, right, what size manufacturer you are, you have to have a parts depot in Saskatchewan. Do the manufacturers want to get rid of that? Absolutely do they want to get rid of it. They want to get of that, consolidate the parts operations elsewhere.
But I maintain it's good for the customers in Western Canada to have a parts depot located in this region. While we're there lobbying the government to make sure that that doesn't change, okay. So, that's something we do behind the scenes that helps customers that they wouldn't see. And another thing, we're in a North American integrated market. And we have cross-border issues all the time. And I deal with them from time to time. And just had another one last week where I won't say the brand, okay, but customer has his tractor in a dealership.
And this dealership happens to be in Quebec. And he's trying to import an engine from the manufacturer from their parts depot in the US because they don't have this engine in a Canadian parts depot. This happens. And the tractor model is a 2018. The manufacturer doesn't have a 2018 engine in place, but they have a 2017 engine. But the same emission specifications, all tier four, right. Well, the brain surgeons at our Canadian government have decided that you can't import this engine because it's a year older than the model of the tractor.
So, the only other option is for the dealer to import an engine from Western Europe that's a 2018 model year. And so, the cost on that is going to be substantial. So, here is an example where the customer is not happy, the dealer is not happy, the manufacturer is not happy. But what we did is used our contacts within the federal government and basically said, "Look at this from a common sense perspective here. This doesn't make any sense, right? Because it's the same engine, just stamped a 2017 instead of a 2018, right?"
And through a good argument and a little bit of arm twisting, they gave us special export permit for this engine to come from parts people in the US. So, we saved the customer a heck of a lot of money. The dealer's happy with us. The manufacturer's happy with us. So, at the end result, the customer pays a lot less for his bill. The customer also gets his tractor fixed a lot quickly. So, just an example that's top of mind because I had to deal with this. But there are things that we do come across from time to time where it is the customer's best interest at heart, right.
Even some of the facility requirements the manufacturers have put on dealers because of dealer standards. I know the manufacturers are doing that with the customer's best interest at heart because they see the customers getting more professional, more sophisticated, more business-like. They want to make sure that their dealer network can take care of that customer of the future. So, at the end of the day, Mike, we phrase it this way, "If the customer is successful, that means our dealers are successful."
And if our dealers are successful, that means our communities are successful. And if dealers are successful, so are manufacturers. And when manufacturers are successful, they have the money to invest in R&D to put back into new, innovative, new sophisticated technology that's going to help that customer be more profitable or more efficient. So, that's why this is a complete circle. And we always want our customers to succeed.
Kim Schmidt:
We'll get back to Mike and John in a moment. But first I wanted to take a quick second to invite you to join us at the Dealership Mind Summit. For more information and to register, visit www.dealershipmindsummit.com. Now back to Mike and John.
Mike Lessiter:
One of the things that some may not realize that I think is really interesting, something that your organization does, is the dealer manufacturer relations survey. And to have a happy customer, they are depending on a dealer model that's going to service them. You can't have the best machine in the world and not get service. You cannot be a happy customer when that happens. So, take a moment to tell us about how that works, and how it helps keep manufacturers honest, and supporting the dealer that is needed to support the customer?
John Schmeiser:
This is the most comprehensive dealer manufacturer relations survey in the industry. And it's started by our association. We've been doing it for about 20 years. And we started every two years. And then 10 years ago, we decided, "No, we're going to do this every year." And it rates manufacturers. We ask dealers to rate their major suppliers and their major specialty manufacturers. 11 questions on a scale of one to seven.
And those 11 questions include everything from parts availability to overall satisfaction. And it's very interesting to see the buy-in that's come from the manufacturers on this. They treat that survey as the Bible almost. Manufacturers tell us over and over that they do surveys with their dealers. And their numbers are always higher for some reason. And so, I think they recognize that because our survey is independent, that dealers are going to give a more honest answer. And we collect ratings on those 11 questions.
But one thing you don't see and nobody sees but the manufacturer, is there's also comments that come with the questions. And that's part of the commitment that we make with the manufacturers. Because we ask for their assistance in this. They take the results very seriously at the next industry relations task force meeting that we have with the manufacturers. The dealer manufacturer relations survey results for their brand is also always a major point of discussion.
But they look at the comments. And we can tell that those comments have had an impact on them. The ratings have an impact on them, and sometimes, they're bewildered that the numbers are what they are. Other times, they're proud of what they've done, where they've seen movement in an area. What we do internally is we track it over the last 10-year period. So, we've got a rolling 10-year. And it's amazing to see the differences between the companies where they can go like this, or just this, or some go up. And those trend lines tell another story.
And sometimes, those trend lines are just related to leadership that's at the manufacture relations. But from an association perspective, this is one of the most important things that we do is providing this results. And I say that's one of the most important because I see the impact that it has on the manufacturers. And sometimes you almost think the manufacturers are trying to justify why their number is this or that to us. They don't owe that to us. They don't have to do that to us. But that tells me they take this very, very seriously. It's a very credible thing that we have. And like I said, one of our most important documents.
Mike Lessiter:
Yes.
John Schmeiser:
And surveys that we do.
Mike Lessiter:
I can also share that I know it's very powerful because I've been called in some meetings at the vice president's office to go through those results too. I do know that they are measuring themselves against it. And they want to make sure it's understood. So, it's very powerful and beyond just the dealer and manufacturer. I think it does have its impact on the end user and further down the line.
John Schmeiser:
Well, I would be remiss if I didn't thank you for the publicity that you guys give that survey. We're in an awkward spot here. We need to have a good relationship with the manufacturers for us to do our jobs on behalf of dealers. And over the years, we've built up a lot of trust in working with the manufacturers on sensitive issues. But what you do is you profile what the survey states.
You use that content, and write a story, and provide opinion pieces on what's in that survey. We can't do that. But I think opinion and promotion needs to be done on that survey by a third party for public to see, right. And so, our relationship with the manufacturers is so core to what we do, it's better if a third party provides the editorial comment on that. And you guys do that. And so, I certainly want to thank you guys for your continuing interest in publicizing the results of that.
Mike Lessiter:
Oh yeah, absolutely. We're happy to do it. And glad that you make it available to the industry to pour through. So, one thing, I've got kind of a mind scratcher here, deep thought question for you, is I was struck by the Percy Schmeiser that we've talked about, the two movies, and how he showed that a small farmer, principled farmer, can stand up and fight back rather than take it, pay fines, and sign gag orders.
And he got in the ring and did it, which I think had to have been aspiring to many farmers in our day. I don't think there's any way around that, right. This is what struck me the other night. We now have this right-to-repair argument. What would Percy think about all of this now? And he would've had a foot in both camps on this too. This is my deep, deep thought question for you, John. Tell us what he would have to say about it today.
John Schmeiser:
I can give you an answer very quickly on this one because I know what he would do is he would provide the special tools and the diagnostic equipment to his customers a heck of a lot quicker than the manufacturers made them available, without question. Yeah. So, he would see it from the service side is we have a shortage of mechanics. We were always chasing mechanics, right. We always needed more mechanics. And that's before it even became a problem, right. So, he would see it from the standpoint he needs his customers to be successful. And they're successful when they're up and running and they're getting their crop off.
And so, he's going to do whatever he can to support them. And if that means giving them special tools so they can fix it on themselves, yeah, absolutely he would do that. There's a number of times I recall in my teens when I was in the dealership of where a customer's machine was down and this was a good customer. And we gave him a used piece of equipment off the lot, and took something out that we could sell, but to keep our customer up and running. That's how he was wired.
And so, I don't think he would be opposed to our efforts as a dealers association on right-to-repair because really what we're doing on right-to-repair is honoring the industry commitment. And to sum it up, what that industry commitment is, you as a farmer can buy the special tools, the diagnostic equipment, training, the service manuals, in addition to the operators manual that you get at the time of purchase, right, to fix your own equipment. Okay.
And I think I'm actually a little disappointed that so few farmers are actually taking us up on that offer to buy those. Because I think if more had, this whole issue would go away. But our perspective on how we help the customers, our industry's commitment, and that is if you want it, it's available to you. But please don't lose sight of the vast investment that a dealer makes in supporting your repair.
And what I mean by that is try and find a dealership in North America that has less than a million dollars in parts inventory, right? Well, it costs us money to keep those parts there, right. So, look at the investments that dealerships make on training. We have some dealerships that are investing close to half a million dollars a year on training. Now, larger ones, obviously, right?
Mike Lessiter:
Mm-hmm.
John Schmeiser:
But manufacturers are requiring our mechanics to go to service schools whenever a new product comes out. Manufacturers will require dealers to buy the support package when a new product comes out. When one company came out with a new combine a few years ago, I won't say which brand, but the cost to a dealer to carry that combine was a million dollars. That was a million dollar investment that he had made, had to make, before he could sell one combine to a customer.
So, are we perfect? Absolutely not. Do we wish we had more parts in inventory when a customer was in an emergency situation looking for something across the counter? Yeah, we wish we do, right. Do we wish we had more mechanics? Yes, we do. Another thing we wish for is with that better real broadband. And if Farm Bureaus work with us in lobbying our governments together, get better real broadband coverage, we could do a lot more on remote diagnostics. And we could get quick answers to error codes, and fixes, and everything remotely.
But until we have that remote and real broadband capabilities, we can't do it. So, it's we're there to support customers. Make no mistake about it. And there's no strategy within any dealer association or any dealer organization that I have ever seen where we want to keep tools out of the farmer's hands, or we want to prevent farmers from repairing their own equipment. I have just not seen that at all, though some producers have made allegations like that.
But that is just not the case. Our customer's success is critical for our dealers to have success. And so, that's why we're going to support them wherever possible with repair. The concerning thing that we have about right-to-repair legislation, and Colorado is a good example, is we've learned that our elected representatives don't understand our industry. And no matter how much we try and educate them or the manufacturers try and educate them, they're still not going to completely grasp it unless they've been in the business.
And so, we've run into situations where we've had to describe what a combine is to an elected official who's making a decision whether or not she should support a right-to-repair bill. That is concerning to me. And I want to maintain that an industry solution should always be preferable to a legislative solution because of that.
Mike Lessiter:
Yes.
John Schmeiser:
And so, we have John Deere, CNH, and I understand Kubota now talking to the American Farm Bureau on a memorandum of understanding. That's a great sign of industry working together. And we support that completely. And the message I would have out there to our customers is let's put right-to-repair legislation on hold for the time being. And let's see if these MOUs are going to work. Okay. If the question is truly about repairing your equipment, we have the tools, the diagnostic equipment, repair manuals to support you. Okay?
They'll be available to you. If the question is about modification though, we take a different approach. Because violating EPA by altering your emission system is something that we'll just never support. Okay. We as an association, cannot condone illegal activity. And altering the emission system is illegal. Okay. Secondly, on the chipping and tuning question is there's so many downstream effects and impacts when you chip or tune your equipment.
And if you want to make it easier to modify your equipment through legislation, we're not going to do that either. We're not going to support that either, right. The end of the day, the farmer always pays when you modify equipment. We just don't think that that risk is worth it. So, I'd rather see our industry work for an industry solution like we've done. And we've got the MOUs in place. Let's give them an opportunity to work first. And then let's take a step back a couple years from now just to see if these MOUs are working. But let's focus on repair and not modification.
Mike Lessiter:
Congratulations on the one-year anniversary of the new NAEDA as well.
John Schmeiser:
Well, thank you.
Kim Schmidt:
Thanks for joining us for this special episode of the Farm Equipment Podcast. For more podcast videos and the latest industry news, visit www.farm-equipment.com. And just another reminder to check out dealershipmindsummit.com to see the full agenda for the next Dealership Mind Summit and to register. For Mike Lessiter, John Schmeiser, and our entire team here at Farm Equipment, I'm Kim Schmidt. Thanks for listening.