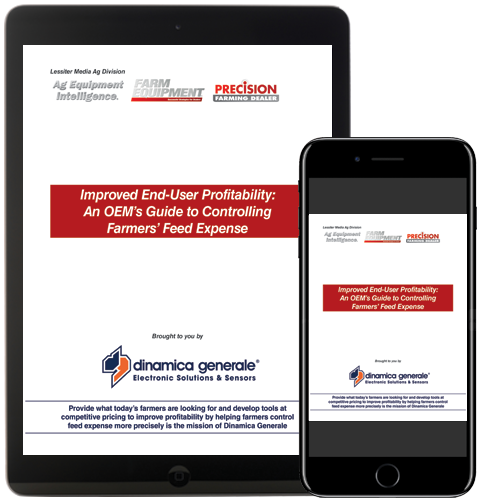 On average, feed expenses account for over 60% of all livestock operations' production costs. A variety of factors impact the feeding process, and controlling these costs is top of mind for producers. How can OEMs increase the value of their feed equipment while reducing the farmer's feed expenses?
In this free eGuide, you'll learn how using a feed management software will help farmers increase production with more consistent feeding and improve feed mixer management and operator control
Discover the benefits that a feed management software offers
Download "Improved End-User Profitability: An OEM's Guide to Controlling Farmers' Feed Expense" for FREE and learn how a feeding program can help farmers monitor and control costs and inventory.
In this FREE eGuide you'll learn the main features and benefits that a feed management software offers, including:
Stock management for efficient inventory control
Feeding management for a balanced daily nutrition
Operator management for effective process control
Farm traceability management for safety and quality assurance
Download this eGuide TODAY and be on your way to providing a feeding program solution to help farmers monitor and control feed costs, inventory, ration and other critical on-farm processes like feeder performance.
Increase the value of your feed equipment while reducing farmer's feed expense
---
Discuss
What new insights did you gain? What jumped out at you? Share your observations.