Looking for bright spots for U.S. ag industry in the year ahead? Exports may be brightest, according to the latest USDA Outlook for U.S. Agricultural Trade, which is forecasting growing exports of dairy, livestock and grains, according to the latest USDA Outlook. 
Fiscal year 2017 agricultural exports are projected at $134 billion, up $1 billion from the August forecast, largely due to expected increases in dairy and livestock byproduct exports. While beef and pork forecasts remain unchanged, dairy is forecast $500 million higher at $5.3 billion.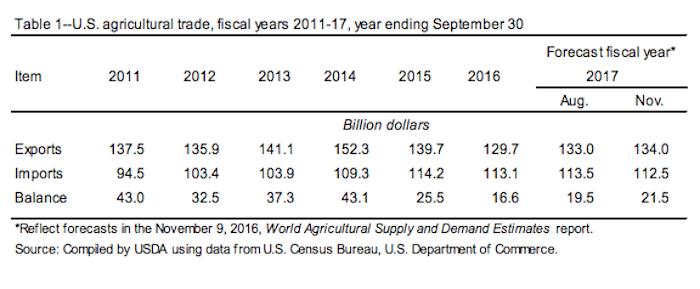 Grain and feed exports are forecast up $300 million to $29.6 billion, driven primarily by stronger wheat volumes and unit values as well as by corn volumes, helping to offset expected declines in rice exports. Cotton exports are forecast at $4.4 billion, a $200 million increase, due to a poor harvest in Brazil and production uncertainty in India. Soybean export volumes continue to set records, raising the soybean forecast $500 million, which is countered by expected declines in soybean meal, soybean oil and other oilseed products. Overall, the oilseed and product forecast remains unchanged at $31 billion.
Forecasts to China and Mexico received the largest upward adjustments, each increasing $300 million. China continues to be forecast as the top market for fiscal year 2017 at $21.8 billion, followed by Canada ($21.3 billion) and Mexico ($18.3 billion).
U.S. agricultural imports in fiscal year 2017 are forecast at $112.5 billion, down $1 billion from the August forecast. Reduced imports of horticultural, sugar, and tropical products are leading the forecast decline. As a result, the U.S. agricultural trade surplus is expected to increase to $21.5 billion in fiscal 2017.