U.S. Tractor Sales 'Normalized' in 2014
A little over a year ago, Jim Tibbles, executive vice president of Osmundson Mfg., a manufacturer of tillage tools in Perry, Iowa, told us that he believed softening ag equipment sales in 2014 would represent a return to normal levels rather than a falloff.
"We talk about a softening in farm equipment, but what it's really doing is 'normalizing,'" Tibbles says. "With high commodity prices and depreciation rules, it was crazy for American farmers to not invest in their machinery in recent years. Commodity prices are going to normalize; it will be somewhere between the $4 corn we're at now and the $7 peak."
Looking back, it would appear that Tibbles was right on the money. At the same time, compared with farm machinery sales the past few years, it's easy to see why most industry observers would view 2014 sales levels as a significant dropoff.
The Assn. of Equipment Manufacturer's North American unit sales for each tractor category, as well as for combines, show that 2014 sales were as good as or better than their 5 and 10 year averages.
Compared to the 10 year average, 2014 sales of compact tractors (<40 horsepower) were up by 7.4% and up by 23.6% when compared with the 10 and 5 year average sales, respectively. Mid-range tractor (40-100 horsepower) sales in 2014 were down 1.6% vs. the 10 year average, but up 17.4% compared with the 5 year average.
High horsepower tractors (100 horsepower plus) were up 29.6% last year vs. the 10 year average and up 11.8% compared to the 5 year average. For 4WD tractors, unit sales in 2014 were up 6.7% vs. the 10 year average, but down 14.6% compared to the 5 year average sales.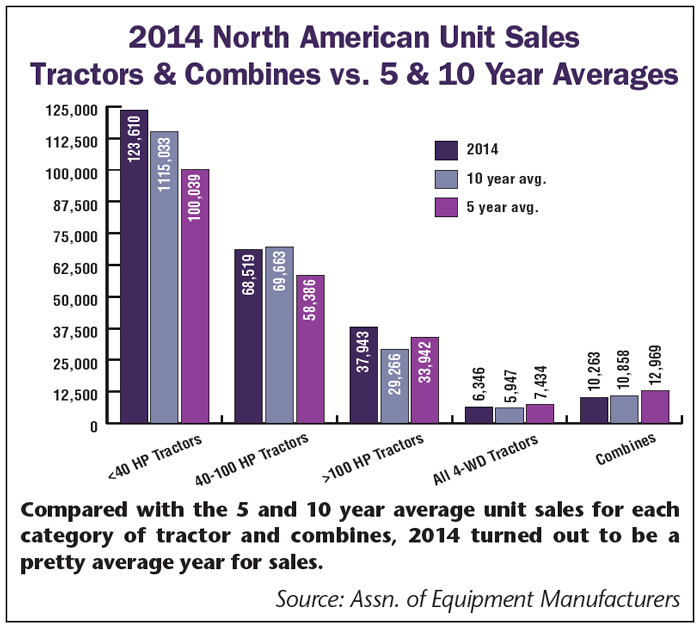 Combine sales is where the dropoff was most evident. Unit sales of combines in 2014 were down about 5.5% compared with the 10 year average and down 21% vs. the 5 year average.
In a note to Ag Equipment Intelligence, one large Canadian dealer may have summed up last year's sales levels best: "While crop prices are affecting sentiment at the farm, we have had a pretty good year overall. It is easy to forget how good the past few years have been going when we compare to the last year. We should remember that we have had double-digit growth for the past 5 years, so flattening out, or some decrease in sales, should not be unexpected."
Ag Equipment Sales Continue to Struggle
Conditions continue to be challenging for large ag equipment sales, as highlighted by the latest sales report released by the Assn. of Equipment Manufacturers. Total tractor and combine sales for January were up 3.1% year-over-year vs. down 4.1% in December. C. Schon Williams, analyst with BB&T Capital Markets, says inventories have continued to build amid ongoing weakness in ag equipment demand. Williams maintains a negative outlook "as sales continue to disappoint and the latest WASDE report points to continued pressure on farm cash receipts in the near term."
U.S. combine sales declined 47.1% year-over-year in January, which marks the fourth consecutive month with declines that exceeded 40%. Canadian combine sales fared even worse, with a 77.6% decrease year-over-year.
For high horsepower tractors, sales continued to drop while inventories continued to build. U.S. demand for row-crop tractors fell again in January, but did improve from December (-5.6% vs. -22.4% in December). Canadian sales had similar results with a 4% decrease. "High horsepower tractors have now posted 6 consecutive months of year-over-year declines, however we note that January's sales drop was a noticeable improvement from 3 straight months of more than 20% decline," Williams says.