Featured Product
As grain bins have grown in size and diameter, Hutchinson/Mayrath, a division of Global Industries Inc., has recognized and answered the need to reach higher and farther with an all-new Chain Commander 130 Portable Grain Pump. With a tube length of 130 feet, it can easily reach the center of a 120-foot bunker or the top of grain bins up to 75 feet in diameter, thanks to an 83-foot (25.3 m) maximum discharge height. The 12-inch (305 mm) diameter main conveying chamber provides an impressive capacity of 10,000 bushels per hour (270 TPH) using either electric motor or tractor PTO power.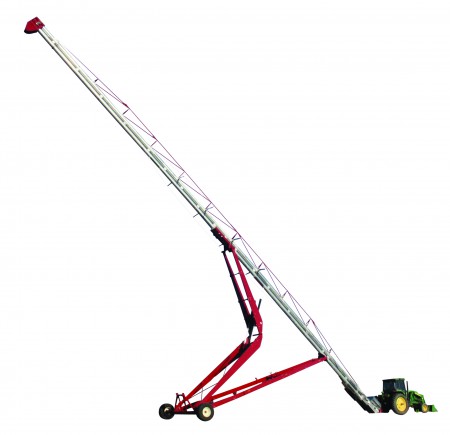 "The Chain Commander 130 is our most versatile conveyor to date as it can be lowered to an overall height of only 13 feet, six inches (4.1 m) foe safe transport," says Mike Williams, sales manager for Hutchinson. "The wide-stance, stable undercarriage, which contributes to its low transport profile, also features a dual-cylinder hydraulic lift system that quickly elevates the 130-foot unit for either bin or bunker unloading," he adds, noting that a hydraulic hitch assists in raising and lowering the hitch for transport.
Another popular feature is the optional remote swivel spout, which is conveniently controlled at ground level, for complete control of the grain pile when filling bunkers. The remote control spout also minimizes the need to relocate the conveyor as the bunker is filled.
"As storage units become larger and the need for temporary bunker storage continues to increase, we're confident the Chain Commander 130 will fill a valuable role," Williams concludes. "Our customers have told us they need more reach without sacrificing capacity and I believe the 130 adequately answers both requests."
For more information visit: http://www.deequipment.com/files/GrainPumpPortStationaryLit.pdf