They call it "the country's largest indoor farm show." This year they might have also called it "the country's happiest indoor farm show." To say that there was a pervasive feel of optimism to this year's National Farm Machinery Show would be understating the mood in Louisville, Ky., February 16-19.
It's difficult to remember when both attendees and exhibitors were as optimistic about agriculture as they are this year. As one exhibitor told Farm Equipment, "It's amazing what $6 a bushel corn can do for your attitude."
In addition to a few hundred thousand farmers, 4H and FFA members, nearly 850 exhibitors were there putting their best foot forward as they rolled out their newest ag machinery, products and equipment components. In all, display space took up 1.2 million square feet throughout the sprawling Kentucky Exposition Center.
Four editors spent two full days scouring those displays for the newest products the industry has to offer. This photo gallery represents just some of what our editors saw at the show.
New Planter Row-Unit Attachments
Several companies unveiled new row-unit attachments for planters. The Wiper Wheel, which joins Yetter Manufacturing's Magnum fertilizer coulter lineup, contains an open center to allow moist soil to flow through the wheel and not build up. Meanwhile, the Paddle Wheel closing wheel, with its bolt-on design, reduces mud buildup. Dawn Equipment Co. introduced its new press plate for its Curvetine closing wheels. Ideal for shallow-seeded crops such as cotton, sugarbeets or small grains, the press plate maintains the seed depth when closing the slot without spokes interfering with the seed. Finally, Schaffert Mfg. introduced the Mohawk closing wheel, designed to break down the seed trench and eliminate compaction with less down pressure and no mud buildup.
Darren Foster, Tuthill Drive Systems, introduced the Stalk Hog, the company's solution to tire damage caused by tough Bt corn. As home to the Mud Hog hydraulic rear combine axle, Foster says the Stalk Hog will complement the company's harvesting solutions. It will be available soon through dealers.According to Jim Johnson of SAME Deutz-Fahr North America, The Agriplus 410 is the newest addition to SDF's lineup of agricultural tractors. Model 410 is a 95-horsepower specialty tractor especially suited for silage operations. It features a "stop-and-go" 45 x 45 powershift transmission. Johnson says farmers can add a 3-point PTO and front hitch as an option. SDF also displayed its new M650 tractor, a 192-horsepower unit designed to work in 30-inch rows with dual tires.Maurer Manufacturing featured its newest ag product, which is a rotating spout, called "Revolver," for John Deere STS 60/70 Series combines. According to Mike Sievers, the patented design eliminates grain dribble (loss) and helps reduce volunteer grain in the next year's crop. It also provides greater clearance for the combine unloading auger, minimizing potential damage to the auger or hauling unit.Alamo Regional Sales Manager Norm Burgeson said its Verti-Go vertical tillage tool helps meet fall residue management requirements by chopping through stalks, stubble or straw and by covering the residue with enough dirt to minimize erosion. Verti-Go uses heavy-duty C-springs to hold up in tough conditions and its heavy framework eliminates need for weight boxes.The addition of a rear roller "completes the accessories for the BLU-JET SubTiller 4," says Nick Jensen of Thurston Manufacturing. With 14-18 inch shanks, the SubTIller lifts and fractures hardpan and wheel compaction caused by heavy equipment up to 20 inches on either side of the shank with minimal surface disturbance. The new roller addition completes the process by leveling the soil and puncturing the ground for water filtration. The large 20-inch spring cushion coulters easily cut through heavy trash. The unit features multiple row spacing and sizes available from 2-12 shanks.With 13 new models, LS Tractors is undergoing a sizable expansion to its product line. CEO Deryk Johannes says they've added to several of its existing series, like the addition to the premium compact R-Series of the pictured 4047. They have also introduced a new G-Series of "value compacts" to round out the options.Philip Egging of Vermeer says he's seeing a trend toward the use of trailed mowers and tedders for producing higher quality hay. "It gives producers a better chance to make the quality feed they require for their dairy herds," says Egging. In response, Vermeer introduced the TM850 and TM1400 trailed mowers and TE line of tedders. The TM850 is high-acreage mower that requires lower horsepower. It has a patent-pending self-aligning driveline system that can be operated in all tongue positions to maneuver around obstacles. The nitrogen charged hydraulic suspension system allows the cutterbar to closely follow ground contours and pivot up and over obstacles.Pro-Man PTO's founder is an engineer who wanted to safely mow steep slopes on his property, says Kevin Tam. After several years of development, the company is introducing a PTO system for ATVs and UTVs that will hydraulically operate a wide-range of specially designed implements. Pro-Man PTO was a first-time exhibitor at the NFMS and says they had generated more inquiries in day one of the show than they did during all of World Ag Expo where they had exhibited previously.Equipment Technologies' Jake Ridenour, in charge of Raven Slingshot RTK sales, says the sprayer manufacturer has set up venough base stations throughout Indiana and Ohio to canvas both states. Customers don't have to own an Apache sprayer to benefit from the technology. The banner above ET's newest sprayer announced its selection as "Product of the Year" by No-Till Farmer, sister publication to Farm Equipment. After a 15-year absence, Randy Webb says Rhino is leveraging its strong name in the ag market and reentering the ZTR arena with models to appeal to farmers with any size property. The pictured Tornado is the mid-range model and comes in mowing widths of 55-61 inches and can cut at speeds up to 10 mph. It also offers the Twister model for smaller properties and the Typhoon when there's a big job to be done.Demonstrating Westendorf Mfg.'s philosophy of building the products farmers request, Julie Ellingson shows the new Hydra-Snap. It is a one-lever multi-hose coupling system that simplifies the installation and removal of tractor loaders.King Kutter added two new rotary tillers to its line-up of five. Davin Harms says the new 7-foot TG-84 is perfect for larger operations with its 50-65 horsepower tractor range and has 66 L-Tines with six on each flange. With six tines per flange, users can till down to a depth of 8 inches.With record snowfalls across the nation, President Jerry Johnson said Woods Equipment picked a perfect time to roll out four new high-performance snow blowers. The new line features a two-stage design that allows more throwing force with less horsepower. The units and range from a 54 inches for sub-compacts tractors to an 84-inch model for compact tractors.Now available to customers using Schulte's rotary cutters is a new 3-fan system to keep decks clean of field debris and straw. The Cyclone Deck Debris Fan Kit reduces fire hazards by keeping clutch areas free of dry material, says Hal Carnago. "It also improves efficiency because workers can keep mowing and not stop to clean the deck off," says Carnago, adding the Cyclone fan system also prevents weed or seed contamination from field to field and reduces piles in fields from previous clean-off stops.There were a lot of new products on display in Trimble Navigation's booth, but Wayne Wenzel says interest in the company's Connected Farm precision ag offering was very high during the first two days of the show.Koyker Mfg. introduced its new Daay Bin Paddle Sweep to help users work safer, not harder. Designed to be fully submersed in grain, the sweep has no augers and simply moves the grain with flexible rubber paddles. Pivoting sections on sweeps over 24 feet in length allow for following the contour of the bin floor.Working off the success of its Bt Crusher knife rolls, Calmer Corn Heads has introduced the Bt Chopper chopping stalk knife roll. With 10 razor-sharp, hardened-knife, edged flutes, the Bt Chopper turns cornstalks into a confetti-like state. A pair of flutes maintains traction, grasp and control of the upper portion of the stalk, while another pair of flutes is able to chop, cut and lacerate the stalk. "The intent is to accelerate decomposition to humus and help feed the microbes, bacteria, fungus and earthworms for improved soil health," says Marion Calmer. "This is a great corn-on-corn tool. The remaining standing corn stubble acts like a snow fence and prevents blowing of the leaves and husks on dry, windy days."Smaller-acreage farmers will appreciate the 550-gallon, pull-type sprayer that carries many of the features of Hardi's larger-capacity models, including Eagle booms at 45- and 60-foot widths, EVC Control 3 section with constant pressure and an easy-up platform for accessibility from either side of the sprayer.JCB displayed its new U.S.-built skid steer in Louisville, which uses a JCB-manufactured diesel engine. Karen Guinn says the company is looking to increase its farm equipment dealer network in the U.S.The Flexhaul is a pull-behind track system Camoplast offers for a wide variety of implements and applications. Ranging in capacity from 30,000–100,000 pounds, Flexhaul delivers even weight distribution, lower turning resistance and minimal soil disturbance for planter tool bars, strip tillage tool bars, fertilizer carts and grain carts.The high-performance snapping rolls of Harvestec's new 5000 Series corn heads is only one of the new features of the company's newest chopping corn heads. The snapping rolls are designed with four hardened carbide knives per roll. According to Bill Helm, the knives gently engage a wide range of stalks, including dray and tough Bt corn types, resulting in minimal trash pulled into the combine. The gentle engagement of stalks results in smooth feeding to the auger, which results in minimal ear loss and reduced grain shelling. Helm says the unit's sealed bearings reduce routine greasing to a weekly chore vs. a daily task with most other headers. "The 5000 Series only needs to be greased every 50 hours, compared with 10 hours typically required on other bearing designs."Jay-Lor introduced two new mini-mixers models to its lineup of cow and cattle feeders. According to Don Allison, with these new smaller vertical mixers "Tie-stall dairies can have the benefits of a TMR." They're available as 50 cubic-foot self propelled, stationary or small truck mounted versions. The mixers not only allow small herd operators feed TMR rations, but also enable large herd operators to create special rations for dry and other special needs groups. These units are designed to process small hay bales, forages and other nutrients. The self-propelled model has an all-wheel drive, hydrostatic drive system that allows the mixer to be easily maneuvered through the farmyard.Worksaver introduced several new attachments this year including a line of manure forks. These are designed for picking up manure, matted straw or other loose materials to produce cleaner stalls with less labor. It also effectively handles silage.Dave December, New Holland Construction, says the 200 Series skid steer is an all-new design based on input of hundreds of customers — many of the improvements were in operator comfort. The company sells the machine to construction and farm customers, and chose to debut the machine in Louisville.Doug Rehor, CEO of McCormick USA, was on hand to introduce the company's new compact tractor line. With 14 different models ranging from 22 to 92 horsepower and with either hydrostatic or manual transmission, Rehor says the new equipment fills in the company's gaps. He also reported that McCormick is introducing a complete line of McCormick-branded implements designed specifically for its compact tractors.Andy Pace says Maschio-Gaspardo's Maximetro provides users maximum accuracy, width and flexibility. This huge precision planter is available up to 36 rows and is designed for greater performance with low fuel consumption.Salford Farm Machinery is releasing its new RTS (Residual Tillage Specialist) Heavy Duty implement, which Jim Boak says, adds a whole new dimension to their series of vertical tillage tools. The new implement is designed to till deeper with 400 pounds of pressure per coulter. It features a heavier shank design and larger hubs for blade mounting. This allows it to carry larger blades and coulters for deeper tillage, and more aggressive residue resizing. Salford's RTS equipment can operate in high moisture conditions and can be used in both spring and fall to incorporate cover crops, warm soil, prepare seedbeds, manage and incorporate residue, chop stalks ahead of primary tillage and release excess soil moisture.Reid Hamre says the MF5450 is the first tractor designed specifically for loader chores and is now available from Massey Ferguson. With a noticeably lower front, the Hi-Visibility Hood design of this 75-PTO horsepower MF5450 tractor allows the operator to see the front of the loader bucket for better control and more accurate results. A left-hand shuttle control leaves the right hand free to operate the loader joystick. The tractor is also at home in the hayfield, mowing, raking, baling and moving bales.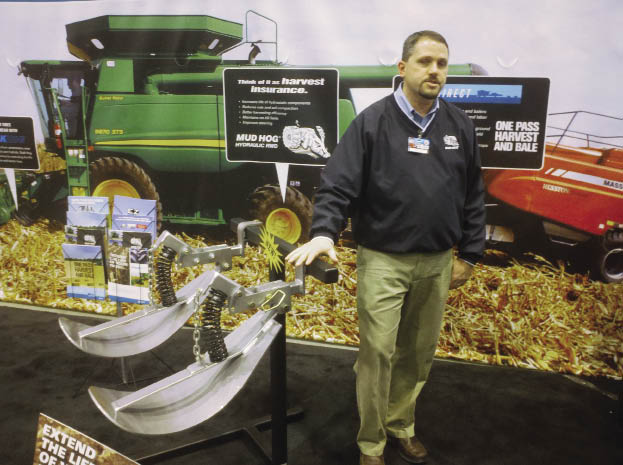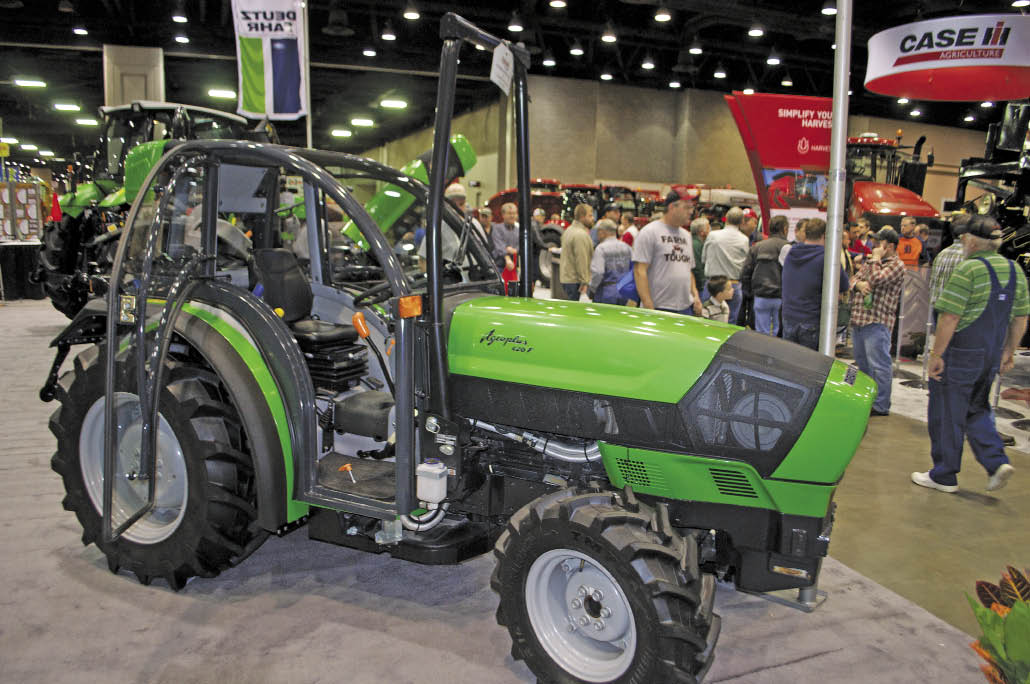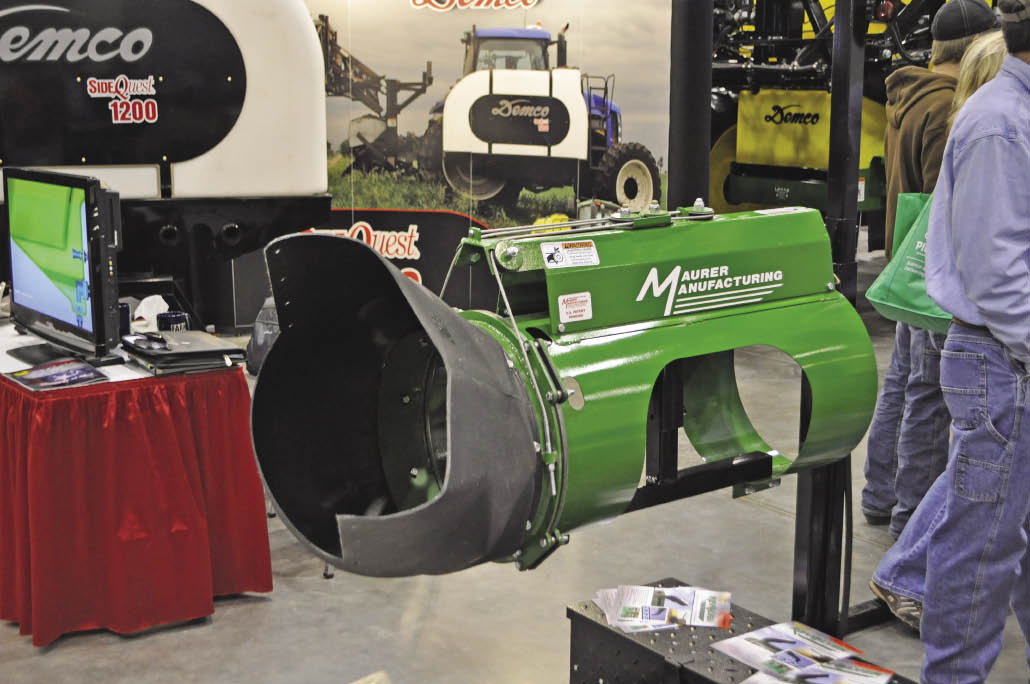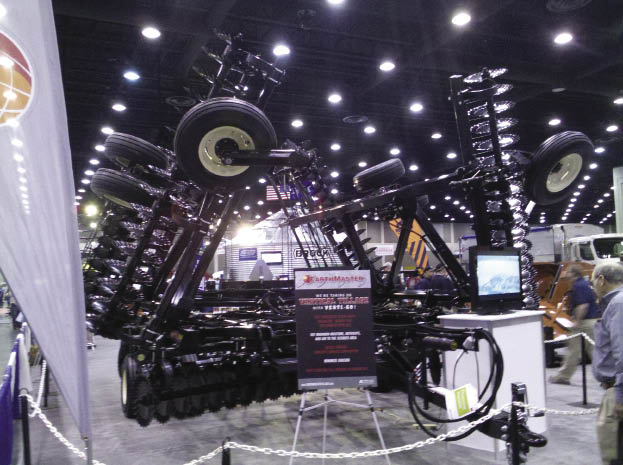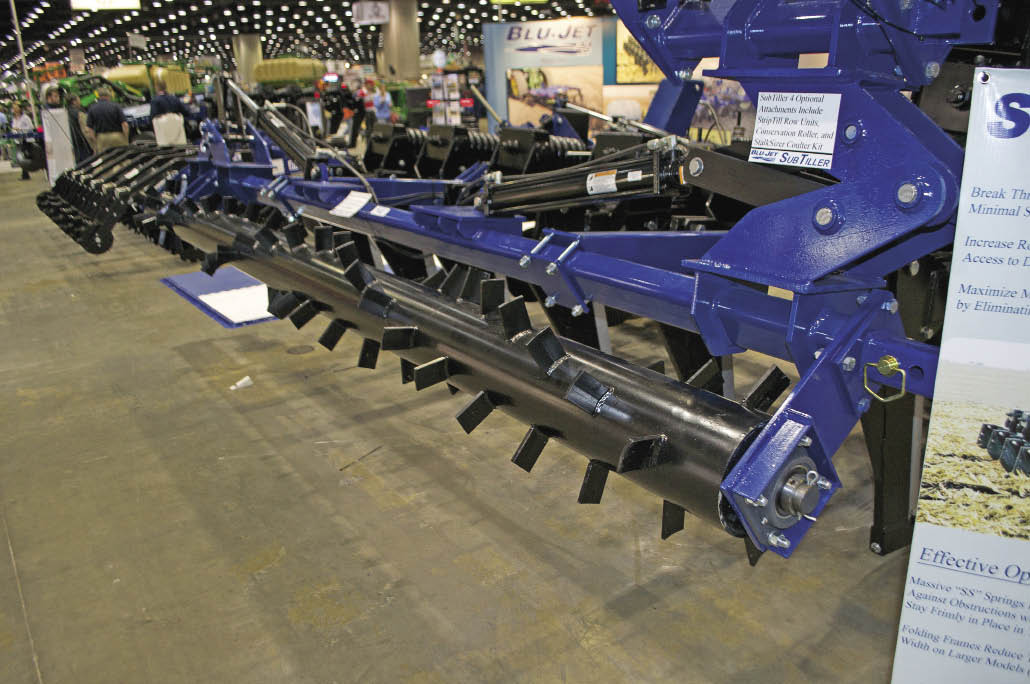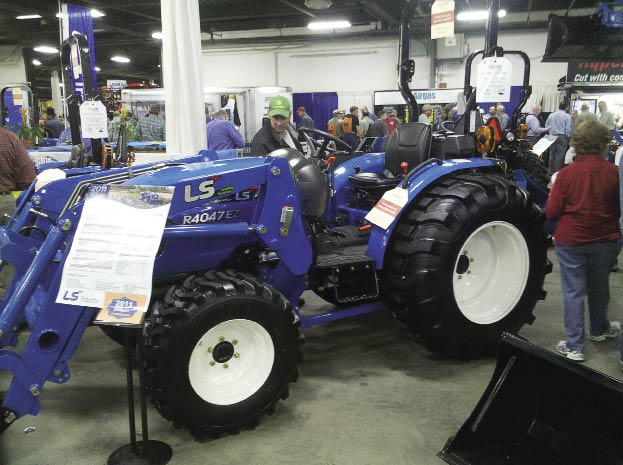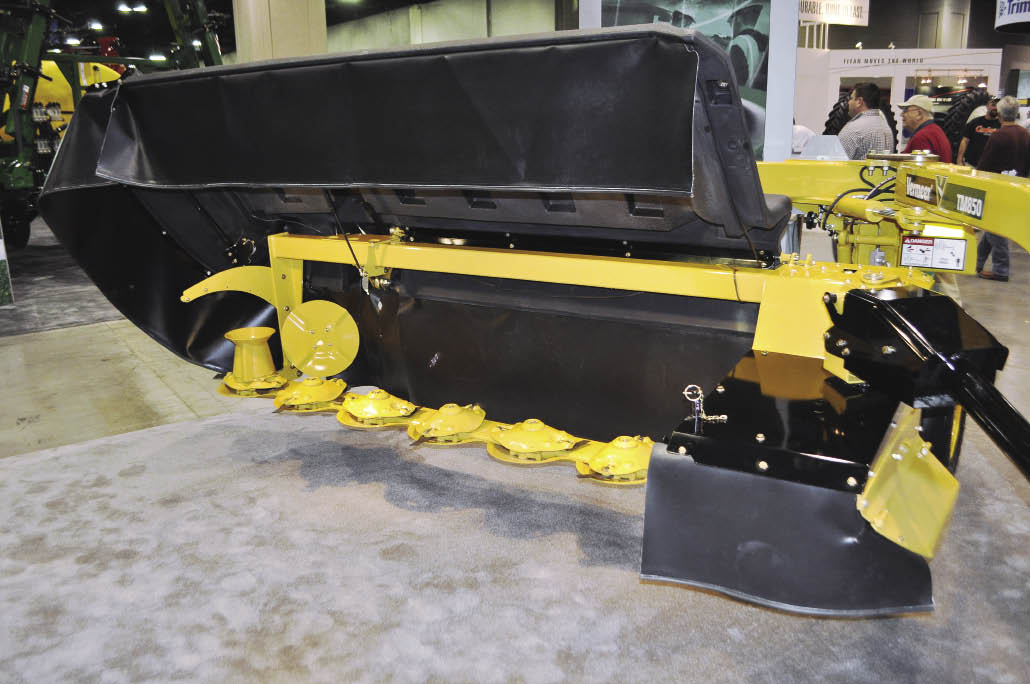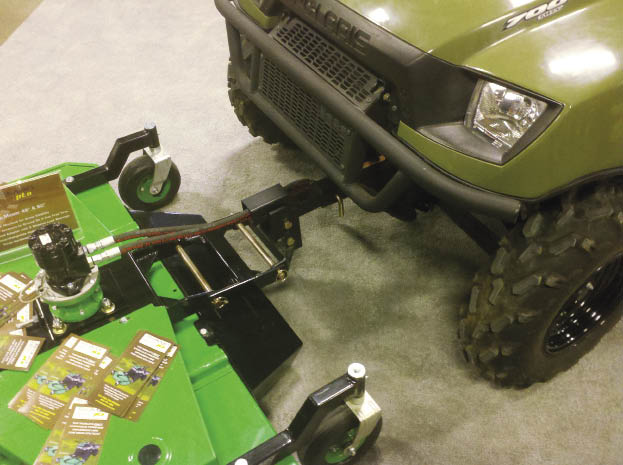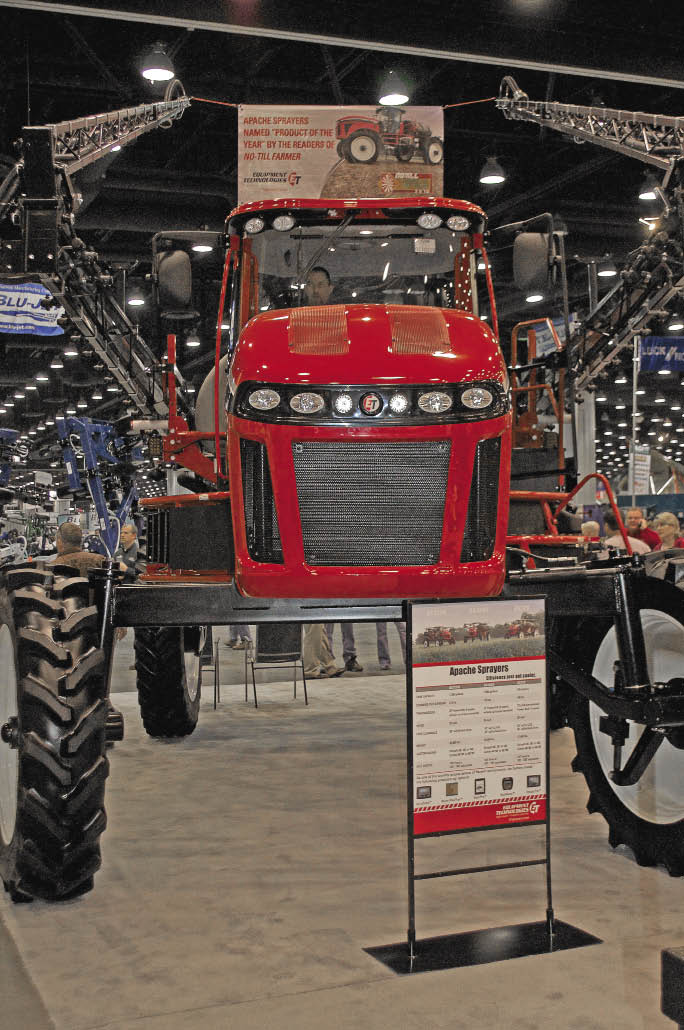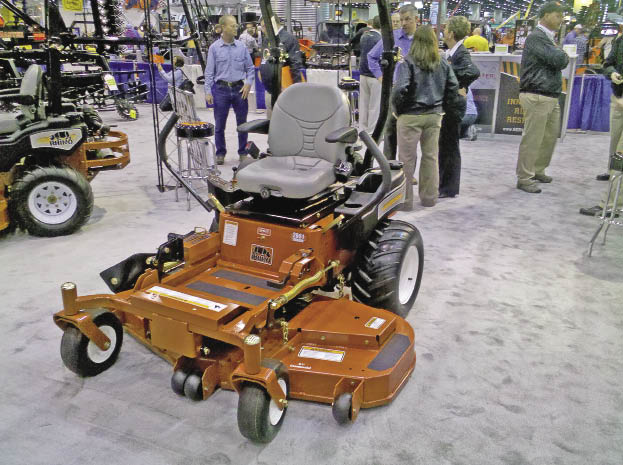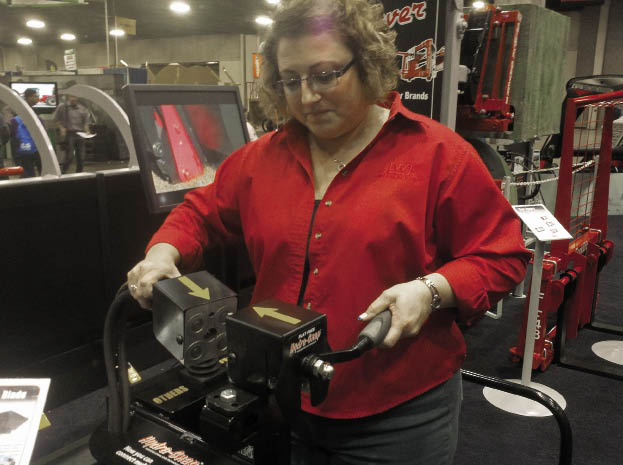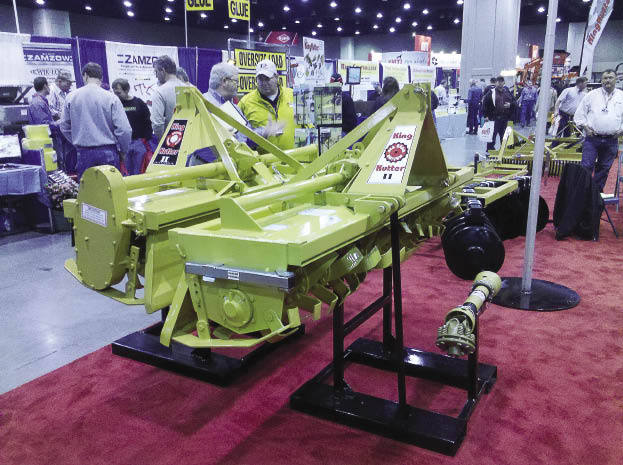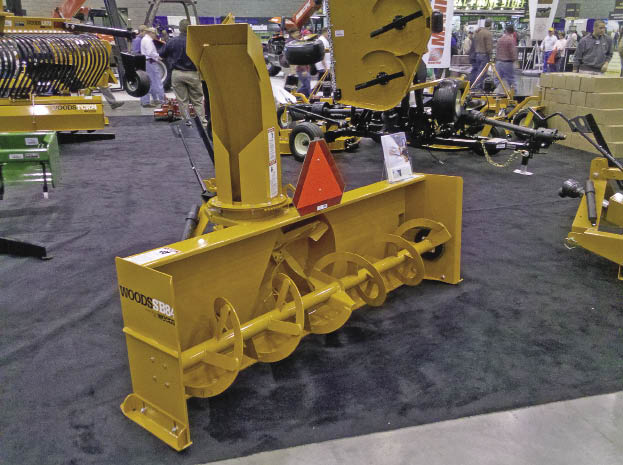 Titan International rolled out three new ag tires for 2011 and announced that another specialty tire will be available soon. The company has expanded the Optitract line of radial farm tires with the introduction of the new Goodyear Optitrac R+. This additional to its radial line provides additional traction and load capacity and is rated for higher transport speeds than standard R-1 tires. Goodyear Farm Tires also added three new radial implement tires, which included the FS24, Muck Master Radial and Super Flot Radial (shown here). All three lines have the benefits of a radial design, including higher load capacity and resistance to puncture damage.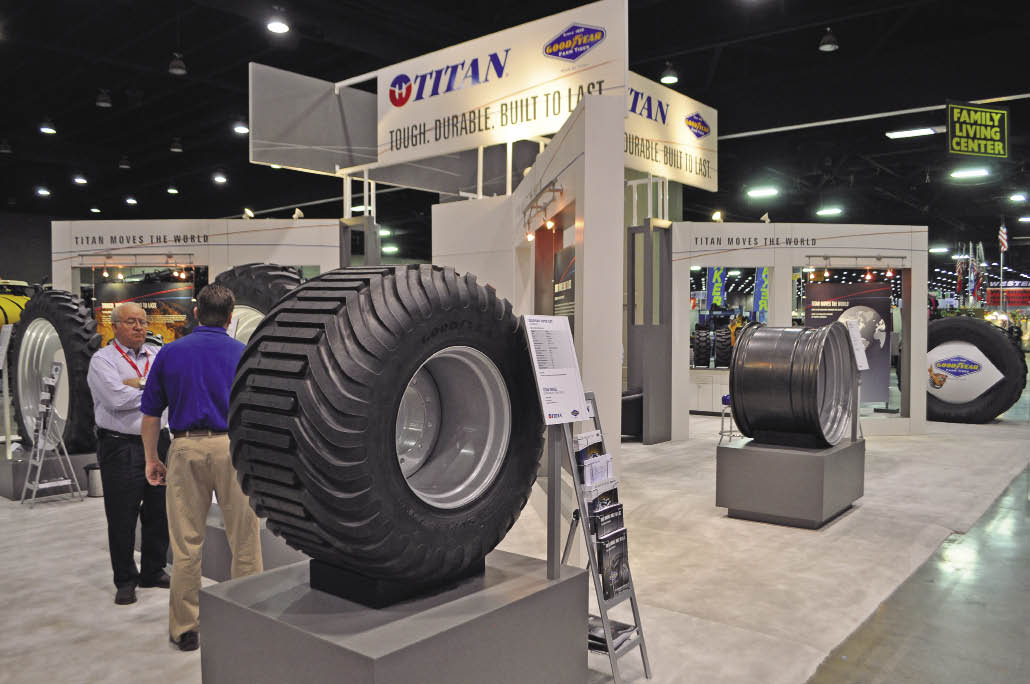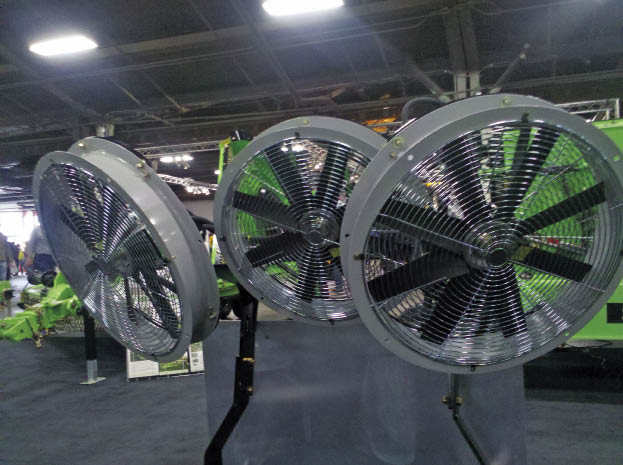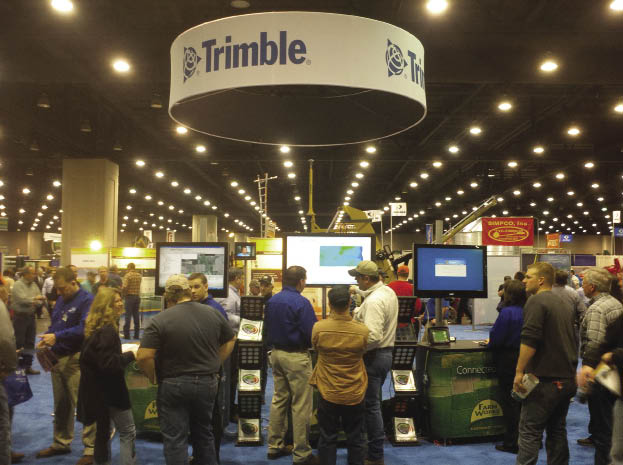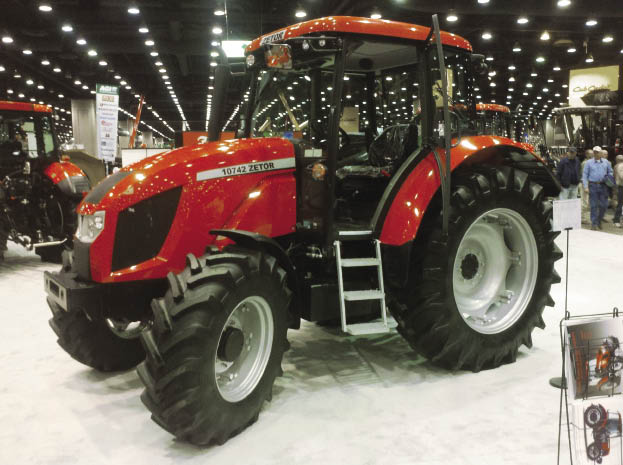 Three years ago, the Czech tractor maker Zetor had a rough go of it in the North American market, says David Taylor. In 2011, Zetor is looking to rebuild its North American dealer network, and had a new Forterra tractor on display in its booth. Zetor's models cover the 96-132 horsepower range.