Reynolds Farm Equipment is now the presenting sponsor of the 1859 Balloon Voyage experience at Conner Prairie, an interactive history park north of Indianapolis. Through 2019, the company will provide $375,000 -- $75,000 annually – to support the balloon and its new exhibit space currently under construction.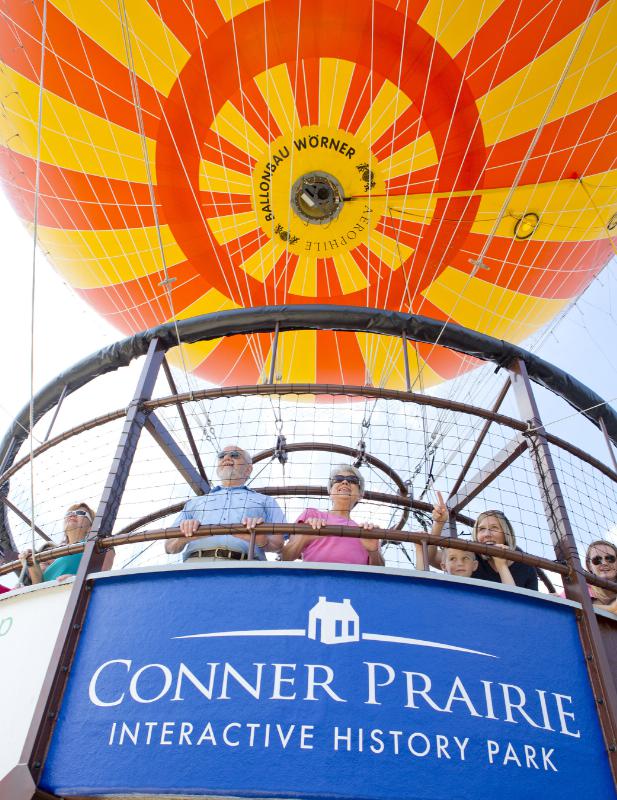 The original balloon that debuted in 2009 was decommissioned in December. A new one that prominently features Reynolds Farm Equipment's corporate logo will begin flying on March 26, weather permitting, when the park opens its outdoor grounds for the 2015 season.
"Reynolds Farm Equipment and the entire Reynolds family have been wonderful supporters of Conner Prairie in a variety of ways for decades," said Conner Prairie President and CEO Ellen Rosenthal. "The company understands our mission, realizes how important it is for us to receive philanthropic support and sponsorships and cares deeply about our future as we continue to accomplish our five-year strategic development plan."
Gary Reynolds, president of Reynolds Farm Equipment headquartered in Atlanta, Ind., has served on Conner Prairie's board of directors since 2010. His family has supported Conner Prairie since 1987.
In November, Reynolds, wife Cindy and the company announced a $1 million pledge to support Conner Prairie's five-year strategic development plan.
The 1859 Balloon Voyage experience is currently under construction as new experiences to tell the story about how the balloon signifies an important part of Indiana's past are being created. That past includes the world's first-ever successful air-mail delivery via balloon.
In 1859, 20,000 people gathered in Lafayette, Ind., to watch a manned balloon intending to deliver mail to New York City. When winds blew in the wrong direction, however, renowned balloon pilot John Wise was forced to land near Crawfordsville, Ind. The mail was ultimately delivered to New York City by train.
"We chose this story as the basis for the exhibit because it represents a little known yet important piece of Indiana aeronautical history and opens another door for us to include the history of science and technology in exhibits, experiences and programming," Rosenthal said.
Additional funding support for the exhibit has been awarded by Hamilton County Tourism, the William Brooks Fortune Charitable Lead Annuity Trust, Conner Prairie Alliance, the city of Fishers and the Allen Whitehill Clowes Charitable Foundation.
Spanning 800 wooded acres in central Indiana, Conner Prairie welcomes more than 360,000 guests of all ages annually. As Indiana's only Smithsonian Institute Affiliate, Conner Prairie offers various outdoor, historically themed destinations and indoor experiential learning spaces that combine history and art with science, technology, engineering and math to offer an authentic look into history that shapes society today.