Virtual Dealership Minds Summit Agenda
Join top farm equipment dealerships from around North America for 3-days of unrivaled online learning and networking during the 2020 Virtual Dealership Minds Summit. Focusing on the theme "Profit Turning Trades," you will discover actionable, best-practice ideas to better manage and move used inventories.
The 2020 Virtual Dealership Minds Summit offers a mix of live-broadcasted general sessions featuring top industry experts; profit-boosting on-demand sessions led by dealership peers, and interactive online dealer-to-dealer roundtable discussions.
Managing used equipment inventories and remarketing equipment is the biggest challenge facing farm equipment dealerships today. Register today to join a lively and interactive online "community," where you can learn and network alongside other attendees and sponsors through your computer, tablet or phone… at your desk, in a conference room or on-the-go.
---
General Session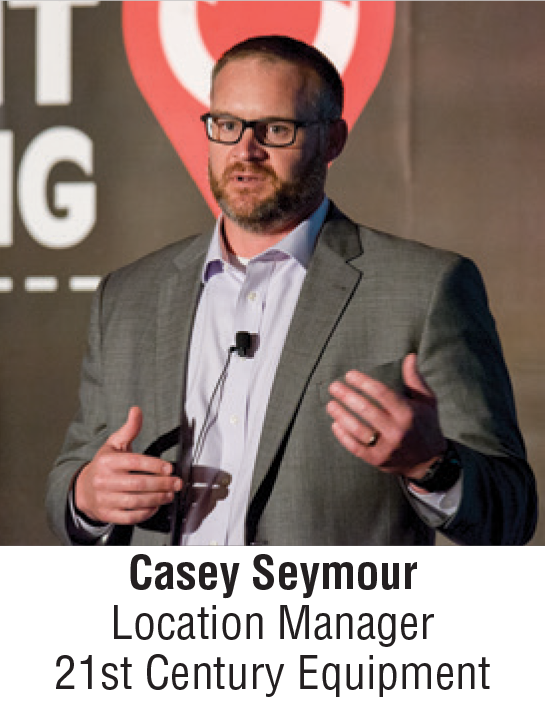 "Mastering the Washout Cycle"
Casey Seymour, Vice President of Sales, 21st Century Equipment, Scottsbluff, Neb. (2017 Best in Class Dealership) — Having spent the majority of his career in used equipment remarketing at 3 different dealer groups Casey Seymour returns to the Dealership Minds Summit with an expert seat on the North American used equipment market. Recognized as one of the best and most practical minds in the industry, he's personally worked to instill inventory management controls and understanding of fundamentals for all dealers. Seymour also writes a monthly "Ask the Expert" column and hosts the Used Equipment Remarketing Roadmaps podcast series.
Now leading the sales efforts at a 17-store, $312 million John Deere dealer group, Seymour's kickoff presentation provides an overview of where the used equipment market sits today based on his own data and what he's learned through regular conversations with dealers across North America. In addition, Seymour covers how to use the washout cycle to understand the volume of used equipment a dealer can turnover in a given amount of time. Plus, how cashflow, turns and return on assets are impacted by inventory decisions.
"Washout cycles are the best way I've found to control used inventory," he says. He shares in detail the method he uses when planning for current and future used equipment inventory
Seymour also explains how to use these tools for decision-making, including when to quickly take your loss up front — and why. Explaining inventory management in the most common sense terms, Seymour is known for practical language and eliminating emotions from deals.
---
(Live Broadcast) Dealer-to-Dealer Roundtable Discussions
7 specific-topic Roundtables where dealers ask questions, discuss challenges and contribute proven solutions. Dealership Mind Summit attendees say these "idea swaps" on what works and doesn't, and delivers the Summit ROI all on its own.
Tuesday, August 4
10:30 a.m. - 11:30 a.m. Central Time
1. Best Ideas for Buying (Not Necessarily Trading) Used Equipment & How to Value It
2. Examining the True Cost of Reconditioning & How to Control It
3. Return on Used Equipment Gross Margin
Wednesday. August 5
2:00 p.m. - 3:00 p.m. Central Time
4. How to Create Bonus Structures for Moving Aged Pieces
5. Data & Intelligence Tools for Used Equipment Sales
6. When to Hire an Inside/Internet Salesperson
7. Honest Meetings — Keeping Values on Track for the Market
---
Dealer-to-Dealer Panel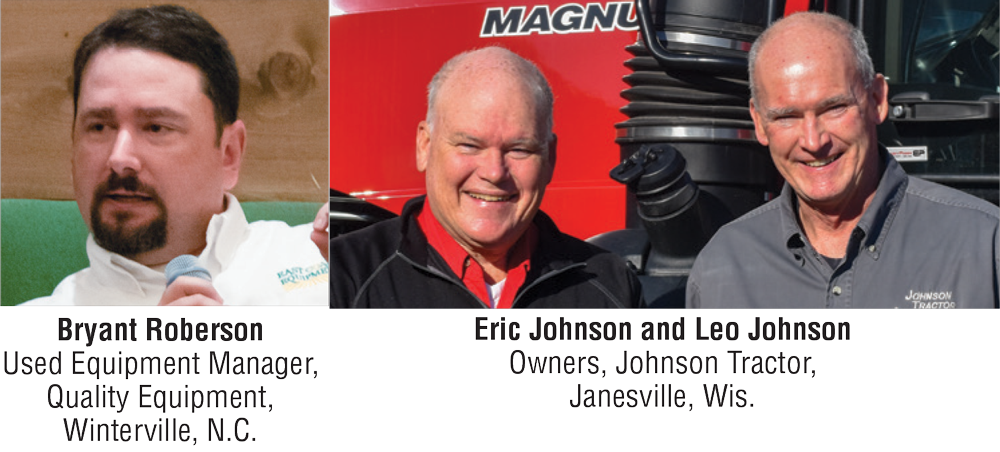 "The Auction's Role in Managing Used Equipment "
A dealer's used equipment strategies can't be discussed without including auctions, whether working with an outside auction company or running it yourself. In this dealer-to-dealer panel, we'll dive into the good, the bad and the ugly of running your own auction.
Bryant Roberson, Used Equipment Manager, Quality Equipment, Winterville, N.C. — Prior to joining Quality Equipment, a John Deere dealership group with 27 locations in North Carolina, Roberson spent 15 years in the auction business. He'll provide an overview of what dealers should expect when they work with auction companies and what sort of return is realistic.
Leo and Eric Johnson, Owners, Johnson Tractor, Janesville, Wis. (2012 Dealership of the Year) — Having hosted an on-site auction together for the last 30 years, the Johnsons come to the Dealership Minds Summit following their 2020 auction. The partners will dissect the event, sharing what went well and what didn't. The 2019 auction contributed about $4 million to Johnson Tractors' total revenues of $100 million.
---
Live General Session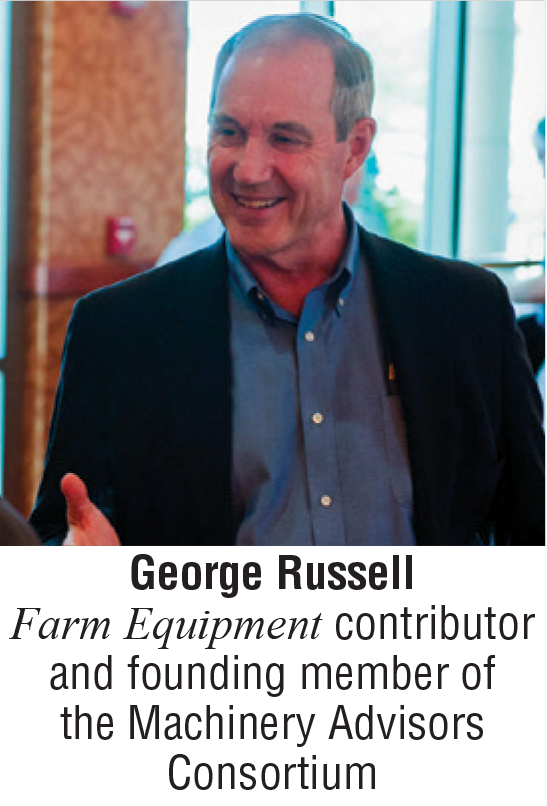 (Live Broadcast) Tuesday, August 4 – 2:00 p.m. - 3:00 p.m. Central Time
"Applying the 'Good to Great' Dealership Flywheel"
George Russell, Farm Equipment contributor and founding member of the Machinery Advisors Consortium, will host a panel discussion with dealers on how they are applying the Dealership Flywheel concept. In addition to explaining Jim Collin's Good to Great principles as it applies to a farm equipment dealership, Russell stresses the importance of balance and sustainability throughout the business cycle by focusing on creating repeat customers and achieving a high Return on Assets. Because "you manage what you measure," he presents best practice metrics for each department plus the processes to achieve them.
Russell says that because of the cascade of a machine to different buyers and because of cashflow implications of holding used machines in inventory, the best dealership will push sales reps to pre-sell used machines. Russell details the process of finding that first used buyer — often a farmer who likes the lower price of a low-hour machine — and identifying a machine and farmer ready to upgrade their machine.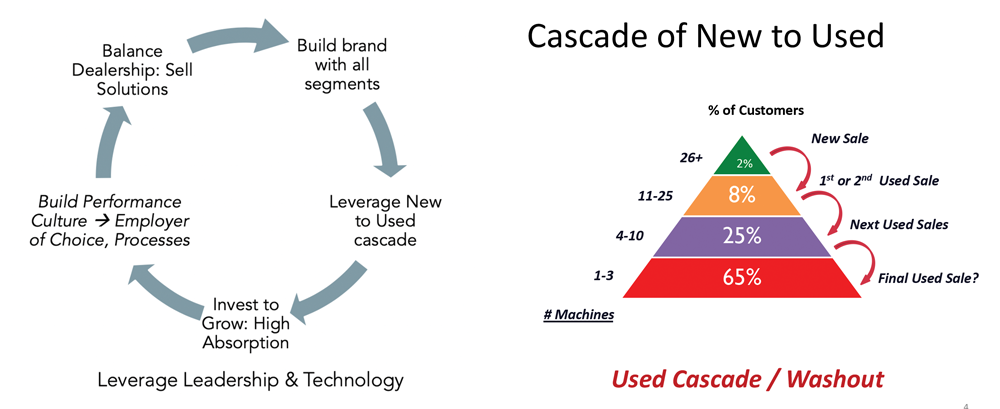 ---
General Session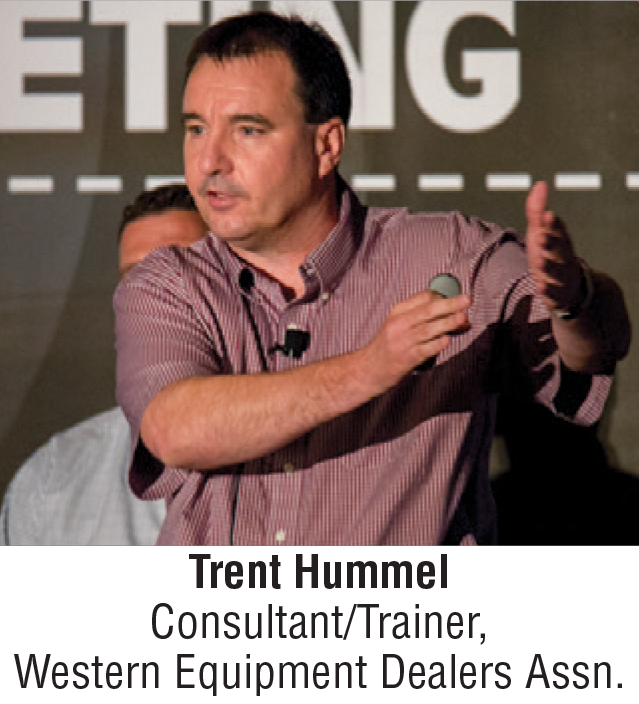 "Tracking Used Equipment Trends & Following the Data"

Trent Hummel, Consultant/Trainer, Western Equipment Dealers Assn. Dealer Institute — Prior to joining WEDA's Dealer Institute as a trainer and consultant, Hummel was a 4th generation equipment dealer in Alberta. Under his leadership and systems, the dealership consistently maintained new and used equipment turns of 5-10 times the industry averages and 3 times the industry benchmark. In 2010, Hummel sold the dealership and is now considered one of North America's most innovative voices in dealership inventory management.
Hummel's strategies about inventory turns, aging and margin have resulted in rejuvenating struggling wholegoods' departments. His commitment to operational excellence in the management of wholegoods has earned him a reputation as one of the industry's foremost experts on sales growth and inventory control.
In this session, Hummel shares data he has been tracking on used combines by country and brand to unearth whether the industry is growing its used inventory problem or cleaning out stock. He also reviews studies done on dealer valuations sources and share his insights on best practices dealers should be using in their valuation process.
---
Dealer-to-Dealer Panel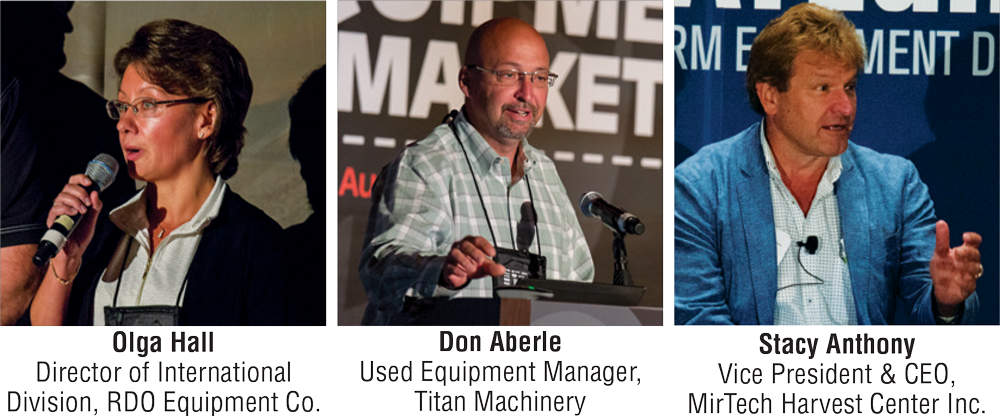 "Moving Used Equipment Internationally"
With farms consolidating across North America, the number of used equipment buyers is shrinking. In this dealer-to-dealer panel, 3 dealerships share how they've maximized their options of moving used equipment by exploring sales in international markets who need North American technology.
Olga Hall, Director of International Division, RDO Equipment Co., Fargo, N.D. (2010 Dealership of the Year) — With over 20 years of experience in the farm equipment industry, including time spent working for an OEM, Olga Hall has been involved in international sales at the dealer level since 2003. Today, she is responsible for worldwide sales, developing new markets for used equipment and strengthening relationships with RDO dealerships in Ukraine, Russia, Australia, Mexico and Zambia, all of which has contributed to the John Deere dealership's revenues of $2 billion.
Don Aberle, Used Equipment Manager, Titan Machinery, Fargo. N.D. (2006 Dealership of the Year) — Aberle has been in Titan Machinery's ag and construction business for 18 years in a variety of sales and store management roles. As the used equipment manager for the Case IH dealership group, Aberle leads the evaluation team, inside sales team and handles all international transactions for used equipment — including being on the ground floor of the Titan Outlet — and helped contribute to $954.2 million in revenues for the first 9 months of FY2020.
Stacy Anthony, CEO, MirTech Harvest Center Inc., Jonesboro, Ark. — Prior to joining MirTech Harvest Center as CEO to manages the dealership's aggressive growth strategy for the Delta and nearby regions by adding future locations, Anthony was responsible for the development of the International Sales Division of the Brandt Holdings Co. During his time at Brandt they were one of the largest exporters in the U.S. and exported into 25 other countries. Anthony also spent 20 years working inside of John Deere dealerships in sales and management.
---
General Session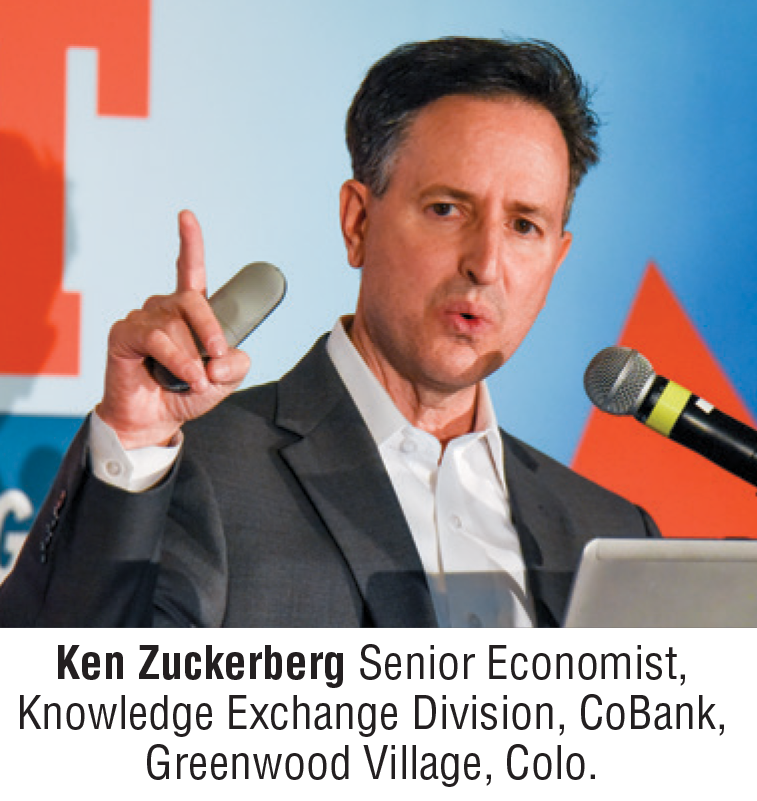 "An Economist's View: How a Changing Customer Base May Reinvent the Used Equipment Business"
Ken Zuckerberg, Senior Economist, Knowledge Exchange Division, CoBank, Greenwood Village, Colo. — As farmers continue to consolidate and farm customers become more corporate in approach, what will that changing customer base do to the used equipment market?
Zuckerberg brings an outsider's view to the farm equipment dealership business and poses thought-provoking questions that will make you change the way you view the future of your business.
"For some, these structural challenges offer an opportunity to reinvent business models to ensure long-run resiliency," he says.
Zuckerberg has more than 30 years of diverse experience spanning securities analysis, investment management, and banking. Most recently, he was a sector manager and senior strategist for Wells Fargo's Food and Agribusiness Industry Advisors Group, and previously held a similar role at Rabobank.
---
Dealer-to-Dealer Panel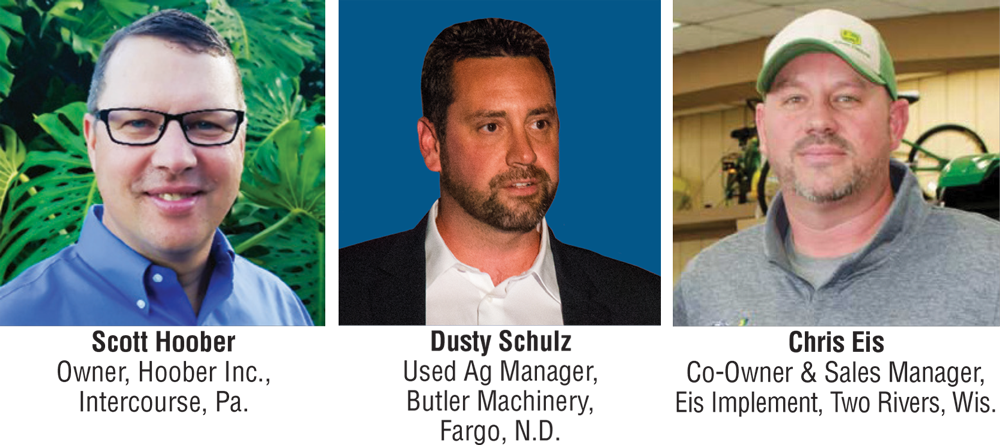 "Tips for Mastering the Valuation Process"
Scott Hoober, Owner, Hoober Inc., Intercourse, Pa. (2016 Most Valuable Dealership) — He provides examples of how working hand-in-hand with the OEM has helped the 9-store dealership achieve $160 million in revenues in 2019. He has been part of the Case IH North American Dealer Advisory Board and previously served as chairman.
Dusty Schulz, Used Ag Manager, Butler Machinery, Fargo, N.D. — As the used ag equipment manager for Butler Machinery, an 18-store AGCO dealer group with locations in North Dakota, South Dakota and Nebraska, Schulz closely follows current market and economic conditions to set values on trade-in units. He joined Butler in 2003 as a finance coordinator and in 2007 took over as a territory manager for ag sales. He returned to Butler in 2014 after a 3-year stint as the operations manager for Ziegler Cat in Fergus Fall, Minn.
Chris Eis, Co-Owner & Sales Manager, Eis Implement, Two Rivers, Wis. — Eis shares the processes he uses to value trades for this single-store John Deere dealership and how he leverages the relationships he has with dealers of other brands to correctly value off-brand trades.
---
General Session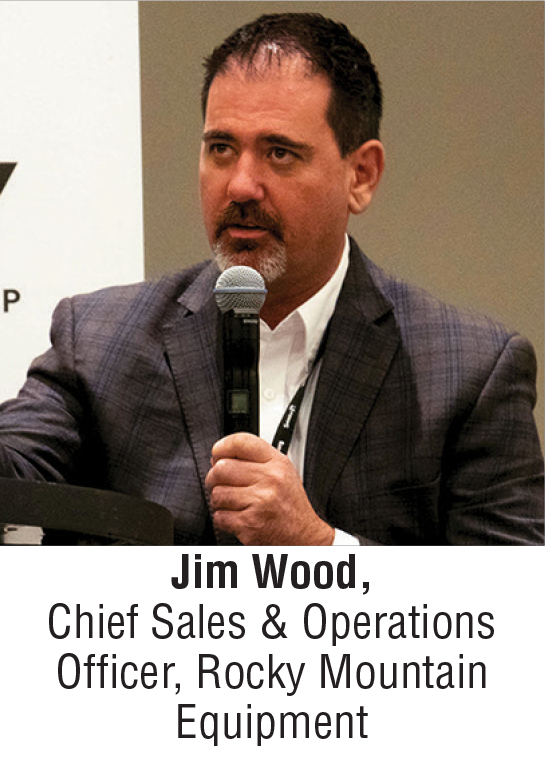 "360 Degree View of Remarketing" with Jim Wood
Jim Wood, Chief Sales & Operations Officer, Rocky Mountain Equipment, Calgary, Alta. — As the leader of the 37-store Canadian Case IH and New Holland dealership group, Wood provides an extensive review of how Rocky Mountain Equipment manages the used side of its business. He'll discuss their valuation process, how they use data and provide insight into their new DealZone Used Equipment Outlet in Kansas City. Used equipment accounts for C$400 million of the dealership's 2019 revenues of C$775.1.
---
General Session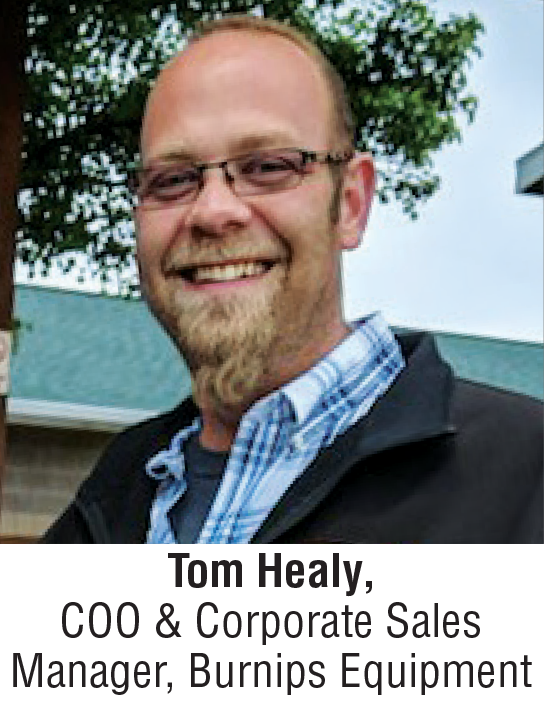 "360 Degree View of Remarketing" with Tom Healy
Tom Healy, COO & Corporate Sales Manager, Burnips Equipment, Big Rapids, Mich. — Burnips has turned its used equipment process on its head and the result is a highly controlled used forage harvester inventory and an increase in revenue.
Healy reinforces the steps of hard action taken on forage harvesters in 2018, and how they arrived at that decision.
Today, his inventory is highly controlled, and new sales of harvesters have been shut down until after the season.
Now, every trade he takes in is asigned a date, where it goes to auction — no questions asked.
The best thing he did was create an internet salesperson position and hired a 22-year-old without any ag knowledge. He did $10 million in internet sales last year, most of it used.