The agriculture industry in North America is going strong, and equipment manufacturers responded with a number of new introductions at this year's winter farm shows. The new product launches centered around ways to help improve production and efficiency, with a heavy focus on precision farming advancements. New Tier 4i compliant engines were another big theme of the two shows, held in January and February.
The Ag Connect Expo & Summit 2013 was held in Kansas City, Mo., January 29-31 and attracted 11,000 attendees, a significant increase over 2011. Ag Connect Expo & Summit had nearly 400 exhibitors and more than 220,000 net square feet of exhibit space in the Kansas City Convention Center.
A few weeks later in Louisville, Ky. The 2013 National Farm Machinery Show drew its second highest attendance — 307,906 — in show 48 year history. NFMS had nearly 870 exhibitors and more than 1.2 million net square feet of exhibit space, February 13-16.
Page: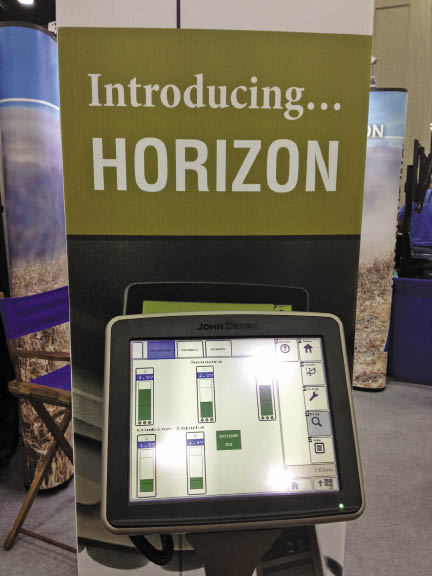 Headsight Inc. launched its new Horizon corn header height control sensor system. The software features a new in-cab user interface that is also ISOBUS compatible. Horizon includes Advanced PinPoint diagnostics, which continuously monitor sensor and wiring connections and alert users to potential problems. "The built-in diagnostics provide updates on wiring, sensors and voltage to the operator in the cab," says Dave Haefliger, software engineer with Headsight.
---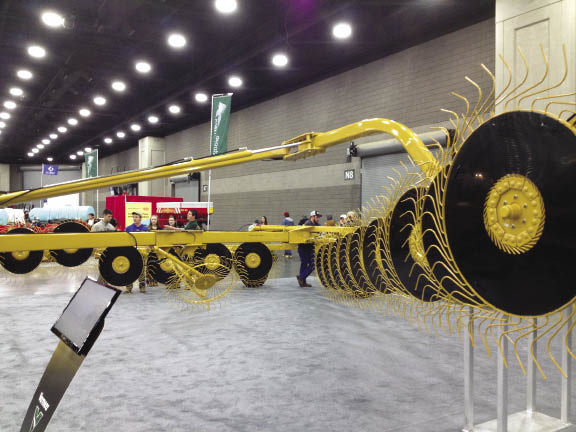 Seen here is the all-new Vermeer VR 2040 High Capacity Wheel Rake. The VR2040 is all about flexibility providing a vertical range of motion of 8 feet with each rake arm and nitrogen charged cylinders on each wheel. The VR2040 and smaller VR1428 also come with an optional center splitter that splits the windrow evenly.
---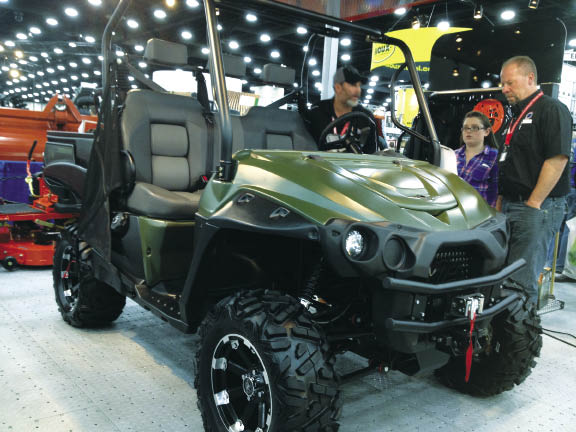 Bad Boy Mowers introduced at least six new products this year, but the one that raised the most eyebrows is the Intimidator XD4 line of UTVs. The Intimidator is available with three different power options including 1000cc diesel, 750cc gas or 48 Volt AC electric motor and has a higher payload capacity than a compact pick-up truck.
---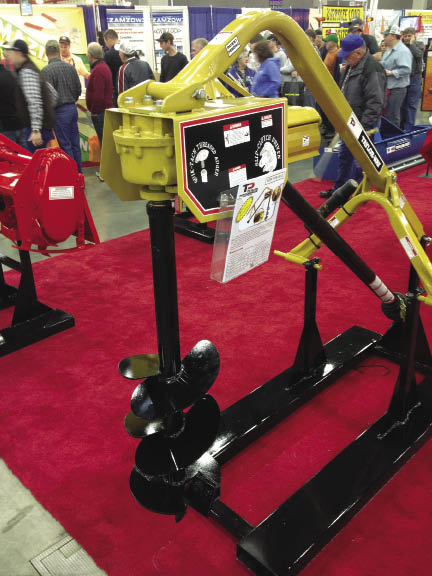 Taylor Pittsburgh's Chuck Dickerson says its new patent-pending post hole diggers were designed with the safety of the farmer, contractor and landscaper in mind. It features a 3-point Cat. 1 hitch, a unique Quik-Tach threaded auger and "Butterfly Flighting" on 6-, 9- and 12-inch augers.
---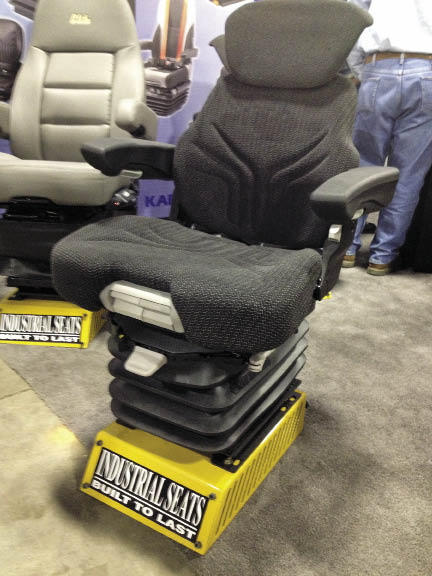 United Group feature several seating options for tractors with seats by Grammer and Sears Seating. Shown here is one of the newest Grammer seats. This seat provides a wider and thicker cushion, seat extension for the taller operator as well as tilt and air-ride suspension.
---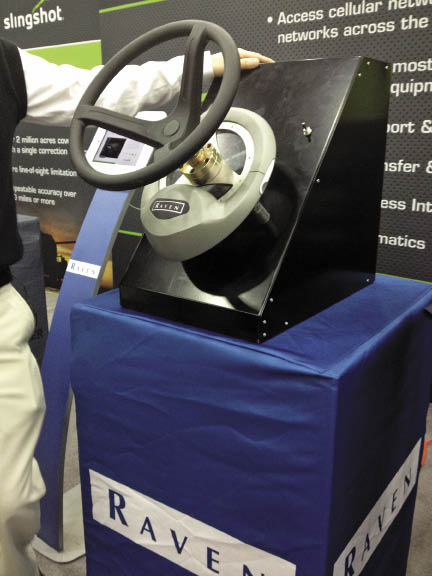 Raven Industries launched its new SmarTrax MD assisted steering system to provide faster operating speeds and two-times more torque. The system is ISOBUS compatible and provides convenience for growers with a compatible virtual terminal already in the cab. "It's easy to install, removable and is our new in-house solution for auto-steering," says Tim Heins, product manager for Raven.
---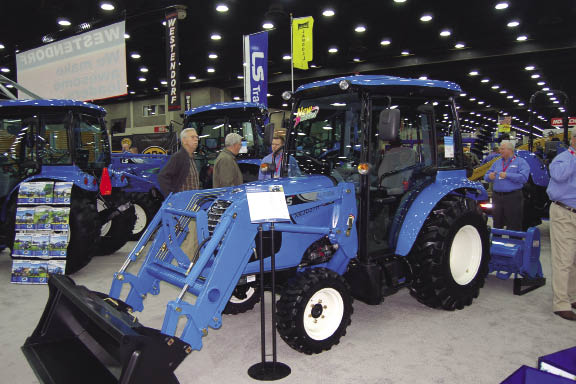 LS Tractor rolled out its XR-3000 Series, which replaces the Series R tractors. This new series is Tier 4 compliant. Other features include a high performance 3-D air conditioning system; ergonomically designed control for operator comfort; a telescopic lowering link; two sets of remote-control valves; loader control joystick lever; and an optional mid-mount PTO. In addition, it is available with a quick-attach skid steer compatible front end loader.
---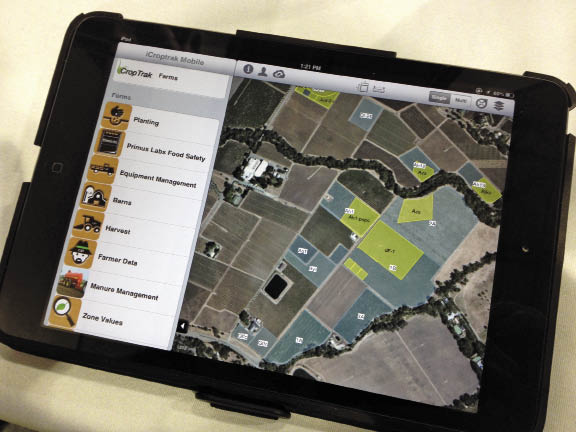 CropTrak introduced its new iCropTrak mobile device application. The data collection and farm management app works with iPhones and iPads and offers user-friendly features including work order tracking, farm schedule planning, time tracking and cloud-based reporting. "All of the work done on the farm can be turned into a digital process, so users can keep them in their pockets and get to the information history when they need it," explains Aaron Hutchinson, president of CropTrak.
---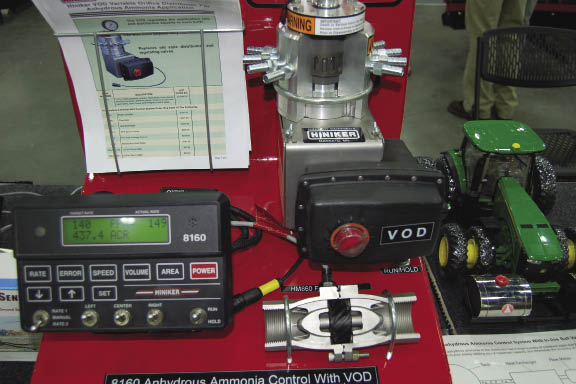 Introduced for the first time, Hiniker displayed its anhydrous ammonia Variable Orifice Distributor (V.O.D.), which provides accurate NH3 row-to-row distribution. The V.O.D. eliminates the pressure reducing ball valve or butterfly valve used for controlling the application rate prior to the distribution point.
---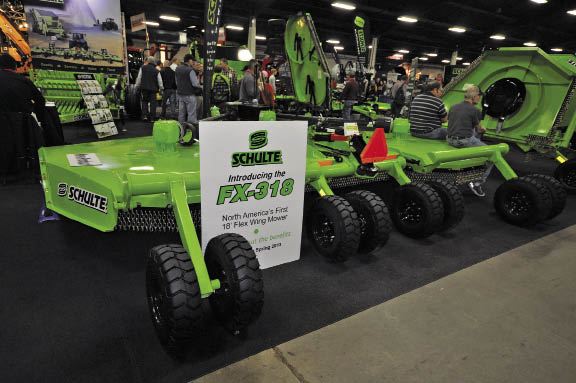 Schulte unveiled its newest rotary cutter, the FX-318, which Hal Carnago says is the first 18-foot flex wing mower in North America. Its ultra narrow transport width makes moving this unit extremely safe and simple, he says. The FX-318 can run with the same horsepower tractor as most 15-foot flex wings, but provides the extra 3-foot cutting width. Its also provides additional deck height for a better cut and material flow.
---