---
Featured Video: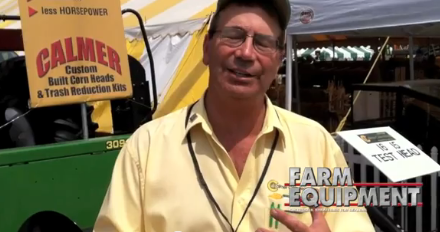 Marion Calmer of Calmer Corn Heads introduces the BT Chopper, a new corn head designed to allow you to harvest faster and more economically than ever before. (view)
---
Slideshow:
---
Social Media Updates:
Seven Farm Equipment Magazine staff reporters attended the Farm Progress Show of 2011 in Decatur, Illinois, August 30th - 31st. They tweeted and "facebooked" along the way. Here are some of the most interesting/insightful messages they shared.
---
Videos: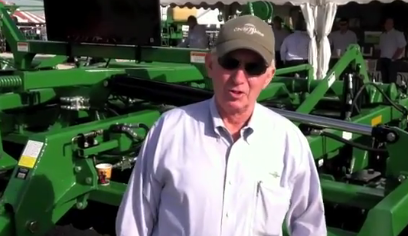 Interview with Tom Evans, VP of Sales and Marketing at Great Plains Manufacturing about NEW Turbo-Max vertical tiller.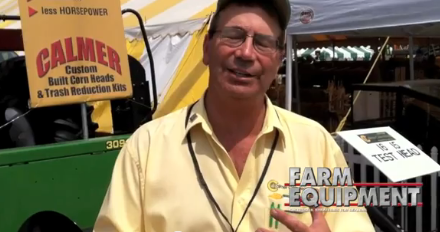 Marion Calmer of Calmer Corn Heads introduces the BT Chopper, a new corn head designed to allow you to harvest faster and more economically than ever before.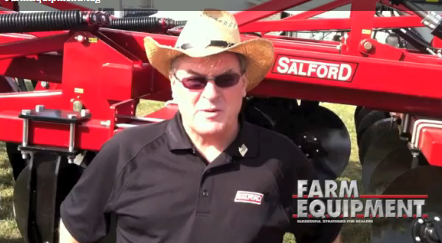 Marc Ivey, from Bush Hog, talks about the Bush Hog line of cutters and how the company has adopted change in the market.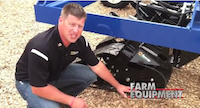 Joe Reitz, from AgSynergy, introduces the Genesis TRX Single Disk Precision Anhydrous Applicator for superior sealing of anhydrous in the soil.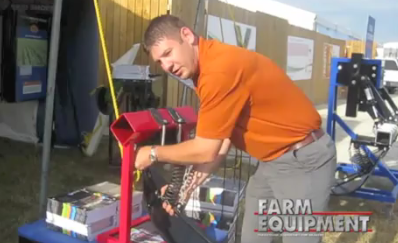 Daryl Peterson, from May Wes Manufacturing, demonstrates the Quick Disconnect Stalk Stomper and the StalkStomper for Tractors.
Jamie Meier of Landoll talks about brand new VT Plus 49' Vertical Tillage system.
Curt Davis with Kuhn Krause tells the story of the Excelerator Vertical Tillage System.
Curt Davis explains the application possibilities of the Gladiator precision tillage system for strip-till farming.
Jeff Farrar talking about the features and benefits of the Outback S3 system for application control.
Dan Donner with Ag Growth International talks about the Grain Guard Retro Rocket System. A DIY to retrofit grain hoppers with a drying system.
Kevin Harrell introduces the 32' REM chain link style Delta Harrow.
Corey Hajek, also with REM Manufacturing, talks about their revolutionary grain vac with dust collection.
Glenn Danuser, Danuser Machine Company, demonstrates the Danuser Wobble Auger for dirt, sand, clay, asphalt, compacted rock and embedded rock.
Darren Foster from Mud Hog introduces a new product, Stalk Hog for knocking down corn stalks and protecting tires from damage by corn stalks.
Jimmy Rabitsch of PolyTech talks about their new Poly Tech Tube Liner system allowing auger tubes to be repaired without removing the auger.
Doug Williams of Kuhn Mfg talks about their Accuspread system that precisely monitors spread flow to provide more versitility.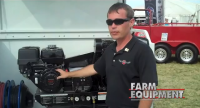 Jason Harland, Thunder Creek Equipment, introduces a new Thunder Creek trailer. The ADT750SS is a 750-gallon fuel trailer with added space for tools and equipment.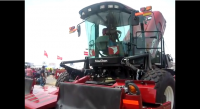 MacDon: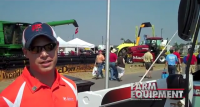 Chris Knipfer from Bobcat talks about Bobcat's entrance into the compact tractor market.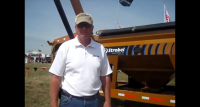 John Matteson with Strobel Mfg talks about their new B-T 300 Bulk Tender.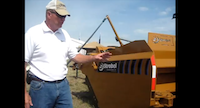 John Matteson talks about Strobel's new 12-yard scraper
.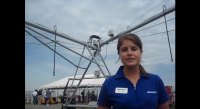 Kelly Cackin of Valmont Irrigation talks about their Bender 160 system that allows pivot irrigation to work around obstacles in the field.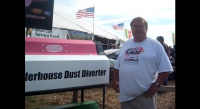 Harold Kruckman talks about the GVL Poly Feeder Housing Dust Diverter available in Deere green or pink to support breast cancer awareness.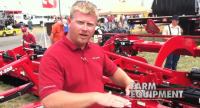 Jeremy Hughes of Horsch Anderson talk about the Joker line of compact discs, including the newest in the line, the Joker RT-300
---
Check back here for more updates!